Description
Join us for the first workshop of the Great Miami Makeathon, a hackathon for makers, designers, and coders looking to create any product or space-design that will be useful to one our three project partners - The Miami Science Barge, The Wynwood Yard, and The Cuban Diaspora Museum.
What is Design Thinking?
Design Thinking is a practical, human-centered approach that accelerates innovation and solves complex problems. Design Thinking has three basic values: Empathy, collaboration, and experimentation.
Who should attend?
Design Thinking is a mindset that can be applied in any area. Design thinking helps solve complex problems, accelerate innovation processes and teams, work collaboratively, create new business models and ultimately work with their heart and purpose.
What will you learn?
- The Design Thinking process, a real approach to solving complex problems
- Practical tools to gain empathy, to collaborate and to prototype any idea
- Expand your creative confidence
- Deep understanding to learn insights from your potential customers/beneficiaries
- Learn rapid prototype techniques
Facilitators
Gustavo Grande, Program Manager and Instructor, Entrepreneurship Programs at The Idea Center [LinkedIn]

Jorge Mendez, Teaching Fellow, Entrepreneurship Programs at The Idea Center [LinkedIn]
If you haven't done so yet, don't forget to register for the Great Miami Makeathon: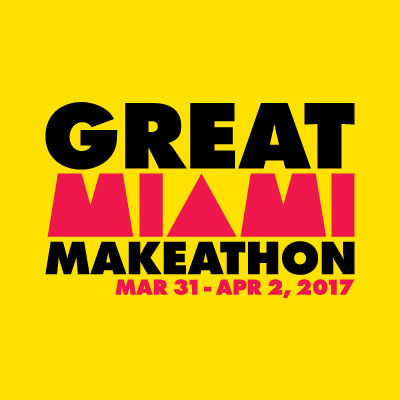 And as always make sure to follow all our updates via Twitter:
https://twitter.com/MiamiMakeathon
Sponsored by: