Great Lakes Region Infrastructure Resiliency Seminar

Wednesday, October 30, 2013 from 7:15 AM to 4:00 PM
Event Details
The Detroit Post of the Society of American Military Engineers (SAME) in partnership with The Infrastructure Security Partnership (TISP), and sponsors: Michigan Homeland Security Consortium, Schoolcraft College, Stantec & Allied Environmental,  are hosting a one-day seminar: "Great Lakes Region Infrastructure Resiliency: Building Stronger for our Communities, Employers, and Families" on 30 Oct 2013 in Livonia, Michigan.  This will be the fifth in a series of nation-wide events focusing on regional and community infrastructure resilience challenges associated with reducing impacts from manmade and natural disasters.
This program continues the dialog between members of the engineering, infrastructure, architecture, emergency management, medical, construction, first responder, and community planning fields through a series of presentations and panel sessions covering public-private partnerships for enhancing infrastructure resilience, challenges and opportunities in regional emergency management, and maritime resource protection and security issues prevalent to the Great Lakes region.
Event Sponsors                 




Seminar Schedule as of  23 Oct 2013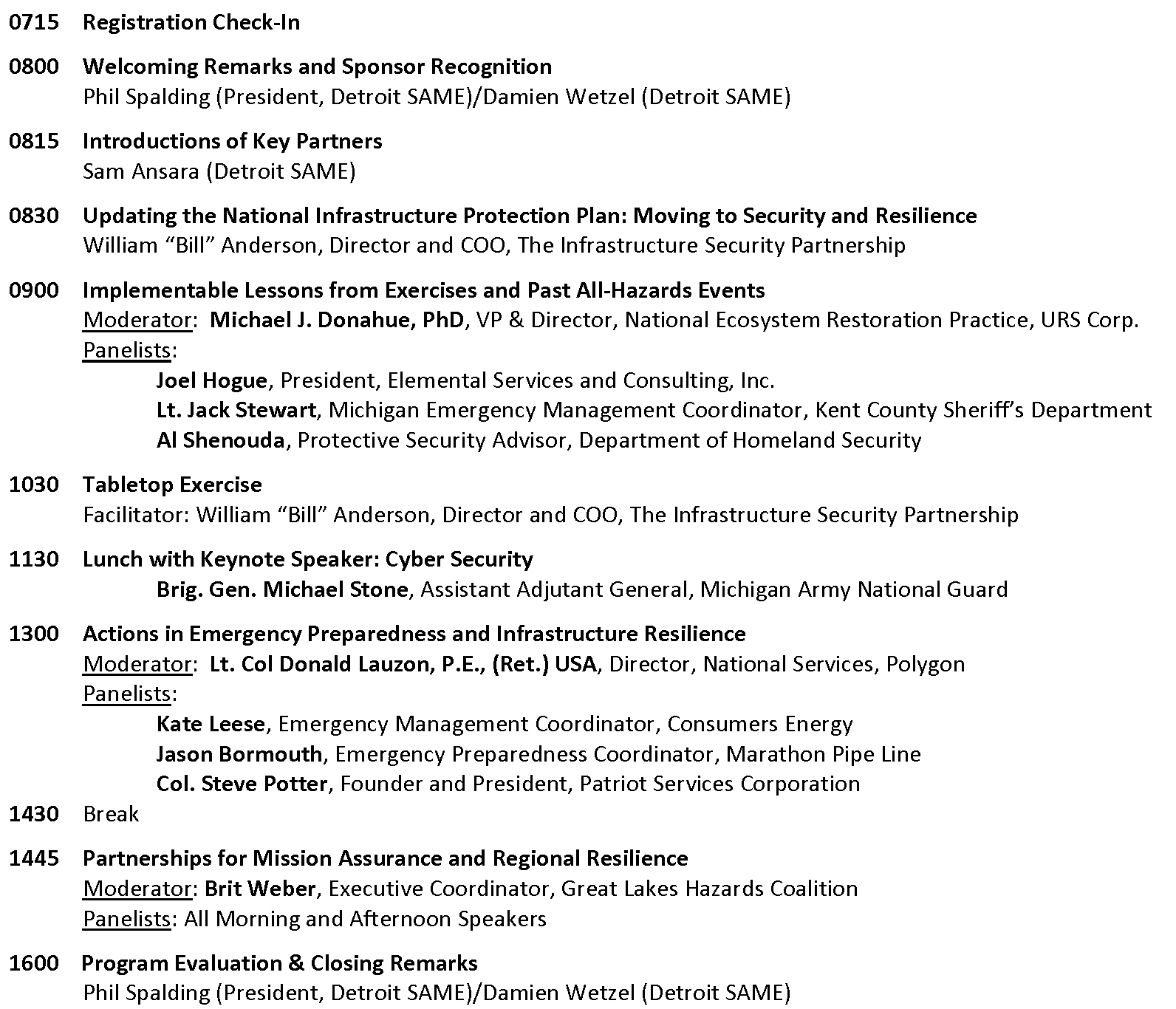 Who Should Attend: The information presented at the seminar is applicable to a wide range of individuals and organizations; from those who are simply interested in infrastructure resiliency, to companies involved in new construction; from personnel in lifeline industries (communications, power, transportation, water) management and risk mitigation, to those in the emergency management or the emergency preparedness community. A disaster in the region will impact all facets of society and industry. Nearly everyone, regardless of background or area of expertise, has a stake in the issue and something to gain from building a resilient region.
The program features presentations and facilitated panel discussions by highly respected experts from several professional fields across the region and beyond.  PDH's will be made available.
Venue Details:The event will be located at the VisTaTech Center at Schoolcraft College in Livonia, MI, conveniently located near the Detroit Metro Airport and regional highway links for easy access. 
When:  30 Oct 2013 8:00 am - 4:30 pm (registration begins at 7:15 a.m.)
Where: VisTaTech Center at Schoolcraft College
              18600 Haggerty Road
               Livonia, MI 48152
Sponsorship Opportunities Available: By joining as a sponsor you will ensure that this event is a success by supporting the collaboration of experts from various technical and emergency preparedness fields for the purpose of discussing one of the most important topics related to National Security:  infrastructure and system resiliency.  Register under Ticket Information or contact the event organizer.  A $250.00 Seminar Sponsorship includes:
 1 attendee registration

 Sponsor Logo in the seminar program, on website & displayed on seminar signage*

 8' Tabletop Booth Space

 Verbal Recognition of Sponsors throughout Seminar
*sponsorships registered after 10/20 may not include Sponsor logo in seminar program
When & Where

VisTaTech Center at Schoolcraft College
18600 Haggerty Road
Livonia, MI 48152


Wednesday, October 30, 2013 from 7:15 AM to 4:00 PM
Add to my calendar
Organizer
Detroit-Post Society of American Military Engineers (SAME) & The Infrastructure Security Partnerhsip (TISP)
Detroit Post –SAME
The Detroit Post of SAME is one of more than 110 Posts representing over 27,000 members worldwide. Regions support the SAME organization, and each Region is comprised of several local Posts. The SAME organization is the premier professional military engineering association in the US. It unites architecture, engineering, construction (A/E/C), facility management and environmental entities and individuals in the public and private sectors to prepare for –and overcome—natural and manmade disasters, and to improve security at home and abroad. For more information, visit www.same.org. The Detroit Post is one of seven posts within the Great Lakes Region representing the southeastern region of Michigan. Local members as well as members across the nation contribute to the success of the Detroit Post. Our membership is composed of more than 250 Individual Members and over 30 Sustaining Member firms totaling in excess of 270 members . The Detroit Post membership also includes the Sault Ste. Marie Field Chapter and the University of Michigan Student Chapter.
Detroit Post hosts luncheons with speakers on the 2nd Tuesday of each month Jan-Apr, Jun, and Sep-Dec in downtown Detroit. Contact same.detroit@gmail.com for more information. Registration for our luncheons and other Post events will soon be available on Eventbrite.
TISP
TISP is a national leader in infrastructure security and resiliency with a diverse membership supporting the nation's economy and well-being of its people. TISP pledges to lead public- and private-sector collaboration that advances the practices and policies of infrastructure security and resiliency to sustain the nation's resources and its ability to efficiently restore infrastructure when disrupted by any hazard.
Great Lakes Region Infrastructure Resiliency Seminar