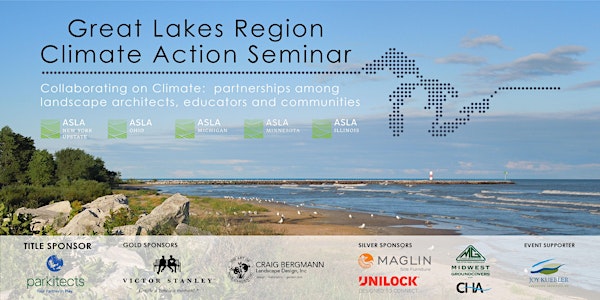 Great Lakes Region Climate Action Seminar - Day 2 (2/10/23)
Collaborating on Climate: partnerships among landscape architects, educators and communities. This is the registration for Day 2 (2/10/23)
Refund Policy
Contact the organizer to request a refund.
About this event
5 hours 45 minutes

Mobile eTicket
Collaborating on Climate: Partnerships among landscape architects, educators, and communities to strengthen collective climate action
Feb 9 & 10, 2023
Format: Two half-day virtual seminars with four one-hour sessions each day. 8 LACES or 8.5 CM continuing education credits are availavle.
The NY Upstate, Ohio, Michigan, Minnesota, and Illinois Chapters of the American Society of Landscape Architects are collaborating on the 2023 Great Lakes Region Climate Action Seminar. This is the second event in a series aimed to explore and expand landscape architecture's role regarding climate change impacts occurring in urban and natural systems across the Great Lakes Region.
The theme in 2021 addressed the unique challenges of climate change and resiliency in the Great Lakes Region and how practitioners and academics are facing these issues from scientific and policy viewpoints. The theme for 2023 focuses on the partnerships among landscape architects, academics, and communities that are critical for more resilient cities and coastal regions.
Description:
The Great Lakes Region is one of the most significant ecosystems on Earth containing 95% of freshwater in North America and home to over 50 Million people in the United States. Although the region's climate is considered less volatile than other regions and coastlines of the US, the Great Lakes are not exempt from the impacts of climate change. Growing evidence of biophysical changes calls for increased effort to translate that knowledge into design and planning action. Climate change is already affecting Great Lakes communities through more intense and frequent flooding, increased severity of urban heat island effect with impacts to human health, threatening coastlines, and altering ecosystems and habitats, all in the face of aging infrastructure, shifting economic sectors, and exacerbated inequalities across communities. The region is also expected to be a future climate migration refuge, which places additional pressure on physical design and planning to prepare for a growing population.
This symposium will bring landscape architects, educators, and communities together to talk about the pressing challenges facing our region and will unpack how critical partnerships are taking shape to address new challenges and opportunities.
Program Overview & Schedule
(all times listed are Central time)
Day 2 - Friday, February 10th
8:45 am Central Welcome
8:45-9:45 am ASLA Climate Action Plan/Government Affairs in the Great Lakes
10 am-1:45 pm Education Sessions (see descriptions below)
1:45-2:30pm Closing discussion - Moderated discussion with the presenters and audience
SESSION DESCRIPTIONS
ASLA Climate Action Plan: A Vision for 2040 Presenters: Scott Bishop, Aida Curtis & Joy Kuebler
ASLA is taking a significant step forward with its first Climate Action Plan. The ambitious plan seeks to transform the practice of landscape architecture by 2040 through actions taken by ASLA and its members focused on climate mitigation and adaptation, ecological restoration, biodiversity, equity, and economic development. The Climate Action Field Guide for ASLA Members sets out steps landscape architects can take today to address the climate and biodiversity crises. Presenters will also share updates on federal policies taking shape that support climate action in the Great Lakes Region and how landscape architects can leverage those policies in their work.
1.0 LACES HSW Credit | 1.0 CM Credit
Irishtown Bend Park: A Community Joins Forces to Build Climate and Social Resiliency Presenters: Scott Cataffa, Tiffany Graham & Caroline Tait
Designing for the Great Lakes Region's climate adaption can be a tool for unique placemaking and an opportunity for various government agencies, funders, and community groups to coalesce around shared values and goals. Irishtown Bend Park is and exemplary project for demonstrating these opportunities. This presentation will share the lessons learned in building unique partnerships that galvanize communities for climate action.
1.0 LACES HSW Credit | 1.0 CM Credit
Chicago Regional Action Planning, A Multi-Level Approach to Regional Resilience & A Resilient Toolkit for Michigan Communities: Learning from two climate planning projects Presenters: Edith Makra, Ted Haffner, Kathleen Duffy, AICP; Pablo Majano, Alicia Adams, PLA, ASLA, MUP; Catherine Clarke
Chicago Regional Climate Action Planning: A Multi-Level Approach to Regional Resilience The Climate Action Plan for the Chicago Region was created with a broadly collaborative approach to leverage knowledge, momentum, political will, and partnerships. it is a unique climate action plan taken at the metropolitan regional scale.
A Resilient Toolkit for Michigan Communities: As part of the MEDC's pandemic recovery strategy, the RRC program and SmithGroup created a resource for Michigan communities to assess their resiliency approach holistically across people, place, infrastructure, and economy. Learn about the RRC Resiliency Toolkit and how to strengthen your next plan, policy, or assessment.
1.0 LACES HSW Credit | 1.25 CM Credit
The Sustainable Square Mile™: Healing a Community with G-O-D ~ Garden Oriented Development™ Presenters: David Yocca & Naomi Davis
Through generous support from the Walder Foundation's Resilient by Nature grant program, BIG and GIF are leading a collaborative team of landscape architects, civil/water resource engineers, green building architects, urban planners, economists, and development specialists to project, model, quantify, and illustrate the potential to transform West Woodlawn as a model Net-Positive water, energy, and nutrient exchange (food) community through a comprehensive application/integration of best practices in Living Green Infrastructure. This session will provide an overview of the Sustainable Square Mile™, the Green Infrastructure Charrette program, performance benchmarks, modeled economic outcomes, and community engagement strategies.
1.0 LACES HSW Credit | 1.0 CM Credit
___________________________________________
AICP members can earn Certification Maintenance (CM) credits for many activities at this event. When CM credits are available, they are noted at the end of an activity description. More information about AICP's CM program can be found at www.planning.org/cm.
AICP members must be in attendance for the duration of the event in order to receive CM Credit.
REGISTRATION RATES
ASLA Member: $30/day (includes LACES credits)
Emerging Professional: $20/day (An emerging professional is an ASLA member who has graduated within the last 5 years)
Student: Free
Non Members: $45/day (includes LACES or CM credits)
THIS EVENT HAS A 2 PART REGISTRATION PROCESS:
Your registration confirmation email will include a link to the Zoom registration. After completing the Zoom registration, you will receive a link and password to access the event.
THANK YOU EVENT SPONSORS!
--------------- TITLE SPONSOR --------------
--------------- GOLD SPONSORS --------------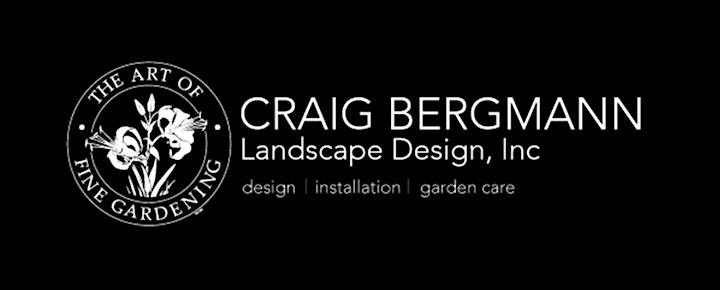 --------------- SILVER SPONSORS ---------------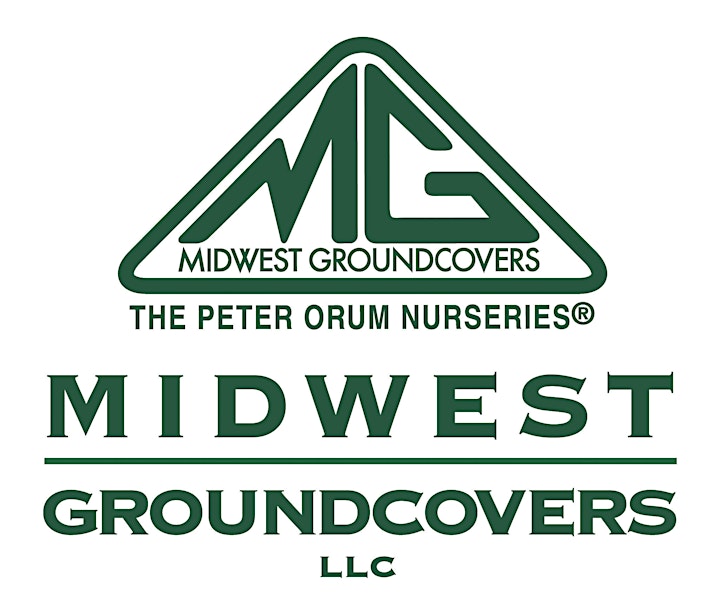 --------------- EVENT SUPPORTER --------------