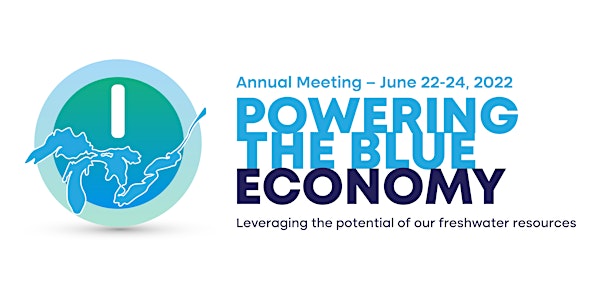 Great Lakes and St. Lawrence Cities Initiative 2022 Annual General Meeting
Location
White Oaks Conference Resort and Spa
253 Taylor Road
Niagara-on-the-Lake, ON L0S 1J0
Canada
We will come together under the theme Powering the Blue Economy: Leveraging the potential of our freshwater resources.
About this event
June 22-24, 2022
Agenda*
*Subject to change
Tuesday, June 21 - Arrival Dessert Reception (7:30pm-9:00pm)
Wednesday, June 22 - Day 1 – Branding and Waterfront Revitalization (7:30am-9:30pm)
Plenary – Branding Your Community and the Region for Success
Breakout - Cruising to Success: Leveraging Economic Opportunities from Cruise Tourism
Breakout - Brownfields to Blue Horizons: Developing Our Waterfronts for the 21st Century
2022 Membership Meeting
Annual Gala – Tastes of Canada – The Gala will be hosted at Queen Victoria Place Restaurant, at the edge of the Canadian side of Niagara Falls – Regional food stations, entertainment, the view of the illuminated Falls at night
Thursday, June 23 - Day 2 – Infrastructure and Innovation (7:30am-10:00pm)
Plenary – Plugging the Holes – Innovative Municipal Financing
Breakout - Highway H2O: Tapping into the Great Lakes-St. Lawrence Seaway
Breakout - BlueTech Roundup: Catalyzing Water Innovation Hubs
Fabien Cousteau – "The Blue Economy – Intersections Between the Environment and the Economy" – This year's keynote speaker is aquanaut and ocean conservationist Fabien Cousteau. Mr. Cousteau will deliver a riveting address on the important intersection between environmental stewardship and economic resilience
Regional Tours
2022 Cities Initiative Awards Dinner
Friday, June 24 - Day 3 – Enjoy Your Day in St. Catharines (7:30am)
Tours Available – Niagara Vineyards, Niagara Breweries, Niagara Falls by Boat, golf outing, watersports along St. Catharines' coast
Hotel Accommodations - White Oaks Resort & Spa
Our room block has closed. Please contact the hotel directly to check availability (800-263-5766).
Below are a couple of alternative hotels that are close to the conference site.
The member/non-member ticket price includes two-day conference (breakfast/lunch), Gala dinner and Awards Dinner.
Tickets are non-refundable.
Click here to review COVID protocols for entering Canada.
Click here to review COVID protocols for entering U.S.