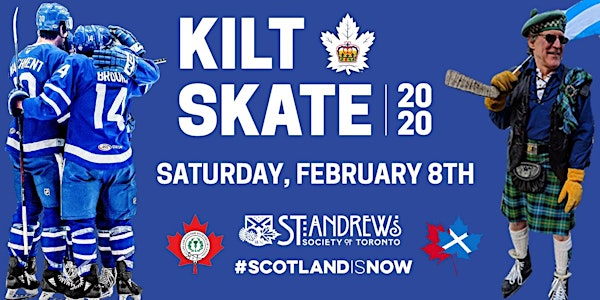 Great Canadian Kilt Skate-Toronto
When and where
Location
Coca-Cola Coliseum 45 Manitoba Drive Toronto, ON M6K 3C3 Canada
Description
The Great Canadian Kilt Skate is indelibly Scottish and undeniably Canadian. Kilt skating is a phenomenon that is spreading beyond Canada to celebrate the contributions the Scots have made around the world.
This February will mark the 4th annual Great Canadian Kilt Skate in Toronto. Held at Nathan Phillips Square the last 3 years we have moved indoors due to weather.
This year we are combining the Kilt Skate with a Toronto Marlies game against the Rochester Americans. The day starts at 12:30pm with a 1-hour skate on the same ice the future stars of the NHL play, with music and demonstrations of Scottish culture. At 1:30pm you will be on your own for about 2.5 hours, there are many pubs, and dining options within a 10-minute walk of the arena. The Marlies game starts at 4:00pm, but we suggest being back at the arena for 3:30pm to find your seat in time for face off.
During both the Kilt Skate and the Marlies game there will be opportunity to connect with Scottish Clans and Societies.