3 Stages, 40+ Bands featuring Americana, Roots, Bluegrass, Zydeco, Reggae, Hip-Hop, Blues, Gospel, & Country. National & Regional Acts.
About this Event

The 29th Annual Great Blue Heron Music Festival
The Great Blue Heron is more than a music festival; it is a COMMUNITY of free-spirited, friendly people who come together each year as friends and family united by music.
"HAPPY HERON!" You hear it as soon as you enter the gate, your stress melts away, and a smile grows on your face: you KNOW you are HOME.
Since 1992, music lovers of all ages have visited The Heron, the Chautauqua County farm, which hosts thousands of family and friends each year over Independence Day weekend. Many who started coming to the festival with their parents now return with children of their own - the Blue Heron is a family oriented event with activities for all ages!
FIND YOUR TRIBE at the Heron – Three days. Three stages. 40+ Bands. Thousands of Happy People.
300 Acres of Farmland & Woods
Dance Tent & Fire Circle All Night Long
Tent, RV, & Vehicle Camping Areas
Instrument & Healing Arts Workshops
Family, Kids & Teen Programs
Food & Merch Vendors, including our own farm's burgers
Swimming, Hiking, Biking & Nature Galore
Learn more at GreatBlueHeron.com!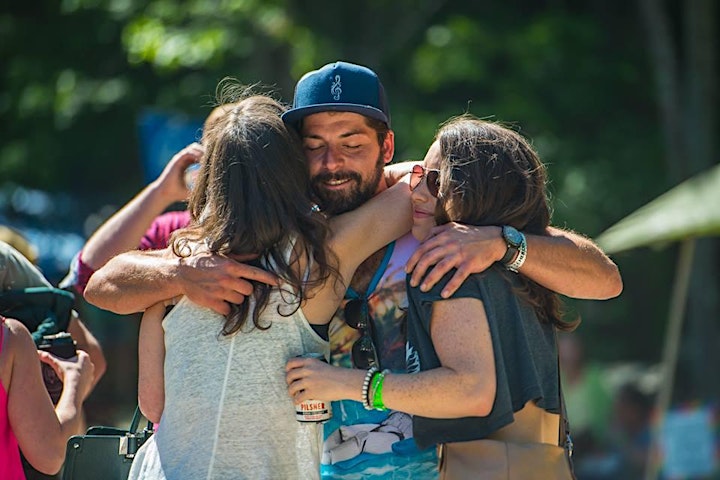 Music at The Heron features Americana, Roots, Old Time, Bluegrass, Zydeco, Reggae, Hip-Hop, Blues, Gospel, & Country. National & Regional Artists
While the festival has grown over the years, our fundamentals remain the same: present a diverse assortment of original music from regional and national artists; create a collaborative artistic space where all are encouraged to participate and interact; and foster a cooperative and positive environment for celebration, while ensuring a safe and satisfying experience for the whole community.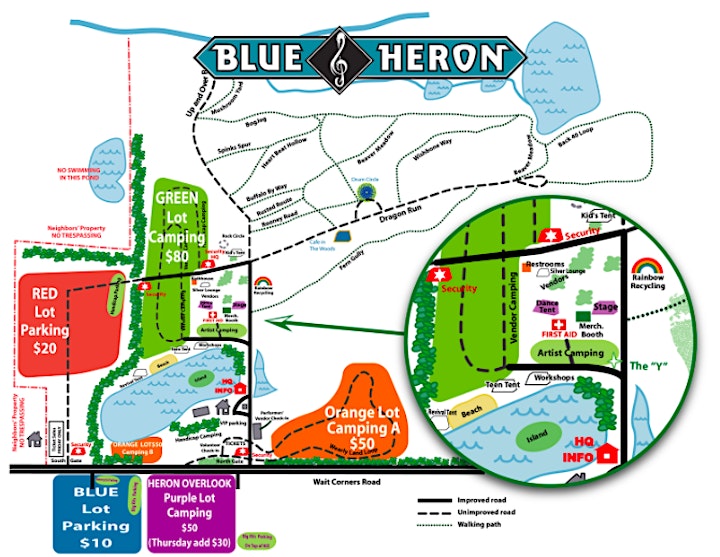 FAQs
I can't afford a ticket. Can I volunteer to earn my way in and help the cause? Absolutely, we need over 600 volunteers to make the Heron fly right!
Are there ID requirements or an age limit to enter the event? Attendees under 18 years old must be accompanied by a parent or guardian 21 years or older. Families & young people must go through security's Family Check-In process.
What are my transport/parking options getting to the event? Public transport does not service this event as we are in a rural area. LIFT and UBER drivers are nearby. We have plenty of off road parking.
What can/can't I bring to the event? Please don't bring pets, firewood, floating lanterns or fireworks. Glass is highly discouraged but not banned, please take your glass home after the event. You can bring our own beverages of all types. Please help reduce the use of plastic water bottles by using our potable water taps to refill water bottles.
Campfires at The Heron: We are a very unique festival in that we allow personal campfires in all of the camping area. Bringing firewood to The Heron is prohibited though. Chautauqua County is "quarantined" for firewood transport. There is a firewood booth at the Crossroads on site where you can buy wood by the bundle and carry it to your camp. This supports our forest stewardship efforts.
Emergency & First Aid Services: Familiarize yourself with the locations of the HQ Barn/Security HQ, & the First Aid Building, but know that anyone with a radio or golf cart can help you. Many volunteer crews have coverage around the clock, including Security, First Aid, HQ, & Tickets. We have good relations with law enforcement & fire department emergency services and can ask for assistance, if needed. HQ can call for local towing services if needed for auto emergencies. Don't hesitate to report problems and we will do our best to solve them!
How can I contact The Heron Farm & Event Center?
Email for general info: info@greatblueheron.com
For volunteer info: gbhcrew@gmail.com
Phone: 716-761-7190, before during and after the event