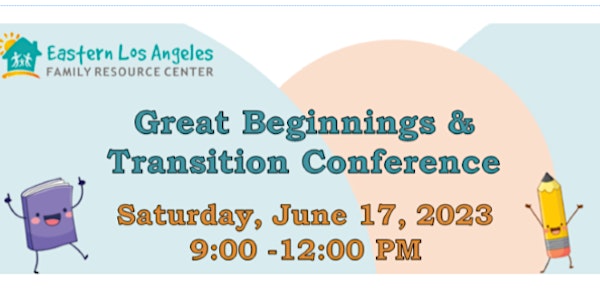 Great Beginnings Virtual Transition Conference 2023
We are having our Great Beginnings Transition Conference! / ¡Vamos a tener nuestra Conferencia de Transición de Grandes Comienzos!
By Eastern Los Angeles Family Resource Center
Date and time
Saturday, June 17 · 9am - 12pm PDT
About this event
Do you have questions about what to expect and how to prepare when your child turns 3 and is transitioning from Early Start Services? I know we did! There will be a panel of experts to help you understand and answer questions you may have. We will also have speakers that will address:
Transition from Early Start Program
Services from Regional Center After Age 3
The First IEP
Upon registration, you will be sent materials for the sessions and items to make the conference a little bit more fun for you, including some materials to make items that will help your student in their return to school or daycare!
Opportunity Drawings Throughout the Day
We are virtual this year! Join us on Zoom! Please contact us if you need assistance with registration or set up.
Interpretation in Mandarin and Spanish will be provided, if requested by May 26th
__________________________________________________________________________________________________________________________
¿Tiene preguntas sobre qué esperar y cómo prepararse cuando su hijo cumpla 3 años y esté en la transición de los Servicios de Early Start? ¡Sé que lo hicimos! Habrá un panel de expertos para ayudarlo a comprender y responder las preguntas que pueda tener. También contaremos con ponentes que abordarán:
Transición del Programa de Inicio Temprano
Servicios del Centro Regional Después de los 3 años
El primer IEP
Al registrarse, se le enviarán materiales para las sesiones y artículos para que la conferencia sea un poco más divertida para usted, ¡incluidos algunos materiales para hacer artículos que ayudarán a su estudiante en su regreso a la escuela o a la guardería!Sorteos de oportunidades a lo largo del día
¡Este año somos virtuales! ¡Únete a nosotros en Zoom! Póngase en contacto con nosotros si necesita ayuda con el registro o la configuración.Para obtener ayuda para registrarse, llame a Crytal Perez al (626)300-9171 o envíe un correo electrónico a dflores@elafrc.netSe proporcionará interpretación en mandarín y español, si se solicita antes del 26 de mayo.
__________________________________________________________________________________________________________________________
當您的孩子年滿三歲, 並從"早開始服務" Early Start過 到學校時,您對將要發生什麼的事情以及如何準備有疑問嗎?我曾有過這樣的疑惑, 所以我知道!
我們將請一個專家小組幫助解答您可能遇到的問題。
也會邀請演講者討論:
從"早開始計劃"過渡
三歲後區域中心的服務
第一個IEP
註冊後, 為了讓參加會議更有趣,您將收到與會議相關的材料和物品,這些材料將幫助您的學生返回學校或幼稚園!
今年仍然是線上Zoom會議!如果您在註冊或設置方面需要幫助,請聯繫我們。
要獲得註冊幫助或請求翻譯,請發送電子郵件至 mye@elafrc.net。