Celebrate the Great Barrier Reef with scientists, reef guides, & film-makers & learn about the Citizen Science Challenge with Awesome Prizes
About this event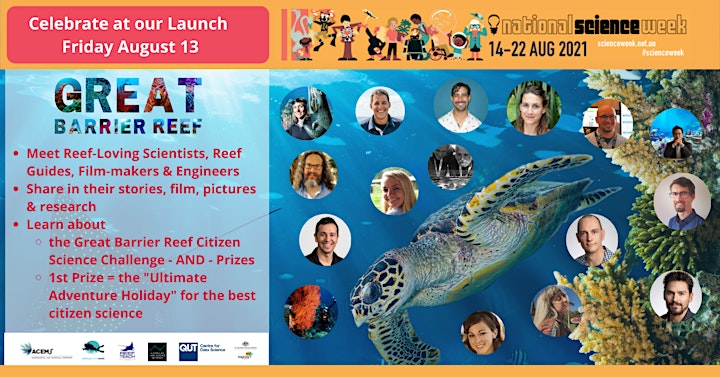 Celebrate the Great Barrier Reef on the eve of National Science Week - with scientists, reef guides, & film-makers -and- learn about the Citizen Science Challenge to help this Wonder of the World (and the Awesome Prizes to be won!)
Special reef-loving guests will share with you:
their stories, insights, film, and pictures celebrating our magnificent Great Barrier Reef
what they've discovered about the Reef - from leading eco-tourism adventures, citizen science expeditions, and research
how environmental aesthetics is relevant to conservation
significant disturbances and threats to the reef, and how the public (as citizen scientists) + STEM experts + technology can all help to better understand, monitor and protect the Great Barrier Reef (and other natural environments)
how you too can be a citizen scientist - to help the reef + gain valuable knowledge, skills + (if you're in Queensland) win awesome prizes (including a trip to the Great Barrier Reef!)
Plus you'll have an opportunity to:
ask questions of, and join the conversation with, our special guests.
learn about the Great Barrier Reef Citizen Science Challenge (August 14-22) with awesome (individual & team) prizes (see highlights below!).

We hope you will join us at the August 13 Launch event!
You can join us online, or for a watch party with networking over refreshments at one of our in-person events, which will proceed subject to any health restrictions and in accordance with COVID-Safety plans.
By registering with this form:
we will send event details (including link to join online) before the event
you can indicate if you'd like to attend in person (e.g., in Brisbane (at QUT) or Cairns (Reef Teach)) if possible
we can email registrants of any important updates too (such as if we need to go online only)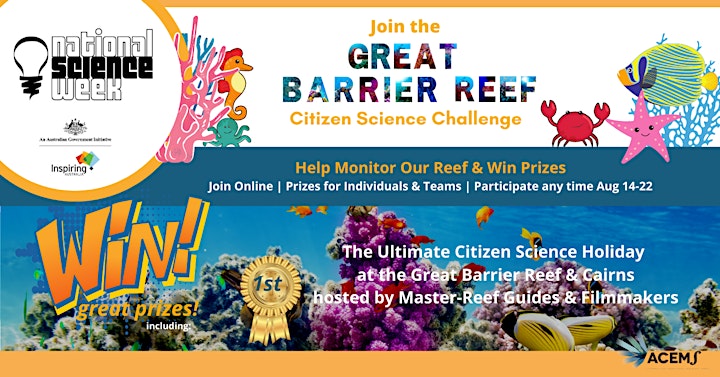 Learn about the Great Barrier Reef Citizen Science (Online) Challenge - with awesome prizes (including Great Barrier Reef Holiday)
At the launch, we'll share more about
our exciting Great Barrier Reef (online) Citizen Science Challenge, that's open during National Science Week (August 14-22)
how to get involved as an individual/team (e.g., school class or community group)
tips for honing your citizen science skills
the individual and team PRIZES eligible Queensland-based participants may win (see highlights below)
Meanwhile, you can learn more (and sign up) via our Challenge Eventbrite page.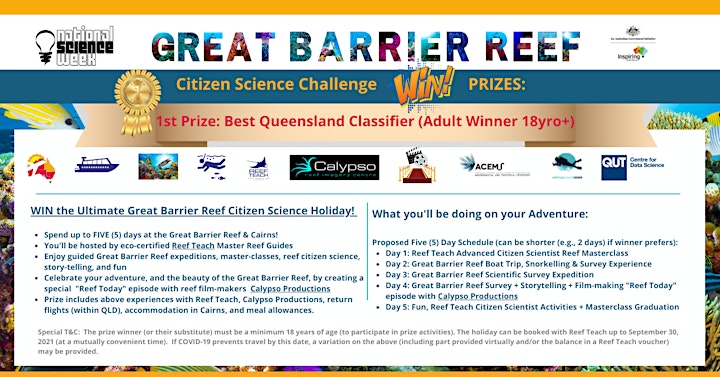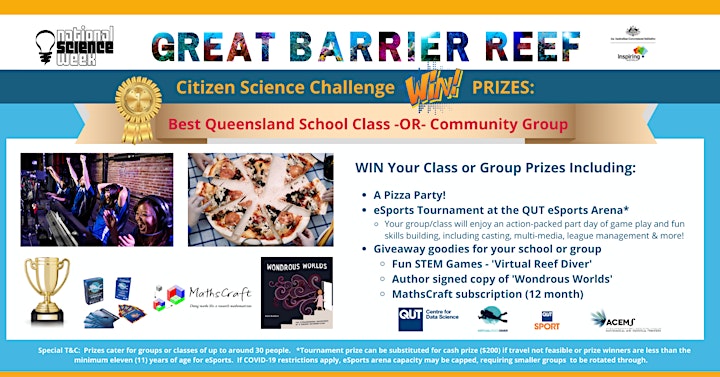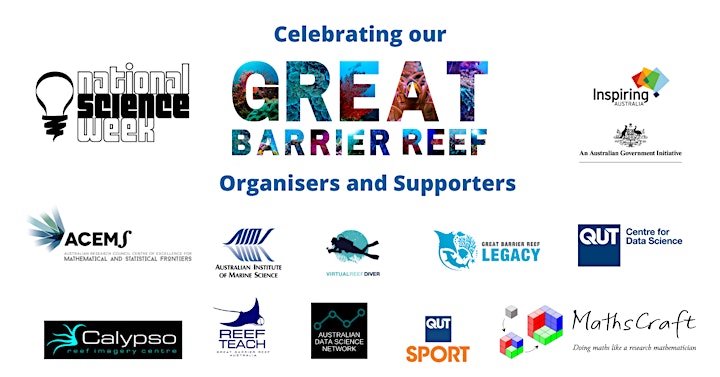 Organisers and Supporters:
The National Science Week GREAT BARRIER REEF celebration and challenge is brought to you by ACEMS and our valued partners and collaborators, as detailed below.
The Australian Research Council (ARC) Centre of Excellence for Mathematical and Statistical Frontiers (ACEMS) brings together a critical mass of Australia's best researchers in applied mathematics, statistics, mathematical physics and machine learning. Our research combines innovative methods for the analysis of data with theoretical, methodological and computational foundations, provided by advanced mathematical and statistical modelling, translated to benefit society. QUT is one of the seven university partner organisations of ACEMS, and is leading this initiative via the QUT Centre for Data Science.
Website: www.acems.org.au
Australian Institute of Marine Science (AIMS)
The Australian Institute of Marine Science (AIMS) is Australia's tropical marine research agency. AIMS plays a pivotal role in providing large-scale, long-term and world-class research that helps governments, industry and the wider community to make informed decisions about the management of Australia's marine estate.
AIMS partners with a diversity of stakeholders, including ACEMS, Reef Teach, and the Virtual Reef Diver collaborative project and citizen science platform.
Website: www.aims.gov.au
Virtual Reef Diver - Collaborative Project
Virtual Reef Diver is a citizen science platform and collaboration between scientists, managers, citizens, data analysts, marine explorers and reef operators working together to record, analyse and predict coral cover on the Great Barrier Reef. The aim of the project is to tap into the power of citizen science to dramatically increase the amount of monitoring data within the Great Barrier Reef, and then translate these crowd-sourced data into valuable information that managers can use to make better decisions.
Website: www.virtualreef.org.au/
Reef Teach is an eco-certified tourism organisation led by Master Reef Guides and marine biologists, who offer inspiration, education, and experiences celebrating The Great Barrier Reef, including guided tours, talks, internships, citizen science engagements, scientific communication, and scientific surveys and research in collaboration with partners including AIMS, Virtual Reef Diver, Eyes on the Reef, and has featured in "Reef Today" produced by Calypso Productions.
Calypso Productions - and - Reef Today
Calypso Productions, co-founded by a marine biologist film-maker, are experts in celebrating the beauty and telling the story and news about the Great Barrier Reef, using underwater photography, story-telling, film-making and "Reef Today"
Website: https://www.calypsoproductions.com.au/reef-today/
Great Barrier Reef Legacy is not-for-profit social enterprise, founded with the mission to address the urgent need to secure the long-term survival of the Great Barrier Reef and coral reefs world-wide.
GBR Legacy is an innovative leader in collaborative coral reef research expeditions, education, stewardship, citizen science, and multi-media engagement. It helps deliver groundbreaking projects, innovative science, education and public engagement to accelerate actions vital to the preservation of coral reefs, with support from public, private and corporate donations,
GBR Legacy is a supporter of Virtual Reef Diver and other citizen science projects.
Most recently, GBR has officially partnered with Corals of the World and Cairns Marine to create and launch the world's first "Living Coral Biobank" to safeguard the biodiversity of all known hard coral species. It will be based at Port Douglas, Queensland, with backup from public aquariums and home acqarists.
Website: https://greatbarrierreeflegacy.org/
MathsCraft takes students on authentic, challenging adventures that provoke curiosity, inspire creativity, and promote logical and critical thinking – all using maths knowledge they're comfortable with. PD for teachers & school curriculum.
Website: www.mathscraft.org
QUT launched Australia's first university esports program in 2017 with a purpose-built esports arena at its Gardens Point campus. It is a leader in the Australian esports industry, providing a pathway from amateur to professional participation in all aspects of esports. Its esports professionals lead an innovative program with community, competition, education, wellbeing and online safety at its core.
The eSports arena will be open during National Science Week, including for the Great Barrier Reef Citizen Science Challenge, and other celebrations of STEM.
Website: https://www.qut.edu.au/study/student-life/sport/esports
Celebrating science & technology. National Science Week is Australia's annual celebration of science and technology in August, with a a collection of events staged in August by individuals and organisations that together make up one of Australia's largest festivals.
We're proud to be a recipient of the National Science Week Queensland Seed to bring you these events, challenge, and prizes!
Website: https://www.scienceweek.net.au/
Organizer of Great Barrier Reef National Science Week Celebration & Challenge Launch