Description
Welcome to
Great Autumn Fest 2017
Our theme this year is:
What's Your Superpower?
September 22 - 24, 2017
REGISTRATION IS NOW LIVE!!!
Location
Camp Hawthorn Hollow in Columbus Township, south of Port Huron, has a rustic wooded camp feel yet offers amenities of running water, flush bathrooms and heat in the lodges. All nine lodges are located on fairly level terrain. Everything is within reasonable walking distance. Use this weekend to create new friendships, enrich your life and your troop with workshops or just get away and enjoy one of our beautiful camps! Parking is restricted-only one Emergency Vehicle permitted to park by each lodge.
Directions to camp:
Camp Hawthorn Hollow is at 1046 Mayer Rd, Columbus MI.
From the south (Detroit and suburbs) take I-94 east. From the north (Port Huron area) take I-94 west. Exit at Fred Moore Hwy, exit 257. At the end of the ramp turn west (left turn from the south, right turn from the north). Follow Fred Moore west for 0.5 miles to the second cross street. Turn North on Palms Rd. Go 2.7 miles to Gratiot, turn right (north-east). Go 1.1 miles to Mayer Rd, turn left (north again). The camp is on the left a little less than a mile along Mayer Rd. If you get to Rattle Run Road, you have gone about a quarter mile too far.
From the Flint area, it is a total of about 60 miles. Take I-69 east to exit 189, Wales Center Rd. Turn right at the end of the ramp (south). Go about 5 miles until the road ends at a T-intersection. This is Rattle Run Rd. Turn left (southeast). Go a little more than 3 miles to Mayer Rd. Turn right (south). Camp will be on your right in less than a quarter mile.
From the western side of town (Novi area) take I-696 east to I-94 and follow the directions above.
Who Can Attend
Adult GSSEM volunteers who want to gain knowledge, camaraderie, networking, friendships and fun. Also open to leaders in other GSUSA councils.
Cost
The $65.00 weekend fee includes housing, meals (Saturday breakfast, lunch, dinner, and Sunday breakfast), event patch, evening events and so much more. Some workshops require an additional fee or you may be asked to bring your own materials. We will be accepting registrations for Saturday Only participants. The cost for attending Saturday Only is $40.00 and will include three meals. Priority will be given to "full weekend" participants.
How To Register
Before you register for our event and merchandise, be sure to read the Workshop descriptions below. Decide on your preferred workshops and write down the class number for each session. Choose one ticket based on desired housing. Click the bright green "Tickets" button. The site will then take you to another page where we will ask a lot of questions designed to help you get the most out of your weekend. You will choose workshops and gear following this. If you have any questions about registration, contact: Rose Callahan, 25810 Hayes Road, Roseville, MI 48066 313-550-4974, or at GAFevent@gmail.com
Volunteers Always Needed!
We are always looking for volunteers to serve as Site Managers (must be Outdoor trained), First Aiders, Volunteer Greeters or help with ceremonies. Think you'd like to give it a try? Contact us at GAFevent@gmail.com or check the box at registration.
Accommodations
Accommodations are assigned on a first-come first-served basis! Choose from:
Lodges (aka Troop houses) - All troop lodges have bunk beds, electricity, heat, running water, bathrooms with flush toilets, kitchens, stove & refrigerator (32 beds per lodge). SHOES CANNOT BE WORN BEYOND THE MUD ROOM IN ANY OF THE LODGES, BRING SLIPPERS. The lodges are set up in "pods" of 3 buildings fairly close together. Choose your lodge by your desired bedtime – early (11:00), midnight, or none.
Platform Cabin Village - We have reserved one "village" with a total of 5 cabins, connected by a wood walkway (4 beds per cabin). All have an outside porch light and 1 inside light bulb. NO electric outlet in cabins. NO heat. Each village has access to a "3 season" unit with a refrigerator, hot water, sink, flush toilets and limited electric outlets.

Reservations are based on the number of lower bunks available in each lodge. You will have a chance to indicate if you would accept an upper bunk at registration.
You also will have a chance to list friends that you want to share accommodations with. If you truly cherish your sleep time, we recommend you choose a unit with an early assigned bedtime. If you need barrier-free housing - send your application in early and let us know!
Arrival/Departure
Plan to arrive between 5:30 and 7:30 pm, Friday, September 22nd . Campers arriving before 5:30 pm must remain in the parking lot. The weekend concludes at 12:30 p.m. on Sunday, September 24th. Saturday only and late Friday arrivals check-in on Saturday between 7:30 am and 8:45 am. Note: health forms are no longer required for adults.
Workshops
Listings for Workshops and applicable fees are below. Workshop fees are not refundable after August 1. Some workshops require you bring specific materials: see below for details. Please note, emergencies happen - the listed facilitators may change without notice. Direct workshop program questions to: GAFevent@gmail.com
Silent Auction
Recycle your unwanted gifts for a new cause. All items are welcome and donations of all kinds are accepted. You can donate items or create a basket for us. Please include a list of items in your basket. Donations should be dropped off Friday night to give our committee the chance to put baskets together. Silent Auction and "Tin Can" auction bidding will be available all day on Saturday; your identity will be kept secret and the auction will conclude at 8pm on Saturday. The winners are announced on Saturday evening. All items are to be paid for and picked-up Saturday night or Sunday morning. Pay by cash or charge.
Service Project
We have three Friday evening Service Projects this year. Participate in one, or all!
A Special Occasion Dress Drive will benefit A Beautiful Me Closet. Clean out your closet and donate fashionable, special occasion (after-five, prom/homecoming, bridal, First Communion) dresses in good condition along with accessories (i.e. purses, jewelry—sorry, NO shoes.).
And, help create a Greeting Card Collection to benefit Children's Hospital of Michigan. CHM Staff tries to give cards to children who are doing well following their therapies or programs. They are in need of cards for patients with messages of encouragement (i.e. "Way to Go!", "Good Job!", "Keep it up!" "You Rock!") and birthday cards, as well as sympathy cards for families with envelopes. We'll concentrate on making cards with our Superpower theme.
We will also be collecting new socks, large-sized men's and women's, for donation to Southwest Solutions Housing Resource Center, which serves the mentally ill and developmentally disabled homeless.

Special Events and Ceremonies
We have many activities scheduled for the weekend. This includes Friday night swapping and service project, and night hike. You will also not want to miss our Saturday evening Special Event, and come home with a prize from our Snoop game! A preliminary schedule will be included with your confirmation. The confirmation will be sent to the e-mail you give us at registration – please make sure it is correct so we can communicate with you! Your e-mail address will not be shared. The schedule is jam-packed with workshops and activities for those who like to keep busy. You do NOT have to participate in all activities. Please plan to attend the opening, closing, and Flag retirement ceremonies.
Deadlines
Online registration and merchandise orders end August 1, 2017. For late registration, call the Registrar, Rose Callahan, at 313 550-4974. Not all workshops may be available after August 1. Gear ordered after August 15 will not be delivered at camp.
No refunds after September 1, 2017. You may transfer your entire registration (no changes in accommodations, workshops or gear) to another participant if a last-minute emergency means you cannot attend.
---
Workshops
Session I: Saturday 9-11 am
101 Fitbit Power & You! - Come energize yourself with fitbit exercises and make a smoothie and homemade energy bars. Only you can make a new you! Facilitator: Mary Lou Behrendt $5.00
106 Bullet Journal - What is a bullet journal? Come learn about a system that can be as basic or creative as you want. Create your own bullet journal which can include your to-do list, journal, planner, and more! Start fresh using a new journal (supplied) and if you'd like bring your current calendar/planner with you, we can discuss ways to convert it to a bullet journal. I'll also provide some decorative touches to get your creative juices flowing! Facilitator: Bethany Morrell $5.00
110 Charging your Superpowers! - Have you ever wanted to know a bit more about the coffee you buy and drink? Have you ever wondered about some of the different brewing methods used for coffee such as cold brewing, french press and espresso? Come join us as I pass on some of the knowledge I learned as a barista for Seattle's Best Coffee. There will be coffee to sample, fun facts, and maybe you will learn a bit more about the third most popular beverage in the world. Facilitator: Leah Benard $3.00
111 Musical Chairs Painting - Have fun creating a step-by-step painting, with the help of 11 other Girl Scout friends. Each person will paint a section, then move to the next chair to work on another canvas. At the end, take home one collaborative work of art. No painting experience is needed, but a sense of humor and willingness to put aside perfectionism is essential. Facilitator: Rose Callahan $7.00
112 You're More Than You Think You Are - Do you treat yourself the way you should? Do you see your own value? This presentation will release your super powers as women to stand taller, feel valuable, and know you are more than you think you are! Fee covers materials and giveaways. Facilitator: Karen Palka $5.00
119 It's Our Earth: Defend It - Membership in the League of environmental Superheroes is now open to all willing to explore. Requirements are: 1) enthusiasm about our earth, 2) have great respect for nature, 3) love the out of doors, 4) believes in learning by doing, and 5) addicted to having fun. Let's explore together the principles of Leave No Trace and adapting them to our everyday lives in our urban environment. Facilitators: Amy Willman & Stella Woitulewicz No Cost
123 Papercrafting - Discover how using simple supplies, you and your troop can create decorations, gifts, and mementos for many events in their Girl Scout experiences. Facilitator: Heidi Voytas No Cost
Session II - Saturday 1-3 pm
203 Helping Girls Find Passion - Girl leaders of the future can be ignited with the Girl Scout High Awards: Bronze, Silver and Gold. Let me provide some insight to how to get your girls excited to take action and make a difference in their community. Overview of all three awards will be discussed with an emphasis on how to get girls excited about the awards and how their passion will get them to achieve Gold! Facilitator: Jan Robertjohn No Cost
212 You're More Than You Think You Are - Do you treat yourself the way you should? Do you see your own value? This presentation will release your super powers as women to stand taller, feel valuable, and know you are more than you think you are! Fee covers materials and giveaways Facilitator: Karen Palka $5.00
213 Beginning Poly Clay - Did you enjoy playing with clay (like Play-Doh) as a child or even as an adult? Here is your chance to play with polymer clay (FIMO or Sculpey brands, NOT air dry!). Learn some of the techniques to make beads and other projects. Supplies needed: Bring two two-ounce blocks of 2 colors of clay (Fimo, Sculpy, baking clay). Facilitator: Robin Ackerman $5.00
216 Camp Hawthorn Hollow Super Service Project - Use your super powers to help give back to Camp Hawthorn Hollow. Help GSSEM build an addition to their challenge course. May require ability to do physical labor. No Cost
217 Cake Decorating 101 - Learn to decorate using some of the basics - a round, star and leaf tip. See how many things you can do and decorate with just 3 tips. Students will make 4 cupcakes and will get to take the cupcakes and basic tips home. Facilitator: Nicole Sesko $9.00
220 Icky Science - Part Two - Beyond Defeating Slime - Double, double, oil, and rubble, droppers drop and prep bowls bubble. No eye of newt, no toe of frog, no wool of bat, no tongue of dog. Join us for more hands-on science fun with simple materials that are easy to obtain and use in a troop setting. Facilitators: Amy Willman & Stella Woitulewicz No Cost
224 Genealogy - What to know more about your ancestors? Want to help your troop girls to begin their family tree journey? Learn the steps in genealogy research and receive copies of forms to help you start! Facilitator: Judy Muhn $1.00
Session III - Saturday 3:30 - 5:30 pm
308 Going Global - World Center Travels - It's time to begin to live our dreams! We have 4 homes around the world to visit! Come learn and experience the joys of international travel to one of our Girl Scout World Centers! Girl Scouting is one of the few youth organization that offers members global opportunities to enhance their growth and development. The course will cover the details that you need to consider when booking and planning a trip. Learn from an experienced leader and a Friend of Our Chalet! Facilitator: Suzanne Bante No Cost
314 Camping Super Hero - Do you want to plan your very first troop trip to camp? Have you tried pre-planned camp outs in the past but want to try planning your own meals and programing? Come learn about a variety of camping options, find what's best for your troop and how to put it all together. All participants should bring a notebook and something to write with. Facilitator: Anna Jochum No Cost
315 Get Marbled - Come and learn the ancient form of marbling. Marbling is the art of floating colors on liquid, arranging them to form a design, and capturing the image by making a contact print. Although marbling has been around for centuries, very few people know about it. You will learn how to marble paper so you can make note cards with it. We will also marble a bandana and a silk scarf. Facilitator: Shirleigh Vinson $8.00
316 Life Expressions Décor - Have you been to a friend's house and noticed a personalized expression wall hanging only to find out that your friend actually made it? Come out and make one of your very own! Four images to choose from. Facilitator: Cathy Caputo $20.00
318 Yoga Bend and Stretch - Soothe those achy muscles away with a session of yoga after a long day of being superwomen. Spend some personal time learning about yoga that you can take back to your girls to de-stress and relax. You will need to bring a yoga mat and comfortable clothes. Facilitator: Julie Machiorlatti $3.00
323 Papercrafting - Discover how using simple supplies, you and your troop can create decorations, gifts, and mementos for many events in their Girl Scout experiences. Facilitator: Heidi Voytas No Cost
325 Soap making for Super Heroes - Learn how to make home-made soaps and bath salts that will entice the senses. This is a course where concepts can be easily geared toward your Girl Scout troop. Facilitator: Pat Glasgow. $7.00

Session IV - Sunday 9:30 - 11:30 am
402 Super SWAPS Success - Twenty-five years of International River Crossing experience has given me some fun insights into SWAPPING! Come join the fun and complete at least a dozen swaps to take with you. Learn the History and Etiquette of successful swapping and how to display your SWAPPING treasures. Facilitator: Jan Robertjohn No Cost
404 Empowering Girls as Mentors - When you guide people or teach them something you know, you're a mentor. Daisies & Brownies benefit when older girls step into a mentoring role and share what they know. Daisies & Brownies cannot wait until it's their turn to be a "Leader Girl". Come learn how Juniors & beyond earn mentoring awards to help them to become empowered and confident in this role and grow as leaders. This session is for all program age levels to become aware of how this "magic" happens with the Junior Aide, LIA, Program Aide, LIT, CIT and VIT awards. Facilitator: Josephine Starceski $1.00
405 What's Your Super Flavor? White, Milk or Dark - Come explore easy chocolate creations you can take back to your troop, or family, and have loads of fun doing it. Faciliator: Linda O'Leary $7.00
407 Beginning Knitting - Enjoy learning basic stiches and techniques with knitting needles. Create a new power past time for yourself or making something to share with others. Materials furnished. Facilitator: Marie Butkowski No Cost
409 Stamp Your Art Out - Rubber Stamps 101 - Stamping can be done on so many different palettes including tile, fabric, and greeting cards. Learn various ways to use rubber stamps by creating a tile, a card, an invitation, or a bandanna or t-shirt. You will be introduced to rubber stamps as well as embossing and the use of glitter. Facilitator: Chris Spangler $4.00
422 Deco Mesh Wreath Making - Make a decorative mesh ribbon wreath. Quick and easily customized. This project is easy to teach and share with your troops. Materials furnished. Facilitator: Courtney Dobry $6.00
---
Gear
Great Autumn Fest themed gear is available for pre-order. Gear this year will be Superman-blue short or long sleeved T-shirts, crew-neck sweatshirts and zip hoodies. See below for a representation of how the gear is screen-printed with our logo, and for sizes and descriptions. All prices include sales tax. All sizes are unisex. Please allow for shrinkage - you may want to order one size larger.
To be guaranteed GAF gear, orders MUST be received with your registration. GAF 2017 Gear is ordered on the registration form immediately after workshops, and payment is due at time of registration. Any gear ordered after the August 25 deadline will NOT be delivered until after camp. There may be order opportunities at camp. Those orders will be sent after camp to your address and will include a shipping charge. NO GAF MERCHANDISE ITEMS WILL BE AVAILABLE FOR PURCHASE AT CAMP. Questions about merchandise? Contact Sue at smmliv27@aol.com
Short-sleeve dark royal blue T-shirts, Gildan 50/50 blend, with the 2017 GAF logo screenprinted in red and yellow on front. Price $11.00 (S, M, L, XL), $13.50 (2XL), $14.00 (3XL), 15.00 (4XL) or $16.00 (5XL).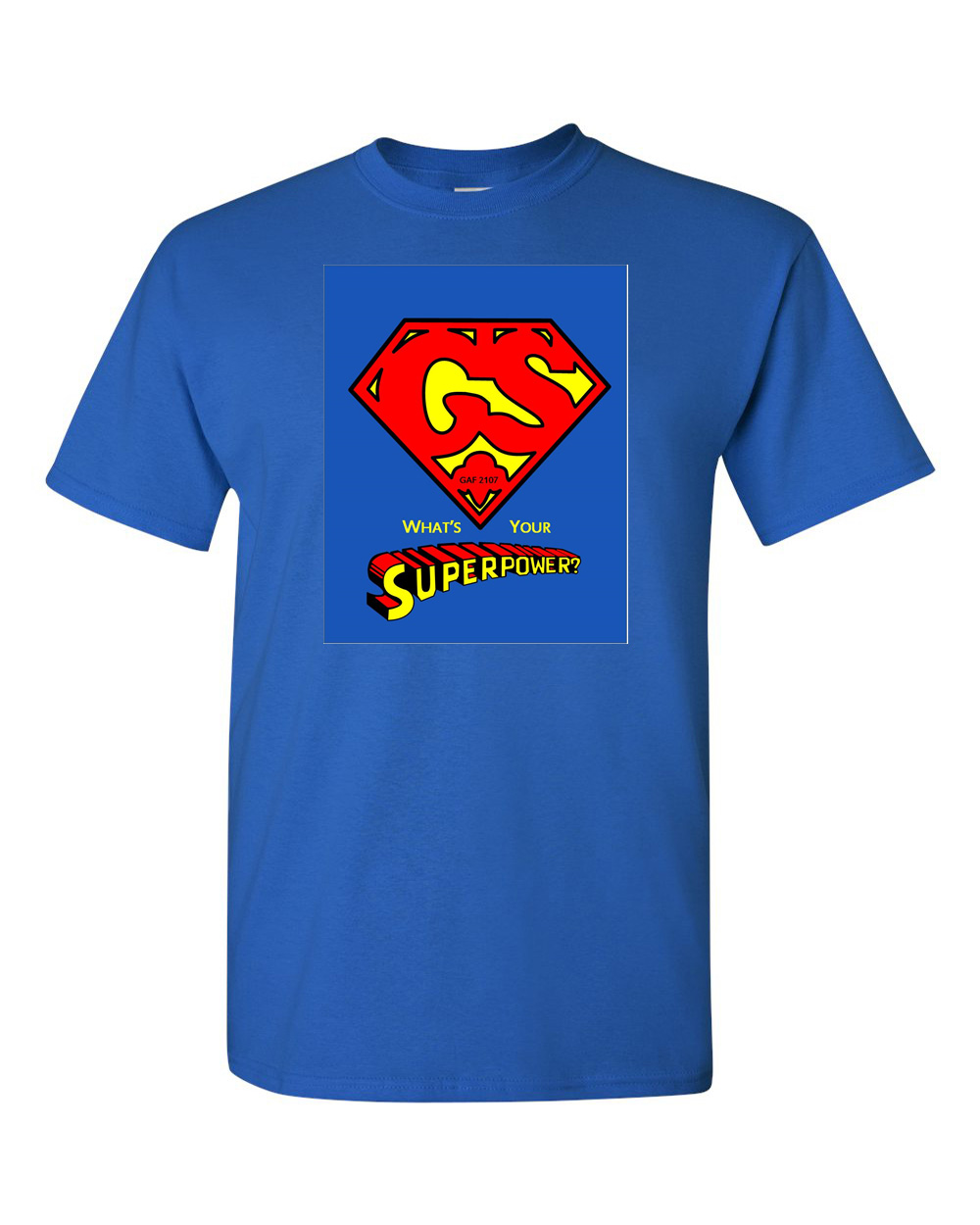 Long-sleeved dark royal blue T-shirts: as pictured above except long-sleeved. Gildan 100% Cotton. Allow for shrinkage - you may wish to order one size larger. Price $14.00 (S, M, L, XL) - $16.00 (2XL), $17.00 (3XL), $18.00 (4XL), or $19.00 (5XL).
Crewneck Sweatshirts: Royal blue Gildan 50/50 blend, with embroidered logo on upper left chest. Price $17.00 (S, M, L, XL), $19.00 (2XL), $20.00 (3XL), $21.00 (4XL), or $22.00 (5XL).
Zip-up Hoodie: Royal blue Gildan blended cotton with embroidered logo on upper left chest. Price $27.00 (S, M, L, XL), $29.00 (2XL), $30.00 (3XL), $31.00 (4XL), or $32.00 (5XL).
Any questions about the event: GAFevent@gmail.com
See you in September!
Linda Morrell, Director and the 2017 Great Autumn Fest Committee