Great American Litter Pick Up 2017 - District 2
Description
Together, let's beautify our community and celebrate Earth Day
You, family and friends are invited to join Councilmember Sergio Jimenez, the District 2 Team and other neighbors to pick up litter throughout our community.
Saturday, April 22, 2017
BREAKFAST & CLEAN UP: 8:30 A.M. – 11:30 A.M.
LUNCH & CELEBRATION: 12:00 P.M. – 1:00 P.M.
Please register to meet us at one of these designated central locations:
Santa Teresa High School

6150 Snell Ave.
Meet at student parking lot

Oak Grove High School
285 Blossom Hill Rd.
Meet at old quad, between student parking lot & theatre

Great Oaks Park
5248 Snow Dr.
* On the day of the event, please check in at your meeting location at 8:00 a.m.
District 2 will provide:
Free breakfast

Free lunch (volunteers from all three locations will meet at Oak Grove HS for lunch)

Litter pick up sticks


Trash bags
HIGH SCHOOL COMPETITION
The Mayor's office is holding a competition between San Jose high schools and will award cash prizes to the high school with the largest student volunteer turnout!

1ST PLACE $1,000
2ND PLACE $300
3RD PLACE $200
Please wear comfortable clothing.
Students may earn community service hours at the end of this event.
All volunteers must sign a Volunteer Service Agreement form. Volunteers under 18 years of age must have the form signed by a parent/guardian.
SPREAD THE WORD! LET'S CONTINUE TO MAKE D2 BEAUTIFUL.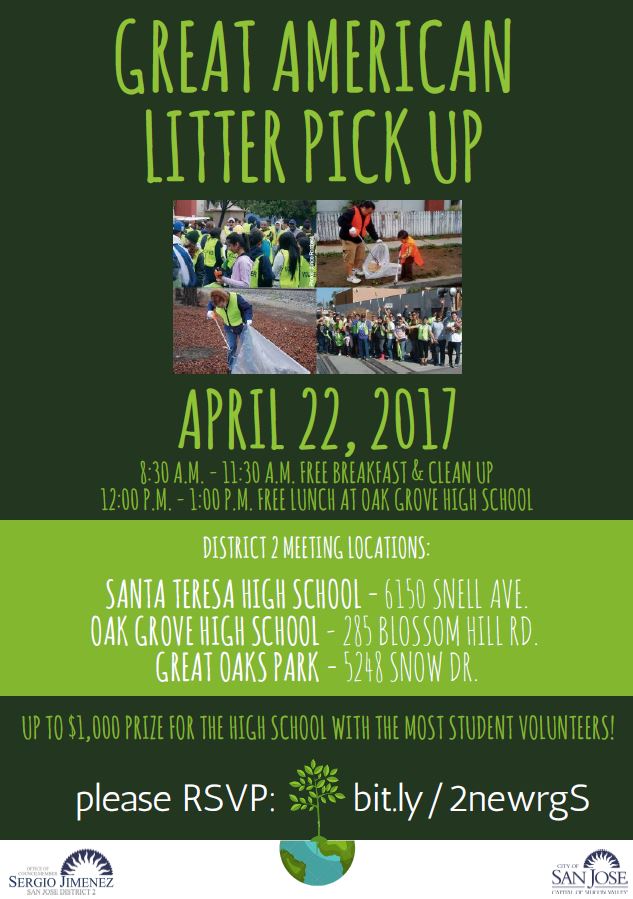 ---