Fire season is just around the corner, and managed grazing offers an elegant system that builds soil health and resilience to wildfires.
About this event
At this workshop, we'll hear from two leading practitioners in the field of regenerative grazing. We'll witness firsthand a flock of sheep grazing for fuel reduction and soil-building at this beautiful retreat center in the hills of Anderson Valley. Both days of learning will be spent outdoors.
This workshop will explore opportunities to invest in the resilience of land, using livestock as a vehicle for soil-building. We'll learn how planned grazing and monitoring can build drought and fire resilience, biodiversity, soil carbon and increase rainfall effectiveness.
We will also be introduced to a framework for decision-making and planning processes developed by Allan Savory, which helps individuals manage the complexity of the land, human, and economic resources they manage more effectively.
Who is this for? This workshop is for anyone wanting to improve current land management and create resilience in our life support system for generations to come. This includes city dwellers who wish to be more connected to land, young agrarians, and rural landowners or ranch managers who wish to understand how to use livestock to improve the health of their land rather than degrade it.
Can I stay onsite? Absolutely! While attendees may attend the workshop and stay off-site, we encourage attendees to book accommodations at Bell Valley for the weekend to enjoy the fullness of this weekend grazing getaway! For those staying onsite, there will be an "after dinner" opportunity to connect with Ruthie and Richard on Saturday night to go deeper around the workshop themes. Please email stay@bellvalleyretreat.com to arrange accommodations for an additional charge.
Day 1: Soil Health & Ecosystem Processes - Beginning with the End in Mind
10am - 4pm
Learn the four soil health principles and the four ecosystem processes
Learn how to look at the land and read the simple field indicators of healthy soil and effective ecosystem processes
Learn how properly planned grazing can benefit soil health principles and ecosystem processes and how poorly managed grazing can destroy them
Learn the differences between overgrazing plants, severely grazing plants, and overutilization of soil cover versus overgrazing a pasture
Learn the importance of both planning and monitoring to create the desired outcomes
Learn how managing holistically differs from our conventional decision-making and planning and learn an overview of Allan Savory's framework to help us make better decisions, plans, and policies
Learn how to make decisions based on how you want your life to be
Learn to use a simple checklist to prevent creating unintended consequences
Day 2: Planned Grazing - Managing Animals on your land
10am - 3pm
A year with sheep or goats: what are the seasonal requirements of having these animals on your land? How and when to schedule breeding, lambing/kidding, nutritional requirements, health and veterinary needs.
Infrastructure for rotational grazing: demonstrations of electric netting paddock construction for temporary paddocks, discussion of the infrastructure requirements for water and electricity
Nonlethal predation control: discussion of how to protect your flock from carnivores using electricity, guardian animals, and other mechanical deterrents.
Learn why every grazing planning situation is unique, and why all the variables need to be addressed to create the best possible grazing plan
See firsthand how grazing is being used for fuel load reduction and fire resilience
Social Distancing Protocols: We will be conducting the entire workshop outdoors. Masks are required to attend and we will be observing 6' social distancing protocols during this event. Please check your temperature before you come and stay home if you are sick.
Lunch/Additional Details: Bring a sack lunch, snacks and water bottles. If you are staying onsite, please plan to bring your food or enjoy food locally in Boonville (a 10-15 minute drive). Please plan to be outside and dress accordingly. Bring warm clothes & gear for the elements including sun hat, sunscreen, windbreaker and warm layers - we don't expect rain but be prepared just in case. If it comes, we will enjoy the blessing of rain while continuing with the workshop.
About the Learning Facilitators:
Richard King grows soil and biodiversity on his family's land in Petaluma and raises grass finished beef for his customers. He enjoys helping others learn the holistic management framework and become more successful in managing their land, human relationships, and money. And he enjoys helping people learn consensus building skills to address the many kinds of conflicts in our lives. He has professional certifications with Holistic Management International, the Savory Institute, the CA State Board of Forestry and Fire Protection, and the Society for Range Management.
Ruthie King is a shepherd and firefighter based out of Mendocino County. Headwaters, her grazing operation consisting of 80 sheep and two donkeys who produce meat, wool and hides, will be grazing onsite during the workshop. The flock grazes land throughout Mendocino for fire fuel reduction and soil fertility. Ruthie's operation is a part of a farming collective at Ridgewood Ranch called the New Agrarian Collective which she helped found, and is closely associated with the training program she helped to start in 2013, the School of Adaptive Agriculture. Ruthie works seasonally, shearing sheep for flocks around Northern California, harvesting her own animals for meat, working the lambing barns at UC Hopland, and fighting fires during the fire season.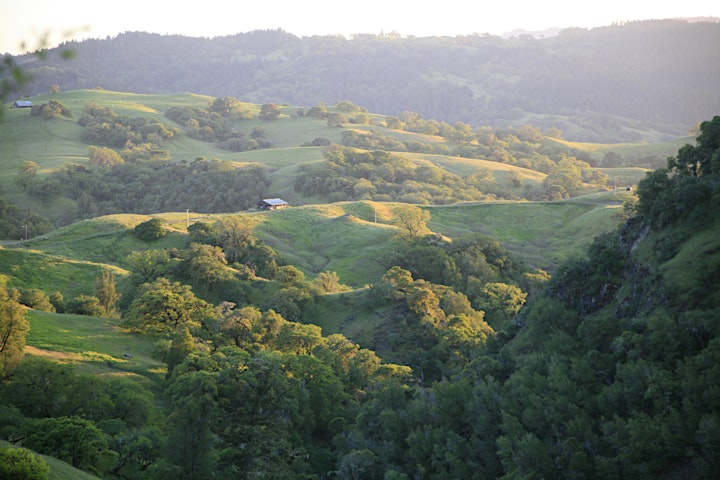 Organizer of Grazing Livestock for Soil Health, Biodiversity, and Productivity - Two Day