GRAYHAT: A fusion of Cybersecurity Professionals & World Renown Hackers, Dozens of trainings and Briefings #Safetime Texas Cyber Summit
About this event
Fusion: A fusion of Cybersecurity Professionals and World Renown Hackers
This year's event was intended to be a multi-day, inclusive conference for every level of expertise. Every company should provide Cybersecurity awareness to their employees – What better way than to spend #SafeTime #online, with Grayhat Live Online - a fun, educational and social conference that provides over dozens of Trainings, Briefings, challenges, competitions and a great number of learning activities.
Virtual Components: GrayHat has one of the most advanced Immersive Virtual environments, which allows remote users to attend the summit they have grown to know and love, you will navigate and feel right - in the Mix , from the comfort of your home.
2020 Program: GrayHat is loaded with world renown Keynote speakers, briefing and trainers. Featuring highly technical briefings, cutting-edge trainings and groundbreaking research. This year will include informational breakout sessions, hands on training, tools and methods, Capture the Flag competitions, forensics, scada, critical infrastructure, hardware hacking, Wireless workshops, Red and Blue team specific challenges, briefings and hands-on classes, and of course our world class "Hackers Haven", just to name a few.
Villages: A Group Gathering of similarly minded individuals in pursuit of knowledge in the realm of a specific field of technology, tools, concepts, tactics that come together to help teach, mentor, train and provide inclusion for everyone interested in that technology field. Join nearly a dozen villages as they present briefings, trainings, labs and competitions.
Featured Villages: Red Team Village, Wireless Village, Lock Bypass Village, Bio Hacking Village, ICS Village, IOT Village, Monero Village, Aerospace Village and many more check them all out !
Join Discord to interact with the villages - https://discord.gg/grayhat
Sponsors are welcome to review our multi-day professional business hall, and to obtain high visibility, there are various options with the virtual booths and table space, You can even visit one-on-one with interested attendees from all over the world. email -> sponsors - ala - grayhat.co for complete details.
Career and Job Fair: Our goal has always been to help those that need it the most, by connecting those looking for jobs with those that are hiring, we try to stay out of the politics! The GRAYHAT "Virtual Career Hiring" invites all companies interested in hiring Cyber and Tech related job seekers with free virtual access – Virtual Recruiting & Career Mixer October 29th 2020
2020 Theme: Assimilation
The rise of Artificial Intelligence and human augmentation will it be the human in control of the augmented AI capability or will we be Assimilated?
Three Levels of Access:
Level 0 - Free (& Donation only - 100% goes to Charity) all proceeds go directly to our supported Charities. This ticket mainly gives you access to all the Village Content, Briefings, Trainings, Competitions, Challenges, Access to the GrayHat Armory, all the GrayHat Contests, competitions and challenges, the Bug Bounty Summit, Women in Tech, Vendor Demo Labs, activities and social - After-hour entertainment. (does not include Grayhat Keynotes, Labs or Workshops)
Level 1 - $49 with 50% going to our supported charities: Access all Level 0 content, plus all the GrayHat Keynotes, GrayHat Workshops and Labs and hands-on Trainings.
Level 2 - $79 with 50% going to our support charities: Access all Level 0,1 content, plus special "Meet the Experts" includes two - fifteen minute sessions, also potentially limited access to an On-Demand portal (in the works), An event memorialized Patch and stickers.
IMPORTANT:
How will this whole virtual thing work ?
For Video: We utilize YouTube/Twitch.TV and a Paywall for streaming video access at level 1 & 2 ticket holders.
Note: All level 0 ticket holders will gain access video via streams by the villages.
For Communication: You WILL-NOT be able to chat directly with a speaker or trainer, all communication will be done via "Discord" a text chat program, its similar to slack, teams, irc - You will need to be on the appropriate discord server,(GRAYHAT) and in the appropriate channel on that server, note that all Speakers and Trainers will be monitoring their channel(s) on the Grayhat "Discord" server during their session and will answer text based questions as well as there will be moderators and technical experts in each channel to help guide attendees. To Join discord click here: https://discord.gg/grayhat
Note: If you are receiving a free ticket or donated to the charities, level 0 access provides you access to all of the Village Content ie: briefings, labs/trainings they may host, as well as any competitions. The level 0 free ticket includes access to the GrayHat Armory, all the Grayhat Contests, Competitions and Challenges, the Bug Bounty Summit, Women in Tech summit, Business Hall, the Vendor Demo Labs and our famous Social: After-hour entertainment. (see website)
2nd if you purchase a level 1 or level 2 ticket you will have access to the GrayHat Keynotes and Special Guests, access to all the GrayHat hands-on Trainings, Workshops and Labs. Keynotes and special guests are streamed via the Grayhat.co website and you will need to login to see them. For workshops and labs You will need to Join Discord and become familiar with how discord works: https://discord.gg/grayhat you will also have all level 0 benefits (see ticket) Make sure you Note your "USERNAME" in Sched you will need it to log into the GrayHat Website.
3rd if you purchased a level 2 ticket you will have access "Meet the Expert, where you can select two - fifteen minute sessions with any of our experts on the schedule (if a slot is open) and all of our on-demand training sessions. As well as a swag bag that includes event stickers and a event patch.
Always check the GRAYHAT https://Grayhat.co website for the latest news, schedule and full agenda, and make sure you can log into to the Grayhat Website.
TSHIRTS - Please note: All TShirt Costs are for the shirt and shipping in the continental USA only. if you are international please message us for the international shipping fee's as with Covid19 some locations and shipping is ridiculously expensive. Please email us before you purchase for any swag item outside the continental USA for exact shipping costs. You can also purchase from the Grayhat Teespring site, and they manage the shipping. Shipping will be delayed so please be patient, it will take upto 30 days to ship.
Note: When you register with Eventbrite, you will be automatically transferred to "Sched.com" to help you build your schedule, at that point your "username" is assigned and can be different from your original user, so please check under your profile for "username" you will need it to log into the "GrayHat.co" website. This is one of the reasons we ask attendees to register on discord, Eventbrite, and sched early so they can get the lay of the land ! Do it now !
Supported Charities:
Official: Innocent Lives Foundation: https://www.innocentlivesfoundation.org/
Unofficial: Morgan's Wonderland: https://www.morganswonderland.com/
Grayhat is a (TM) of Grayhat Cyber Conference, A Texas Not-for-Profit Corporation https://Grayhat.co ~ https://Greyhat.org https://grayhat.tv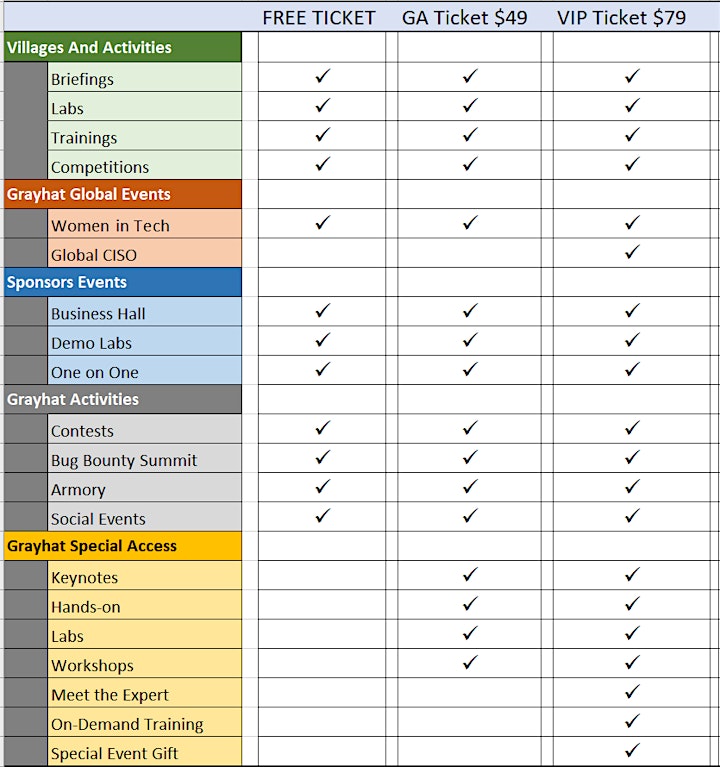 Date and time
Location
Refund policy
Organizer of Grayhat Cyber Conference
GRAYHAT: A fusion of Cybersecurity Professionals and World Renown Hackers. Our third year is intended to be a multi-day, all-inclusive conference for every level of expertise. Every company should provide Cybersecurity awareness to their employees – What better way then to spend #Safetime #online, with Grayhat Live Online - a fun, educational and social conference that provides dozens of Trainings, Briefings, challenges, competitions and a great number of learning activities. https://grayhat.co/tracks