About this Event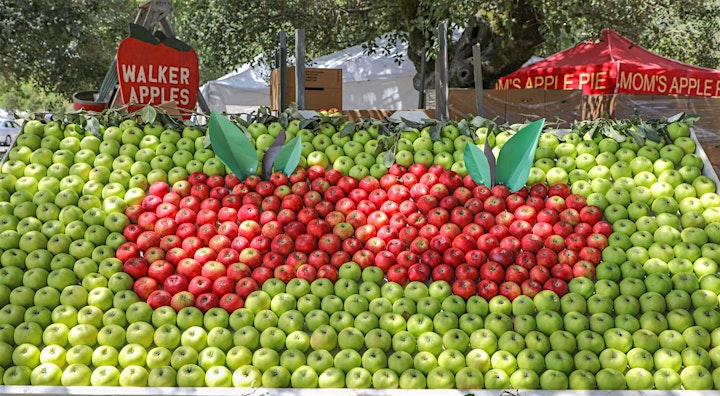 Join Sonoma County Farm Trails for our 47th annual fundraising bash, the beloved Gravenstein Apple Fair!
Saturday & Sunday, August 15 & 16, 2020 • 10 am to 6 pm
Produced by Sonoma County Farm Trails
Full details & schedule: gravensteinapplefair.com
GENERAL ADMISSION TICKETS
Adults (13 and over): $12 ($15 at the gate)
Kids (5 to 12): $8 ($10 at the gate)
Kids under 5: Free!
ARTISAN TASTING LOUNGE (additional ticket)
Adults (18 and over): $20 ($25 at the door)
Held Saturday and Sunday, August 15 and 16, during the peak of the local Gravenstein harvest, we'll be gathering the best local food, drink, artisans, musicians, and performers for a weekend of country fun under the majestic oaks at Ragle Ranch Regional Park in Sebastopol.
LIVE MUSIC: We will have top original musical acts performing on two stages throughout the weekend, from boot-scooting twang to high-energy Americana to soul-soothing gospel. Wear your dancing shoes because everyone loves to get out on the dance floors!
FAMILY FUN: There will be bushels of exciting kid-friendly activities celebrating Sonoma County's apple and agricultural heritage: cute barnyard animals, farming and ranching demonstrations and talks, the iconic hay maze, old steam locomotives, stilt walkers, giant bubbles, apple-themed crafts, and whimsical contests like sack races, piglet races, apple pie eating, and apple juggling!
MAKER HAVEN: Makers will love the Do-It-Yourself Arena for free workshops on a broad range of agrarian skills and crafts. Past topics have included jam and cider making, beekeeping, earthen oven building, and fiber arts—and much more, all presented by top local experts!
FOOD & DRINK PARADISE: Those looking for gustatory delights will have no shortage of high-quality, locally grown and made food and drink: farm-fresh apple fritters and pies, a delicious range of food options for every palate and diet, the Craft Cider, Beer, and Wine Tents, and to top it off, the intimate Artisan Tasting Lounge, a separate ticketed area offering exclusive samples of Sonoma County's amazing food and drink with the producers themselves. And, of course, Gravenstein apples galore!
ARTISAN TALENT: Shoppers will want to check out all the amazing unique arts and crafts vendors throughout the fairgrounds, each one carefully selected and curated.
SUPPORT LOCAL AG: And you'll enjoy all of this while helping to raise much-needed funds for Sonoma County Farm Trails, a nonprofit organization founded in 1973 that is 100% dedicated to connecting the public to local farmers, ranchers, and agricultural producers through our annual print Map & Guide, dynamic searchable website (FarmTrails.org), seasonal farm tours, holiday campaign, and of course the Gravenstein Apple Fair.
THANK YOU FOR SUPPORTING OUR MISSION OF FARMS FOREVER!