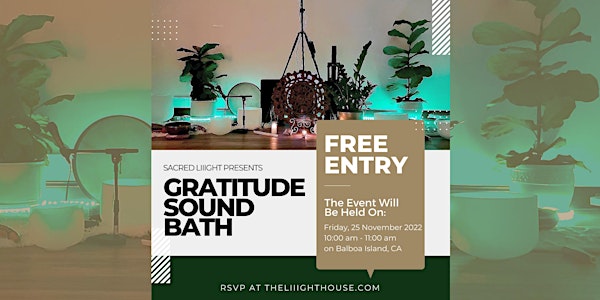 Gratitude Sound Bath Hosted By The Liiighthouse on Balboa Island, CA
Join in person for a relaxing sound bath on Balboa Island, CA
When and where
Location
Hosted By The Liiighthouse on Balboa Island, CA 302 1/2 Marine Avenue Newport Beach, CA 92662
About this event
November 25th • 10am
on Balboa Island, CA
A Sacred Liiight Experience
Join Evelyn Starlight (of @sacredhealingsessions) & Dru Ali (of @liiightspace), together as Sacred Liiight, sharing a healing sound bath in Gratitude for Community.
Sound Bath
With sounds bathing the entire room + around our energy field and body, resonating on a cellular level, moving stagnant energy while cleansing and harmonizing our energy fields.
PlantWave
Plant music is created by measuring subtle changes in a plant's biorhythm after we clip the PlantWave electrodes onto the leaves of the plant. Those changes are graphed and translated into notes that play instruments designed for a harmonious listening experience. By slowing down to tune into subtle changes in plant music, we access a state of heightened presence in the moment.
Bring:
- Yoga Mat, Blanket (whatever keeps you comfy)
Optional:
- Journal
-Crystals to Re-Charge
Location:
302 1/2 Marine Ave, Balboa Island, CA
Must RSVP