Description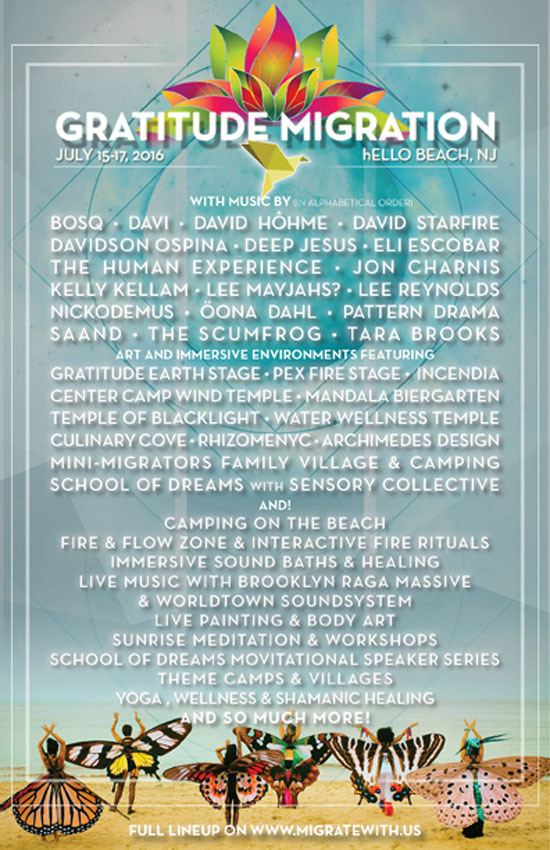 You're invited to enter a world where life becomes art and dreams become reality, set on an idyllic beach remarkably close to New York City. A seaside oasis where dreams turn into reality, with others who share the same vision of creativity, culture and mindfulness. A gathering of open-minded spirits communing in music, dance, art, performance, technology, environmentalism, yoga, spirituality, family, and … connection.
Beginning July 15, Gratitude Migration: Summer Dream is a 3 day weekend that allows you to explore the possibilities within you - and with others - that will take you through the rest of your summer and beyond. Camp right on the beach, meditate on the ocean waves, and kiss the sun.
Unleash your wildest dreams. And let the sea bring them to life.
GRATITUDE EARTH STAGE will feature crystal-clear precision-engineered Funktion-One sound by One-Source Productions, immersive visual effects by RHIZOMENYC, and world class music and performances.
With special performance spectacles by MODERN GYPSIES, HOUSE OF YES, SENSORY COLLECTIVE, ELECTROCUTE, GRATITUDE GLOW TROUPE
PEX FIRE STAGE (featuring INCENDIA) will showcase extraordinary musical talent, precision-engineered Funktion-One sound by One-Source Productions, fire performances and art installations (and will be the ideal place to warm up after that sunset swim).
☆ DAVID BLOCK - THA CATZ PAJAMAS
With special fire performance spectacles by FLAMBEAUX FIRE, HOUSE OF YES, ENCHANTED-TROUPE, SETU TRIBE
MANDALA BIERGARTEN will feature the best in live world music, funk, and rock in a gorgeous shaded sculpture garden with ample seating and serving ice-cold refreshments.
☆ AL ALOISI AT THE KEYBOARDS
☆ BIG VILLAGE LITTLE CITY
...plus special Sunrise programming and dance parties with THA CAT'S PAJAMAS (David Block), HOUSE OF DAYBURN, RISKY BUSINESS and a Sunday afternoon open mic jam with ROLAND RAMOS and friends.
CENTER CAMP WIND TEMPLE will fulfill all your organic coffee needs, host our artisan's bazaar, and transform into an immersive video, sound, and multi-sensory environment after dark featuring an amazing array of DJ's/VJs and experiential designers including: IMMERSION NYC, PANTHEON PRESENTS, Augment/PLAY, and MORE.
INTERACTIVE ART INSTALLATIONS will be spread throughout the grounds for your introspection, featuring
☆ DESERT ISLAND by ARCH-NYC
☆ KALEIDOHENGE by Kaleidogram NYC
☆ MAGICO ILLUMIA by Gene Harrison
☆ THE MUSEUM OF INTERESTING THINGS
☆ THE ORB, THE PIT, AND THE ANTENNA
☆ TRUE MIRRORS by John Walter
☆ VARADIANCE by Ali Macadoodle
LIVE PAINTING, BODY PAINTING, and a TEMPLE OF BLACKLIGHT, curated by in-house legend, MYZTICO CAMPO.
SCHOOL OF DREAMS will showcase incredible speakers, workshops, and a variety of educational programming with a focus on bringing our individual and collective dreams into reality and transform after dark into a state of the art performance environment featuring: HOUSE OF YES, SENSORY COLLECTIVE, and LITTLE CINEMA.
THEME CAMPS & VILLAGES: a vast network of diverse environments, curated by the top music and art collectives in the Mid-Atlantic Region, to invoke the experience of traveling around the world (and the cosmos) encouraging and facilitating connection. Here, boundaries do not exist - regional communities will merge in a colorful web of delight and adventure. Allow yourself to blossom in togetherness as you walk across the sand, with the waves gently guiding the way. Participating collectives include: BANGARANG, EBB + FLOW, THE FAM NYC, JUNXION, MESO CRESO, MIGHT GET WEIRD, PDG, RINSED, RISKY BUSINESS, ROGUE SOUND CAMP, WORLDTOWN and MORE...
FAMILY CAMPING @ MINI-MIGRATORS VILLAGE:
Bring your family to Gratitude Migration! We're planning a special family village for migrators under 9 and their parents. Family Camp will feature special Children's Programming to give our mini Migrators the chance to expand and explore too!
WATER WELLNESS TEMPLE village will serve as the spiritual core of Summer Dream providing sacred space to renew your spirit, regenerate your body, and rejuvenate your mind. We will gather here throughout the weekend with a variety of yoga/meditation classes and powerful shamanic workshops, offering you a cozy and safe space to wrap yourself in a nurturing environment focused on self-actualization and realization including SHAMANDOME, TEMPLE OF DUST, and MORE....
Gratitude Migration takes place on a newly restored beach less than an hour away from New York City. We encourage loving and respecting our environment and will be devoting many efforts towards increasing environmental awareness and sustainability. This is a "LEAVE A POSITIVE TRACE" event. Pack it in. Pack it out. And leave it better than you found it, leave it beautiful!
Engage all of your senses.
Step into your full potential.
Experience the future of art;
Experience the now of technology.
Connect with your surroundings.
SEE OUR FESTIVAL GUIDE FOR ANSWERS TO ALL YOUR QUESTIONS
SEE OUR SCHEDULE FOR FULL LINEUP AND TIMING DETAILS
Save
Save
Save
Save
Save
Save