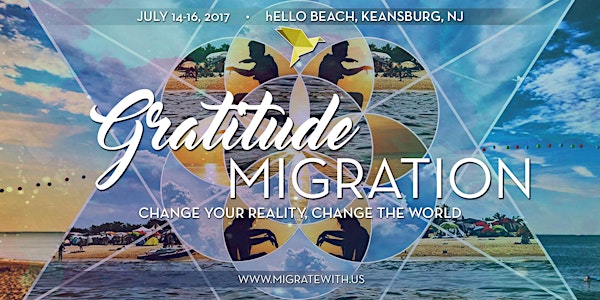 Gratitude Migration: Summer Dream 2017
When and where
Location
hELLO Beach 2 Beachway Avenue Keansburg, NJ 07734
Description
United in Gratitude
The rising sun peeking over the horizon. The sensation of sand beneath your toes. The warmth of the fire and the beat of the drum, the collective energy of a thousand hearts in unison. A helping hand, an open heart, a gift of art to all who gather. The peace of the exact moment, the impermanence of gathering to create one united vision, one harmonious world for one magical weekend.
This is Gratitude Migration.
Your waking dreamworld, embracing a future we co-create in the now.
Thought-provoking talks and panels

Reality shifting integration beyond the beach

Immersive environments

Interactive art

Community, theme camps, and villages

Healing arts, yoga, meditation

Ethically sourced nourishment

Sacred dance and flow arts

Diverse, globally inspired music

Life changing workshops

Environmental conservation
View the initial 2017 Lineup here. More to be announced!
GRATITUDE STAGE will feature crystal-clear precision-engineered Funktion-One sound, immersive visual effects by RHIZOMENYC, and world class music and performances.
☆ MOON BOOTS
☆ ANNA MORGAN
☆ BLU DETIGER
☆ DAVID KISS
☆ DAVID STARFIRE
☆ DAVIDSON OSPINA
☆ THE GOLDEN PONY
☆ HOUSE OF DAYBURN
☆ MATEO
☆ $MALL CHANGE
☆ STEVIE KEYS
☆ TASHA BLANK: THE GET DOWN
With special performance spectacles by MODERN GYPSIES, SENSORY COLLECTIVE, ELECTROCUTE, GRATITUDE GLOW TROUPE
...and more TBA!
JUNXION STAGE
☆ SOOHAN
☆ 2MELO
☆ ADAM GIBBONS
☆ BEAT KITTY
☆ BEATRIX
☆ EPHNIKO
☆ GEKO JONES
☆ GINGEE
☆ ILLEXXANDRA
☆ JORO BORO
☆ MATT SEBASTIAN x DREEEMY
☆ METTABBANA
☆ MOMENTUM DRUMS
☆ THORNATO (Live)
LIGHTNING SOCIETY STAGE
☆ AMIR TELEM & NORDVOLK
☆ DJ BRUCE
☆ ERIKA MYSTI
☆ EXPERIMEN.TAL
☆ HILS HINRIX
☆ KELLAM
☆ NICHOLAS.AM
☆ NOOR
☆ RAMY
☆ RYAN CLOVER
☆ SAID THE RABBIT
☆ SOMAL
☆ TRAVISTY
☆ REAL EYES feat. WAKEN RAIN
MANDALA BIERGARTEN will feature the best in live world music, funk, and rock in a gorgeous shaded sculpture garden with ample seating and serving ice-cold refreshments.
☆ BROOKLYN GYPSIES
☆ DAKOTA DAY & THE STAR SEEDS
☆ DIZEECHROMA
☆ ELLIS ASHBROOK
☆ KILLIN H8 (SIR KN8 & HILA THE KILLA)
☆ MOLLY MILLIONS
☆ PENDULUM PEOPLE
☆ SHNAY
☆ STEFF REED & NEW SOUL RENAISSANCE
☆ WORLDTOWN SOUNDSYSTEM
CENTER CAMP WIND TEMPLE will fulfill all your organic coffee needs, host our artisan's bazaar, and transform into an immersive video, sound, and multi-sensory environment after dark featuring an amazing array of DJ's/VJs and experiential designers.
INTERACTIVE ART INSTALLATIONS will be spread throughout the grounds for your introspection, featuring
☆ 360' Dome Experience
☆ Experience Incendia
☆ Ali Macadoodle
☆ Arch
☆ Archimedes Designs
☆ Burgandy Viscosi
☆ Gene Harrison
☆ Julianne Irene Design x Blackyantra Studio
☆ Treepeace
☆ Rhizome NYC
☆ Eric Coolidge
☆ Galactic Gallery
☆ Hannah Whelan Textiles
☆ Jordan Andre De Liso
☆ Little Cinema
☆ Log Cabin Alex
☆ Monique Marian
☆ Palace of True Mirrors
☆ Playing2Play
☆ Radminton
☆ The Rio Bacaja
☆ Ryan Ong
☆ The Seaglass Collection
☆ Burn by HM Pyrotechnics
LIVE PAINTING, BODY PAINTING, and a TEMPLE OF BLACKLIGHT, curated by our resident, visionary art legend, MYZTICO CAMPO.
Featuring
☆ Alexander Lensky
☆ Andrew de Jesus
☆ The Art Rising
☆ Booney-Brian Convery
☆ Burgandy Viscosi
☆ Caren Charles
☆ Humo Maya
☆ Jeff Sullivan
☆ Kirkworx Dupuis
☆ Louie Izzo
☆ Michelle Staton
☆ Myztico Camp
☆ Nate McClennen
☆ Nicole Palapoli
☆ Olga Klimova
☆ Scotty Bags
☆ Steve Shorts
MIND/BODY/SPIRIT

INCLUDING
☆ ACROYOGA
☆ BODYWORK
☆ BREATHWORK
☆ JIN SHIN JYUTSU
☆ KUNDALINI YOGA
☆ GUIDED MEDITATIONS
☆ SOUND HEALING
☆ THAI MASSAGE
☆ VINYASA YOGA
☆ WORKSHOPS
☆ YOGA THERAPY
WITH AMANDA NICOLE CARSON, AMBER MUHAMMAD, ANDRIANA SANTIAGO, ANTHONY ILLIANO, CANDACE STEVENS FEAT. MARK DEE, CARMEN SPICER, COBI KONADU, CREATIVE HEALING COLLECTIVE WITH MEIRAV ONG, DANIEL MAJOR, ELIZABETH SALERNO, GABRIELA CELEIRO, HANNAH ROSS, HESH DONNERSTAG, HILLIS PUGH, JOSHUA LEE MALLORY, KATHRYN SCLAVI, MICHELLE JONI, NICOLE SULLY, OPHRA WERDE, PARIS BUSTILLOS & ROSA MOUDENE, RACHEL SANTOS, RISHE GRONER, SARAH MONETTE, VINNY BONANNO
& MUCH MORE!
THE WOOM CENTER PRESENTS IMMERSIVE YOGA AND SOUND EXPERIENCES

BY
☆ ELIAN ZACH-SHEMESH
☆ DAVID ZACH-SHEMESH
☆ ALI CARMER
☆ MARIAH BETTS
☆ JOSH PECK & ELIZA PHILPOTT
ACRO YOGA
INCLUDING
☆ BASSAM KUBBA
☆ MENDEL ROMANENKO
☆ DION BOHEM
☆ AARON TREMPER
☆ ELISE FOSTER
☆ DEAN HIVELY
☆ BECCA KRAUSS
☆ LEX PETERSON
WITH ANER TAL, JOACHIM CARELS, JESSICA DELEO, DAVID MCKAY, IFFY ROMA, MELISSA WU
TEMPLE OF GRATITUDE
Featuring
☆ ECSTATIC DANCE FEAT 2MELO, ANNA MORGAN, JORO BORO, OMAR AENA
☆ IMMERSIVE SOUND BATHS FEAT. TOM MONTAGLIANO AND FRIENDS
☆ FLOW ZONE FEAT. BRIONA VOODOO, FRANK HATSIS, JENNIFER HARMONY, MIKEY MANGAROILLA, THE MYSTIC, WOLF BUKIET
☆ BASSYOGA WITH REEM ABDOU & NIKKI ORTIZ
☆ BEING: SOUND BASS MEDITATION
☆ DANCE OF LIBERATION
☆ DJ JOURNEY WEAVER
☆ KAI ALTAIR FEAT. DREAMS OF THE LAST BUTTERFLIES
☆ RESTORATIVE SHAKTI YOGA
☆ SONIC ATTUNEMENT FEAT. WAKEN RAIN
☆ SOULLAB WITH KELLY NEZAT
☆ JOURNEY INTO SHABBAT WITH THE GENE-SIS
SCHOOL OF DREAMS will showcase incredible speakers, workshops, and a variety of educational programming with a focus on bringing our individual and collective dreams into reality. *Full Speaker Lineup To Be Announced*
THEME CAMPS & VILLAGES: a vast network of diverse environments, curated by the top music and art collectives in the Mid-Atlantic Region, to invoke the experience of traveling around the world (and the cosmos) encouraging and facilitating connection. Here, boundaries do not exist - regional communities will merge in a colorful web of delight and adventure. Allow yourself to blossom in togetherness as you walk across the sand, with the waves gently guiding the way.
FAMILY CAMPING @ MINI-MIGRATORS VILLAGE:
Bring your family to Gratitude Migration! We're planning a special family village for migrators under 9 and their parents. Family Camp will feature special Children's Programming to give our mini Migrators the chance to expand and explore too!
Register Here Now: http://tiny.cc/famcamp



This is a Leave a Positive Trace Event
Environmental and Experiential Policy
Leave No Trace
Gratitude Migration is committed to respecting our environment, with gratitude to one another and to our planet. Join us in Leaving a Positive Trace and a positive impact on the earth and the local community. Pack it in, pack it out.
Note to Newcomers
Gratitude Migration is a self-sustaining, pop-up festival located on a beach in New Jersey. Weather in July is typically hot, sunny and sometimes windy and sandy. Practice radical self-reliance and be prepared with the right camping gear, shade structures, water and comfy shoes for treading on the sand when it gets hot. Make sure you bring everything you need for a comfortable and self-sustaining weekend.
Consent is essential!
If you're unsure something is okay, ask first! Don't touch, photograph or stare too long without permission. Don't assume that someone's clothing, or lack of clothing, is an invitation for you to invade thier personal space in any way.
Thank you for expressing yourself and giving others the facility to do the same. Please do not pass judgement on someone's gender, race, sexual identity or their ability/disability. All participants are invited to safely enjoy their fullest expression.
A creative paradise awaits!