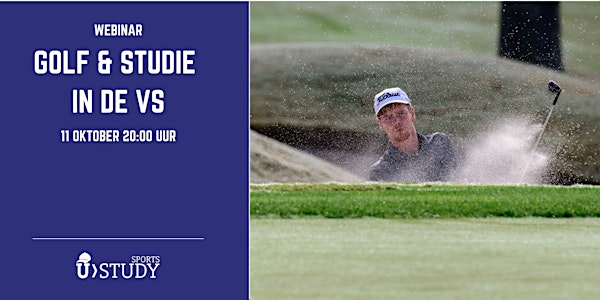 Gratis webinar Golf & Studie in de VS
UStudy Sports organiseert het webinar over golf en studie in de VS!
About this event
Golf je op nationaal of regionaal niveau?
Nieuwsgierig naar studie op een high school, college of universiteit in de VS? Grote kans dat jij een sportbeurs of andere beurs kan krijgen om je studie te betalen. UStudy heeft al meerdere golfers (m/v) geplaatst op alle niveau's en overal in de VS.
WIE: golfers (meisjes en jongens) 15-21 jaar & hun ouders (VMBO, HAVO, VWO, MBO, HBO & WO)
WANNEER: 11 oktober 2022 van 20:00-21:30 uur
Er zijn vele mogelijkheden:
• Bachelor of master diploma
• Amerikaanse high school of IB diploma
• Gap year of semester
• Minor als HBO of WO student
Je krijgt informatie over:
- Het Amerikaanse onderwijssysteem & golfcompetities
- Verschillende routes voor golfers
- Schoolkeuze, toelatingstesten, aanmeldingsprocedure
- Financieringsmogelijkheden
Vroege oriëntatie is essentieel want het vinden van het juiste sportteam en desgewenst beurs alsook de aanmeldingsprocedure bij een goede Amerikaanse school neemt veel tijd in beslag en moet al vroeg worden gestart.
Sprekers:
Marina Meijer is oprichter en studie adviseur bij UStudy Sports en heeft al meer dan 17 jaar ervaring met het plaatsen van jongeren op onderwijsinstellingen in de VS. Zij adviseerde en plaatste al golfers op high schools, colleges en universiteiten in de VS.
Bas Vermeulen behaalde zijn bachelor aan Saint Leo University in Florida, een NCAA Divisie II universiteit. Hij deelt wat de combinatie golf met studie in Amerika hem heeft gebracht en geeft je tips & trucs
Word lid van onze Facebook UStudy Sports pagina. Meer informatie over golf en studie in de VS vind je op onze golfpagina op de UStudy Sports website.