Description
The Grassroots Cannabis Conference 2016 (GRCC2016) - Oakland CA
For Compassionate Professionals Interested in Building a Business and Growing a Community.
This two-day conference on California Cannabis Compliance will provide you with the essential basic information you need to understand the compliance process and learn how to successfully develop your cannabusiness.
An extraordinary range of experienced professionals will be presenting – each a leader in their field with hands-on experience from permits to funding, and everything in between.
LISTEN….to presenters, each an expert in a specific regulatory or business area
LEARN…about compliance and strategies to put your business on a solid foundation
MEET…community that seeks to foster a vital and successful cannabis industry that is values driven, not solely driven by value.
Join Us!
Conference Schedule Posted Soon!
Check Back Often!
The GRCC2016 is a project of Karen Byars founder of the Mendocino Cannabis Resource, LLC.
With over 30 years experience in grassroots organizing to this issue, Karen Byars brings together a line up of presenters that will be inspirational and informative. She is the founder of Mendocino Cannabis Resource LLC, an educational corporation based in California, whose purpose is to educate people interested in developing a business based on cannabis.
Tickets include both days of the conference and the closing reception.
Conference Program Guide with conference Schedule - http://mendocinocannabisresource.com/grcc2016-program-guide/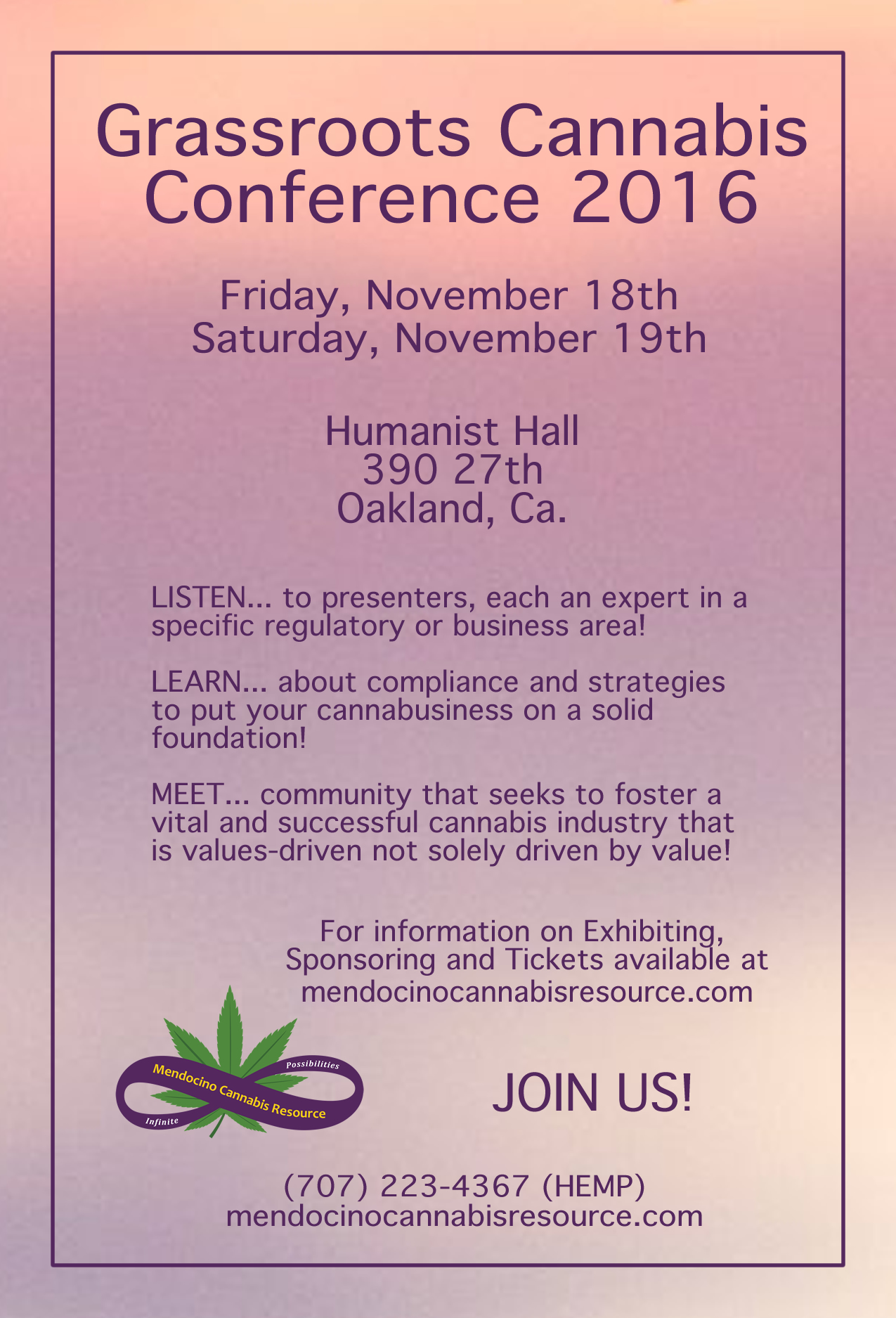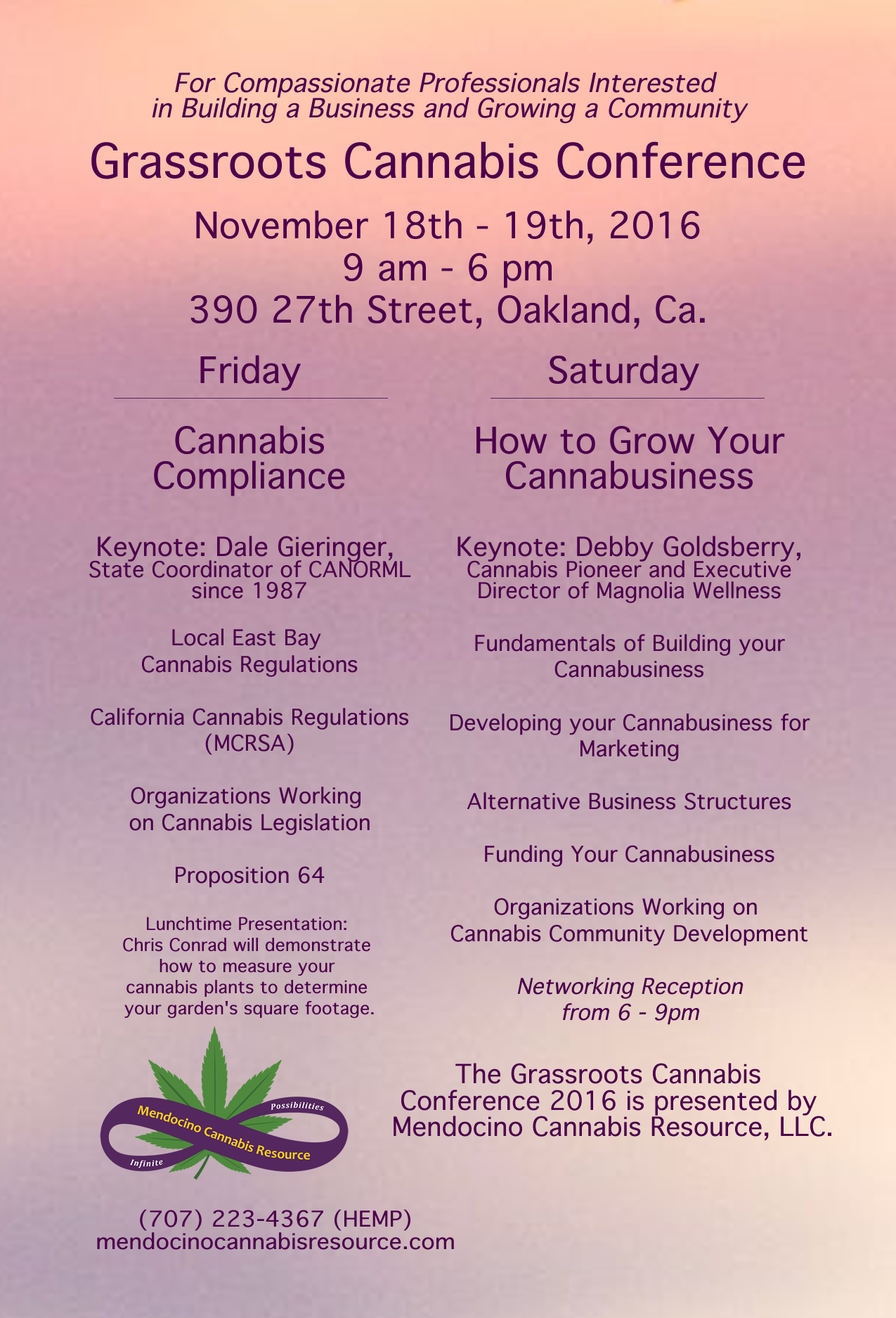 ---
---
Conference Presenters for the GRCC2016
Friday November 18
Cannabis Compliance
9:00 Welcome - Karen Byars, Mendocino Cannabis Resource, LLC
M.C. Kerry Reynolds, Cannabis Consciousness News
*9:15 Keynote Speaker – Dale Gieringer, Director California Norml since 1987
10:00 Local Regulations
*Oakland Regulations – La Wanda Knox, Make Green Go
*Berkeley – Charlie Pappas, Berkeley Medical Cannabis Commission
*Contra Costa County - Mike Menesini, former Mayor of Martinez
*San Francisco – Terrance Allen, Chair of SF Cannabis Task Force
*12:00 MCRSA – Edie Lerman - Attorney, Law Offices of E.D. Lerman
12:30 Lunch
2:00 Organizations working on Cannabis legislation in California
California Cannabis Delivery Alliance – Brian Wallace & Nina Parks
*California Norml – Ellen Komp
*California Growers Association/CGA – Hezekiah Allen
Drug Policy Alliance – Tamar Todd
Americans for Safe Access
4:00 Prop 64 Dream Team
Dr. Amanda Reiman - Manager of Marijuana Law and Policy at the Drug Policy Alliance
Chris Conrad – Court Cannabis Expert Witness & Author
Mikki Norris – Activist & The Leaf Online
Lauren Vazquez – Fired up Lawyer
Saturday November 19th
How to Grow Your Cannabusiness
9:00 Welcome Karen Byars – Mendocino Cannabis Resource, LLC
M.C. Kerry Reynolds – Cannabis Consciousness News
9:15 Keynote speaker – Debby Goldsberry, Cannabis Pioneer & CEO Magnolia Wellness
10:00 Fundamentals of Building Your Cannabusiness
How to write your Cannabusiness Plan – Tom Galaraga, Green Rush Consulting
Taxes & Bookkeeping – Liana Held, Liana Unlimited
Standard Operation Procedures –Debby Goldsberry, CEO Magnolia Wellness
11:00 Developing your Cannabusiness for Marketing
Branding – Amber Senter, COO Magnolia Wellness Magnolia
Trademarking - Amanda Conley, National Cannabis Bar Association
Social Networking – Kyra Reed
12:00 Lunch Demonstration During a lunchtime demonstration,
Chris Conrad will demonstrate how to measure your cannabis plant to determine your garden's square footage.
2:00 Business Structure
Laura Smoot - Network of Bay Area Worker Cooperatives
Flow Kana - Brooke Carpenter
3:00 Funding Your Cannabusiness
Ben Larson – co-founder Gateway Incubator
Lanese Martin - CannaBizWatch
Evan Horowitz – WeedClub
Zachary Knox, Attorney
4:30 Organizations Working on Cannabis Community Development
East Bay Medical Cannabis Community Center - Green Room - Lanese Martin
OakDecc –Dani Barber
Supernova Women – Andrea Mignonne Unsworth
Brownie Mary Democratic Club – David Goldman
Operation EVAC (Educating Veterans About Cannabis) – Ryan Miller
Women Grow
6:00-9:00 - Closing Reception