About this Event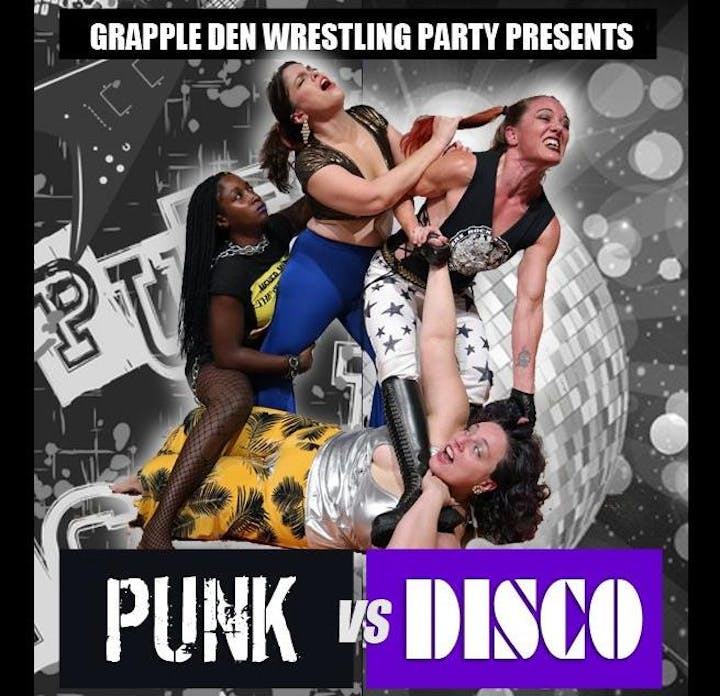 New York City's Grapple Den Wrestling Party Revival continues! Line 'um up for Volume 2 on September 20 -- our second party of 2019. Our theme will be:
Punk vs Disco!
A musical mat battle; a clash of styles; and a night of wrestling under the party lights, surrounded by adventurous grapple-folks, and accompanied by a fantastically themed playlist by the esteemed DJ Carlito Jr.
No costume required, but wrestle-appropriate dress and accessories in Punk or Disco style are highly encouraged. Which side will you be wrestling for??


A wrestle-based party of sweaty and/or costumed bouts, where participants ask each other to "dance" down on the mats.
An evening spectacle of friendly matches and thematic antics.
A chance to throw down! ...or to simply recline and watch the action unfold.
Grapple Den is a neutral meeting ground for fun-seeking grapplers and wrestling fans of all shapes and sizes. Our parties are open to people of all genders and experience levels, 18 years and older. The mats are the dance floor. Party-goers wrestle well into the evening, participating in one-on-one matches and multi-way rumbles.

Rough estimates! Wrestle-logistics are often unstable
8 pm Doors Open!
8:30 pm Beginner Intro Lesson
9:15-ish pm Participant Matches Officially Begin
?? Interlude ?!
11:30-ish pm The Royal Rumble: Punk vs Disco: Clash on the Dance floor
Participant matches take place throughout the evening, using the party's "dance floor" mat spaces.
More info at our website: www.GrappleDen.com
......................................................................
Meet wrestle-people you've never met before...
Roll with folks you only see occasionally...
Catch up with wrestle-friends, make new connections, test yourself or just wrestle casually, participate or watch, enjoy the ambiance, bring friends!
ALL are welcome -- newcomers, returning folks, and spectators alike!
Jump in to wrestle or kick back to spectate from the sidelines. There's no obligation to wrestle, but if you're a newcomer and would like to give it a try, our local crew can help you out.
Admission:
$12 online in advance (6:00 pm Sept 15 through 5 pm Sept 18)
or
$15 cash at the door