GRAPH THE PLANET 2019

Wednesday, March 6, 2019 from 2:00 PM to 6:00 PM (PST)
Event Details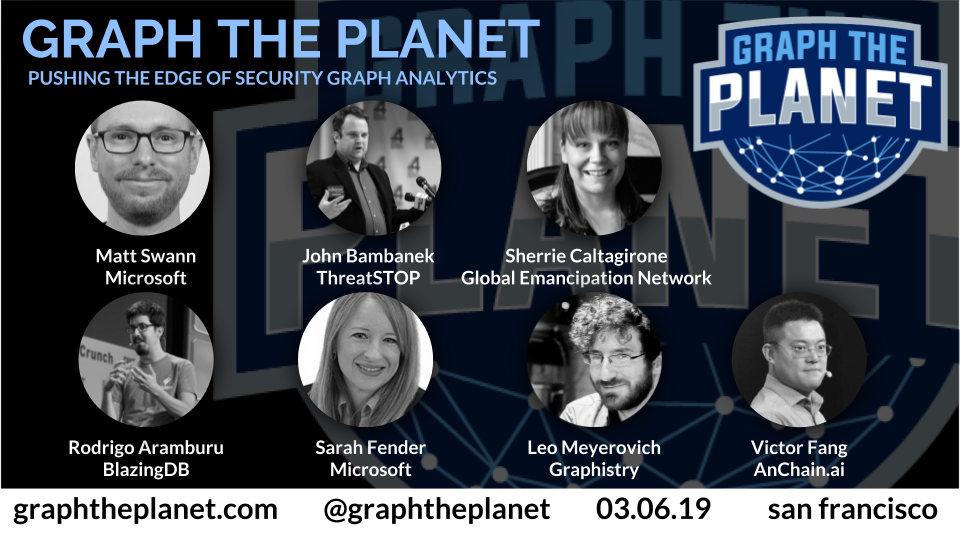 *** REGISTRATION REQUIRED ***
Schedule: 
Introduction 

2:10: Building a Virtual Graph Using APIs
Sarah Fender
Microsoft / Intelligent Security Graph / Principal Group Program Manager
PhoneFactor / VP Product & Marketing 

2:30: Book Release - Secure Cloud Transformation: The CIO's Journey
Richard Stiennon (Special Guest)
International Cybersecurity Dialogue / Senior Fellow
IT-Harvest / Chief Research Analyst
Fortinet / CMO
Gartner / VP Research
@stiennon | LI

2:45: Graph Mining to Detect the World's 1st Blockchain APT
Victor Fang
AnChain.ai / CEO
Mandiant/FireEye / Director Data Science
Awake Security / Founding data scientist
@vicfcs | LI

3:20: Visualizing Nazis, Sextortion, and Bombers in the Blockchain
John Bambenek
ThreatSTOP / VP Security Research & Intel
UIUC / Lecturer
Fidelis / Senior Researcher
@bambenek | LI

3:40: Scaling Attack Visualizations with GPUs & Design
Leo Meyerovich
Graphistry / CEO
UC Berkeley
@lmeyerov | LI 

4:00 - TBA - Combating human trafficking through data analytics
Sherrie Caltagirone
Global Emancipation Network / Founder & Executive Director
The Protection Project / Director of Finance and Administration
American University / Economics Researcher 

15min snack break

4:35: Lightning Fast NetFlow Traffic Analysis: GPU acceleration with RAPIDS AI & BlazingSQL
Rodrigo Aramburu
BlazingDB / CEO 
@rodaramburu | LI

4:55: Intrusion Detection with Graph Analytics
Matt Swann
Microsoft / Office 365 SharePoint & OneDrive / Principal Engineering Manager / Senior Security Lead 
@mswannmsft | LI


5:15: PANEL - Next 5 Years of Graph -- Matt Swann, Rodrigo Aramburu, John Bambenek w/ Leo Meyerovich moderating


5:45-6:15 - Open (snacks)
==================================================
GRAPH THE PLANET 2019 brings together security practioners to share graph practices. From killchain analysis, auditing authority, and powering automated detection, to segmentation, attribution and research, an open secret in security is graph techniques. They often require employing a mix of practices that are not well-documented. Attendees and speakers span frontline incident responders and secops to data scientists and startups. GRAPH THE PLANET brings everyone together to foster conversations and share lessons that are often hard to have beyond a SOC or data team.
Sample topics
IR, Hunt, Intel, Research, Red Team, Network Security, SecOps

Killchains, reachability, knowledge graph for automated detection, segmentation & prioritization, network mapping (defensive+offensive), attribution & campaign analysis, workflow integration, situational awareness



New frontiers and adjacent problems: Fraud, influence campaigns, blockchain
Data engineering: Graph databases, knowledge graph, scaleout analytics, scale
Data science: Modeling, detection, algorithms, graph neural nets, ...
Logistics
* Free, catered, and one block from Moscone!
* Sign up while tickets last: We will check registrations at the door
* Event staff will bring your from the lobby to Bloomberg's event space on the 22nd floor
* The format is short talks by invited experts. This encourages mixing high-signal talks with follow-on hallway conversations.
Organization

The event is made possible through contributions by Bloomberg Beta, Graphistry, the speakers, and their employers.
==================================================
Presentations
2:10 - Sarah Fender - Building a Virtual Graph Using APIs
Microsoft / Intelligent Security Graph / Principal Group Program Manager
PhoneFactor / VP Product & Marketing 
Abstract: The Microsoft Graph Security API offers a new approach to connecting security data from across a customer's security tools and workflows. It's not a literal graph database – but that's by design. In this talk, we'll introduce the concepts driving the Graph Security API and how you use queries to pivot among related entities using the Microsoft Graph. We'll walk through real-world examples that you can quickly apply in your own organization.
Bio: Sarah Fender leads product management for the Microsoft Intelligent Security Graph. Prior to that, she led security initiatives for Microsoft Azure, including the launch of Azure Security Center. Sarah joined Microsoft following its acquisition of PhoneFactor, where she served as Vice President of Product Management. Sarah has extensive experience in security and compliance having written and spoken on the topic during her more than 15 years in the industry.
Bio: Richard Stiennon is Chief Research Analyst for IT-Harvest, the firm he founded in 2005 to cover the 2,200 vendors that make up the IT security industry. He has presented on the topic of cybersecurity in 29 countries on six continents.  He is a lecturer at Charles Sturt University in Australia. He is the author of Surviving Cyberwar (Government Institutes, 2010) and  Washington Post Best Seller, There Will Be Cyberwar. He writes columns for Forbes, CSO Magazine, and Axios. He is a member of the advisory board at the Information Governance Initiative and sits on the Responsible Recycling Technical Advisory Board, the standard for electronic waste.  Stiennon was Chief Strategy Officer for Blancco Technology Group, the Chief Marketing Officer for Fortinet, Inc. and VP Threat Research at Webroot Software. Prior to that he was VP Research at Gartner, Inc. He has a B.S. in Aerospace Engineering and his MA in War in the Modern World from King's College, London. 

Abstract: AnChain.ai recently discovered the first Blockchain APT (BAPT) hacker group in history. Using AnChain.ai's AI powered Situational Awareness Platform (SAP), we found the sophisticated group has been targeting vulnerable DApp smart contracts: Fomo3D, LastWinner, etc. As of Aug 2018, they have stolen ~$4 million Ethereum. AnChain.ai, partnering w/ SECBIT Lab and Graphistry, was able to track down the BAPT hacking tactics. This talk shares how we combine behavior-based machine learning, knowledge graph, bytecode reverse engineering, visual graph investigation, etc.
You will learn more about our quest: "APT is the worst nightmare in Cyber Security. Does Blockchain APT even exist in Blockchain era? What does that mean to all of us?"
Bio:  Dr. Victor Fang is the Founder and CEO of AnChain.ai, AI powered blockchain security, based in San Jose. Before AnChain.ai, he ran the AI initiatives at FireEye Mandiant and was responsible for company's AI product strategic roadmap. Under his leadership, various of ML models have been successfully introduced into millions of endpoints and various services that improves On-Execution dynamic detection and efficiency. He also initiated FireEye's AutoML platform that has delivered hundreds of ML models to network and email security products. He's recognized as the face of FireEye AI. Prior to FireEye, Dr. Fang has 10+ years of ML practice and 5 years of enterprise data science leadership experience at top VC backed startup and Fortune 500 companies. Dr. Fang holds more than 15 US patents, and published more than 20 research papers around AI, Big Data, Fraud and Threat detection. He's a contributor of "MIT Technology Review 2017". First Prize Winner of 2017 FireEye Global Hackathon.
Bio: John Bambenek is the Vice President for Security, Research and Intelligence with ThreatSTOP, Lecturer in the Department of Computer Science at the University of Illinois at Urbana-Champaign and a handler with the SANS Internet Storm Center. He has over 19 years of experience in information security and leads several international investigative efforts tracking cybercriminals, some of which have led to high profile arrests and legal action. He specializes in disruptive activities designed to greatly diminish the effectiveness of online criminal operations. He produces some of the largest bodies of open-source intelligence used by thousands of entities across the world.
Bio: Leo Meyerovich founded Graphistry to supercharge the visual investigation process through end-to-end GPU acceleration, workflow automation, & graph analytics. It builds on his research at UC Berkeley. His most referenced work is in language-based security. Past projects include the first functional reactive web language, first parallel web browser, GPU visual analytics, and sociological foundations of programming languages. These ideas received various research awards, including SIGPLAN Best of Year and best papers, and are now in most popular browsers and web frameworks. 
4:00 - Sherrie Caltagirone - TBA - Combating human trafficking through data analytics
Global Emancipation Network / Founder & Executive Director
The Protection Project / Director of Finance and Administration
American University / Economics Researcher 


Rodrigo Aramburu - Lightning Fast NetFlow Traffic Analysis: GPU acceleration with RAPIDS AI & BlazingSQL
BlazingDB / CEO 
@rodaramburu | LI


Matt Swann - Intrusion Detection with Graph Analytics
Microsoft
Principal Engineering Manager / Senior Security Lead
@mswannmsft | LI

Abstract: The Office 365 intrusion detection team uses graphs to link alerts and incorporate low-fidelity observations without overwhelming our analysts. In this talk, we will describe how we represent alerts in the graph, how we use the structure of the graph to determine which alerts should be reviewed by our analysts, and how we rank subgraphs to ensure that the most important activity is reviewed first. We will also discuss approaches we will investigate next to get even more value out of our alert graph.
Bio: Matt Swann leads the engineering team focused on defending customer content in OneDrive and SharePoint. A 13-year veteran of the SharePoint team at Microsoft, he is passionate about intrusion detection, incident response, and digital forensics. Outside of work, you can find Matt playing with his kids or hiking in the Cascades.
When & Where

Bloomberg
140 New Montgomery St 22nd Floor
San Francisco, CA 94105


Wednesday, March 6, 2019 from 2:00 PM to 6:00 PM (PST)
Add to my calendar