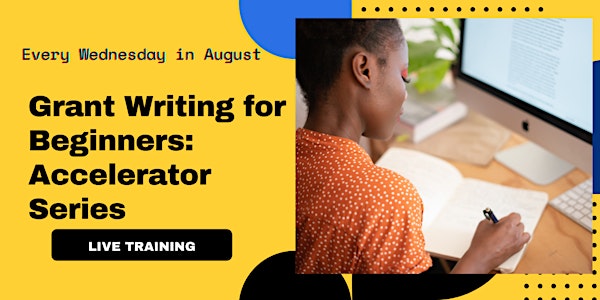 Grant Writing for Beginners: Accelerator Series
In this workshop series, you'll learn how to prepare, write, and apply for funding through simple, easy, grant writing strategies.
About this event
About this Grantwriting event
Join us for a virtual, grant writing workshop with successful grant writer and equity consultant Lanea Foster! Ms. Foster is a nonprofit expert that has secured over $25 million dollars in federal, state, local and private funding.
Are you ready to become a grant writer?
We've set up a virtual space where beginning grant writers can develop their grant writing skills. These workshops will be interactive and draw inspiration from federal and foundation grant opportunities. Bring your grant writing team or write with us. We will provide research and writing prompts, and you are also welcome to bring your own in-progress writings. The Accelerator Series is equivalent to five years of grant writing experience, condensed into five weeks.
This comprehensive class will teach you the essentials of researching, planning, and applying for grants. The class consists of five sessions:
1. Are you Grant Ready? (Aug 10, 2022)
In order to identify grant opportunities that are appropriate for you or your organization, you must first evaluate the nature of your funding needs so that you can match those needs to potential grant opportunities. This section consists of a self-evaluation exercise designed to identify any issues that can affect your eligibility and success in applying for grant funding.
2. Grant writing and Fundraising Do's and Dont's (Aug 17, 2022)
Funding your nonprofit is one of the most critical things a Board and Executive leadership must master to support your non-profit. Grant writing is a form of fundraising and must be understood in the context of fundraising as a whole. This section provides an overview of best practices and things to avoid in all the major types of fundraising including grants.
3. Finding and Picking Winning Grants (August 24, 2022)
There are two fundamental types of grants: government and private. Government grants are awarded at the federal, state and local levels. Private grants are awarded by corporate foundations, family foundations, charitable foundations and endowments, among others. This section explores all the major databases that can be used to find government and private grant opportunities.
4. Writing Grant Applications & Proposals (August 31, 2022)
This session is focused on the technical "grant writing" because grant applications generally require the writing of a grant proposal. This section details the different parts of a typical grant application and the best practices in writing each section of a grant proposal.
5. Getting the Grant Submitted (September 3, 2022)
The final stage of "grant writing" is submission. This section details the final grant submission process and best practices. This session will cover formatting, troubleshooting submission problems, and deadlines.
Registration details:
The Zoom link for the writing hour will be emailed to registered participants 12-24 hours in advance of the program. The email will come from Eventbrite. Please only register for yourself. We will only allow participants into the meeting if their name (and email address) is on the registration list.
Attendance is limited. Take advantage of the early bird rate!
At the end of each session, a Q&A session will be held for participants that have specific topic-related questions.
These events will be recorded.
Southeast Community Resources offers two pricing tiers. The rates allow Southeast Community Resources to subsidize fees and expenses so we can provide access to our training and materials to others who otherwise would be unable to do so.
Equitable rate: For people of color and agencies that serve low-income and marginalized populations predominately.
Market rate: For mainstream agencies and individuals.
Pricing is per session: discounts are available for the purchase of all sessions. Contact the seller for details.
For more information contact the organizer.