Grant Research-Funding Seminar: How to Find, Apply & Win Grants & Contracts
Description
Stop paying out of pocket to sustain your business or project. Stop piling up debt with Credit Cards. Get a Grant! Find out how to find and apply for Grants. People often turn to grants because they are not required to pay them back. Essentially, you can look at grants as "free money," but they come with stipulations. Also, understanding and navigating the grant process can be complex. This seminar will provide you with step by step instruction on how to find grants and contracts and navigate that process. You will learn how to establish and register your business to receive government and foundation grants, government contracts and other forms of financial assistance in which you are eligible to receive. Find funding for the following: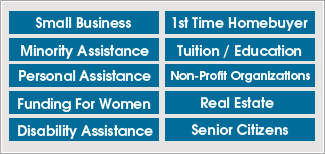 This seminar benefits Non-profit and For-profit Organizations, Female and Minority Owned Businesses, Veterans, Small Businesses, and Faith-based Organizations.
Space is limited, so Register Early! Guarantee your enrollment by paying your tuition today. You will receive an email confirmation once your registration is complete.
Parking: Located on site $6
PLEASE NOTE:
No Debit or Credit Cards accepted for on-site registration. If you plan to, "Pay at The Door" you must pre-register.
There are no refunds for this event. If you have paid the registration fee and cannot attend this event, you may attend this event at a later date. Or set up a one-on-one Training Webnair or Office Visit with the Instructor.
It is recommended that you bring your Laptop, Tablet, or iPad. Free Wi-Fi available.
No audio or video recording allowed.
Refreshments and Lunch is provided

Tax Deduction: If the purpose of attending this program is to help you maintain or improve skills related to employment or business, expenses related to the program may be tax-deductible according to I.R.C. Reg. 1.162-5. Please consult your tax advisor.
For additional information, pre-registration or missed event rescheduling, please contact Customer Service by Email at CBIRInc@att.net or Call (404) 510-6696.
PS If you have already attended this seminar, please share this announcement with your friends and associates. As always we appreciate referrals.