Description
Stop paying out of pocket to sustain your business. Stop piling up debt with Credit Cards and Loans. Get a Grant! Find out how to find and apply for Grants. People often turn to grants because they are not required to pay them back. Essentially, you can look at grants as "free money," but they come with stipulations. Also, understanding and navigating the grant process can be complex. This seminar will provide you with step by step instruction on how to find a grant and navigate the grant funding process. You will learn how to establish and register your business to receive grants, government contracts and other forms of financial assistance in which you are eligible to receive. Also, find funding for the following: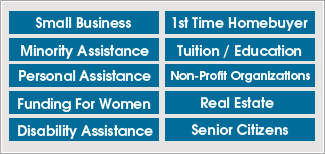 This seminar benefits Women and Minority Owned Business Owners, Veterans, Small Businesses, Profit and Non-Profit Organizations, to include Faith-based organizations.
Space is limited, so Register Early!
Parking: Located on site $6 (Cash and Credit/Debit cards accepted at vendor machine)
*NOTE: Registration is required. We accept Cash only for on-site registration. You must call to pre-register if paying at the door. Phone (678) 358-6516.
If you are registered and can not attend the event or more than 1 hour late for an event, please call the event coordinator for admission to a future event.
It is recommended that you bring your LapTop, Tablet, or iPad Free Wi-Fi. Refreshments will be served.
For additional information please contact the Event Coordinator at Email: qmarrero@bellsouth.net
Date and Time
Location
Georgia State University
75 Piedmont Ave, NE
Suite 502, Citizen Trust Bank Building
Atlanta, GA 30303