Let's get your nonprofit organization ready before you decide to apply for a grant
About this event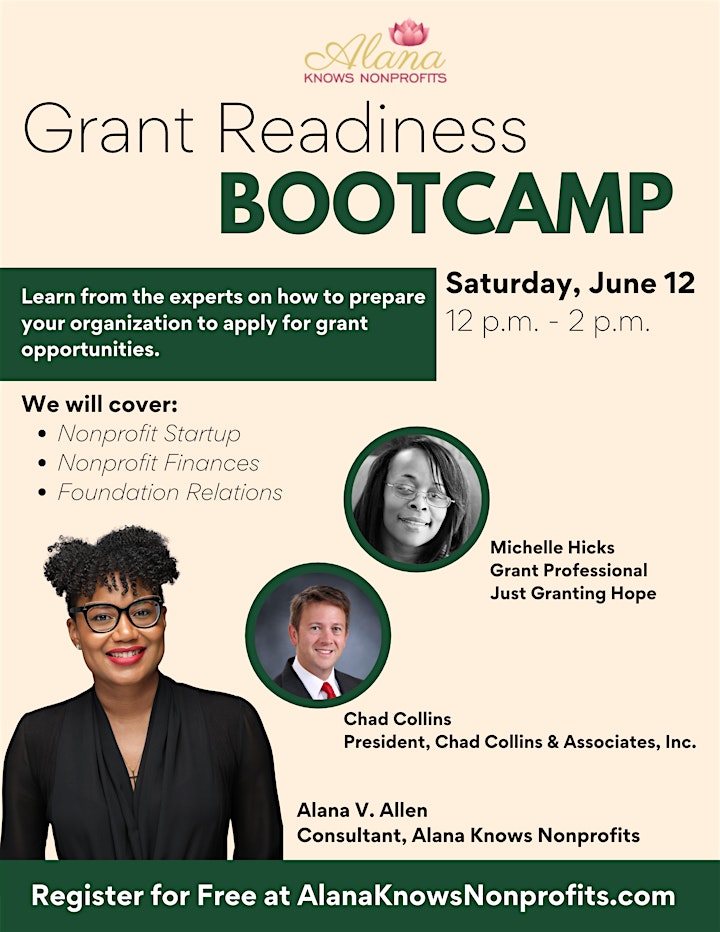 Alana Knows Nonprofits will host a Grant Readiness Bootcamp on Saturday, June 12, from 12 p.m. to 2 p.m.
Participants will learn from experts on how to prepare your organization to apply for grant opportunities.
The session will cover the following:
Nonprofit Startup
Nonprofit Finances
Foundation Relations
Speakers:
Michelle Hicks, Grant Professional, Just Granting Hope
A full-service grant management company that specializes in nonprofits, businesses and faith-based organizations
Chad Collins, President, Chad Collins & Associates, Inc.
Accounting Firm providing tailored services for nonprofits, individuals and small to mid-sized businesses, including tax preparation, tax planning, IRS Representation, bookkeeping, and complete payroll services.
Alana V. Allen, Nonprofit Business Consultant, Alana Knows Nonprofits
Specializing in nonprofit startups, profitable program designs and strategic public relations.
Organizer of Grant Readiness Bootcamp