Granfalloons Presents Adams County Winery Winemaker Dinner

Saturday, March 24, 2012 at 6:45 PM (EDT)
Event Details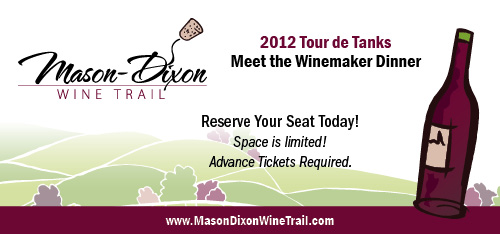 Saturday, March 24, 2012
Granfalloons Tavern Presents Adams County Winery Winemaker Dinner
41 East Princess Street
York, PA
www.falloonsyork.com
Granfalloons was founded in the 70s, mixing old York City architecture with great tastes and single pleasures. Come experience our casual atmosphere with some new flavors and fun courtesy of Adams County Winery.
Standard Ticket: $50 Per Person
Tickets are all-inclusive and include dinner and selected wines as well as tax and gratuity. Advance tickets are required and space is limited.
Welcome Reception
6:45 p.m.
Seated Dinner
7:00 p.m.
Featured Menu
Appetizer
Crab stuffed Mushrooms: Mushroom caps stuffed with our signature blend of crab meat and spices, topped with a hollandaise sauce.
Wine Selection: Redleg Riesling - A semi-dry, white wine crafted in an Alsatian style.
Soup-White Chili
A slightly spicy blend of chicken, cheese, white beans and green chilies.
Wine Selection: Rebel Red - From the 150th Anniversary Series - Semi-sweet with dry finish.
Salad
Caesar Salad-Chopped romaine with our zesty Caesar dressing and parmesan crisps.
Wine Selection: Tears of Gettysburg - This distinct Niagara blend is a sweet wine and has been a favorite of our friends for years.
Entree
Salmon filet topped with a house made creamy dill sauce, served with our cheddar and bacon mashed potatoes and grilled asparagus.
Wine Selection: Traveller - A delicious dry Vidal
Dessert
Our creamy homemade cheesecake with a cherry topping                                                                                  
Wine Selection: Entwined - A luxurious blend of red wine and chocolate entiwned together to make this a wine to die for.
Call 1-888-858-YORK or visit www.MasonDixonWineTrail.com
When & Where

Granfalloons Tavern
41 E Princess St
York, PA 17401


Saturday, March 24, 2012 at 6:45 PM (EDT)
Add to my calendar
Organizer
Mason-Dixon Wine Trail
The year-round Mason-Dixon Wine Trail, is a multi-state wine region featuring over 22 family owned wineries and one distillery and is managed by the York County Convention and Visitors Bureau (YCCVB). The Mason-Dixon Wine Trail provides an expanded visitor experience, by featuring two signature events (Tour de Tanks and Wine Just Off the Vine) visitors have grown to love. Intertwining through the Susquehanna Valley in Pennsylvania to just south of the historic Mason-Dixon Line in Maryland, you'll encounter a French-style chateau, sprawling vineyards, boutique tasting rooms and welcoming winemakers. Conveniently located within an hour's drive of the historic Mason-Dixon Line, the family-owned wineries and distillery of the Mason-Dixon Wine Trail invite you to discover the art of winemaking as you travel the trail!
Granfalloons Presents Adams County Winery Winemaker Dinner