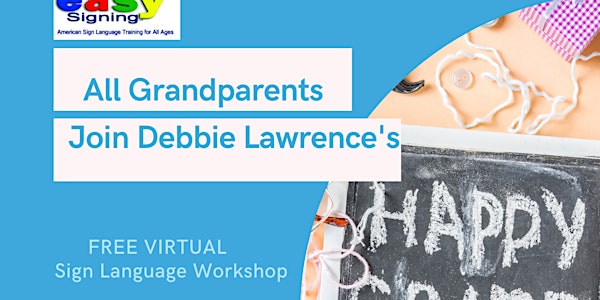 Grandparents' FREE VIRTUAL Sign Language Workshop
All Grandparents Join Debbie Lawrence's Free Virtual American Sign Language Workshop!
About this event
On Sunday September 11th, on National Grandparents' Day,
Debbie Lawrence will teach grandparents in just one workshop, how to use easy child-relevant American Sign Language (ASL) signs to develop your infants, toddlers, and school-aged grandchildren's social and language skills.
This fun-filled ASL workshop is interactive with grandparents learning to incorporate sign vocabulary through activities and music. This Free Live Online workshop will include video illustration. Research indicates that children who learn sign language as infants or toddlers have greater verbal, reading, and writing skills later in life, and any age child will LOVE to sign!
Grandparents , Come Online , Put Your Hands Up, and Sign with Me!
Learn to open two-way communication between you and your deaf and hearing grandchild.