Description
EARLY BIRD TICKETS NOW AVAILABLE FOR
HK$240
* INCLUDES 1 STANDARD DRINK
Information: Email Info@novaconcepts.hk or call 2850-6283
NOVA, 2/FL
Lyndhurst Tower,
1 Lyndhurst Terrace,
Central, Hong Kong
The GODFATHER of HIP HOP is coming to NOVA.
GRAND MASTER FLASH
The first DJ to be inducted into the Rock and Roll Hall of Fame and the original
pioneer of Hip Hop.
On top of his induction to the Rock and Roll Hall of Fame, Flash has been the
recipient of many awards, including VH1 Hip Hop Honors; The Icon Award from
BET in honor of his contribution to hip hop as a DJ; The Lifetime Achievement
Award from the RIAA; and Bill Gates' Vanguard Award.
Although Flash has been in the business for many years, he shows no sign of
slowing down: this coming year promise, a new album, and he will began his
descent from the analog vinyl world of DJing to enter the digital world of DJing.
His DJ application of choice is "Traktor Scratch" by Native Instruments.
Grandmaster Flash's memoirs, The Adventures of Grandmaster Flash – My Life My
Beats was released in bookstores worldwide. The book is penned by David Ritz,
author of both Marvin Gaye's and Ray Charles' biographies. In this extraordinary
book, Grandmaster Flash sets down his musical history, sharing for the first time
his personal and difficultlife story—along with no small amount of wisdom and
experience.
The Smithsonian Museum of American History in honor of Black History Month has
opened its exhibit RECOGNIZE! Hip Hop and Contemporary Portraiture that
Grandmaster Flash along with other hip hop artist such as LL Cool J, Erykah Badu
and Common will be featured.
In closing, grandmaster flash continues to tour the world, in festivals, clubs and
venues. He now has his eyes and ears on this new craze-dance music,. which he
now adds to his legendary repertoire.

GRAND MASTER FLASH @ NOVA Friday APRIL 26th!

_________________________________

[ THE NEW PRESTIGE STYLE OF NIGHTLIFE IN HONG KONG ]

WWW.NOVACONCEPTS.HK


Website: http://bzz.is/GMFwebsite
SoundCloud: http://bzz.is/GMFsoundcloud
YouTube: http://bzz.is/GMFyoutube
Twitter: http://bzz.is/GMFtwitter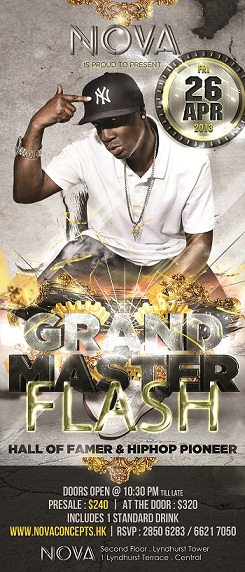 Organizer of Grandmaster Flash at NOVA Friday April 26th!
NOVA
"THE NEW PRESTIGE STYLE OF NIGHTLIFE IN HONG KONG"
from award winning designer Joey Ho is the future of Hong Kong nightlife evolution. Using the 6,000 square foot space and designed in ultra-modern futuristic décor, this venue is the embodiment of " atmosphere, comfort, space and V.I.P. "