Description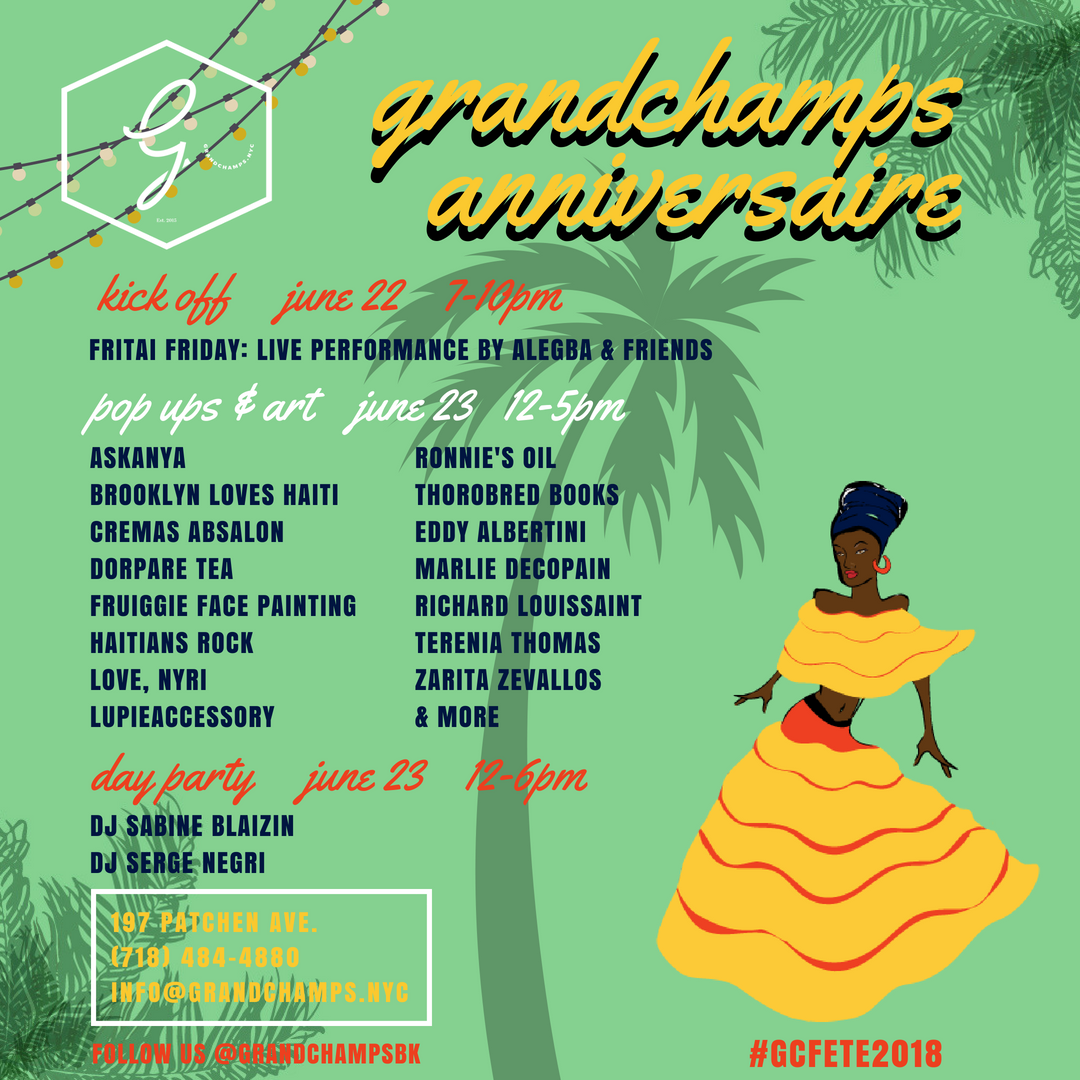 Grandchamps Anniversaire is a celebration of our third year of success with a weekend of events including: pop-up shops, art vendors, and live music. The fete will be held June 22-23, 2018 at Grandchamps: 197 Patchen Ave.
Friday, June 22nd, is the kick-off with live performance by Alegba & Friends for a special Fritai Friday (7-10pm) event that indulges in the delights of Haitian street food like banan peze, griot, and akra while dancing to feel-good, vibrational sounds.
Saturday, June 23rd, we've got DJ Sabine Blaizin and DJ Serge Negri providing the party tunes all day (12-6pm). Saturday will also feature an outdoor flea market of vendors (12-5pm) including Cremas Absalon, Askanya Chocolate, Brooklyn Loves Haiti, Dorpare Tea, Haitians Rock, Love Nyri, Lupieaccessory, and more. Art vendors include Eddy Albertini, Marlie Decopain, Terenia Thomas, and Zarita Zevallos. We'll have a photobooth by Haitian photographer, Richard Louissaint plus kids face painting by Fruiggie! Haitian fare along with wine and beer will be available for purchase to enjoy alongside the festivities.
About
Grandchamps is a family restaurant specializing in Haitian cuisine residing in Bedford Stuyvesant, Brooklyn. Its mission is to enrich its community locally and internationally by providing fresh, quality and health-conscious goods while preserving cultural roots. Grandchamps is about embracing diversity and answering community needs. "Our intention is to create not just a restaurant but an institution that provides awareness, positivity, growth, progress, and a platform for inspiration in both our local and Haitian community," said owner Sabrina Grandchamps. To learn more visit www.grandchamps.nyc or call us at 718.484.4880.