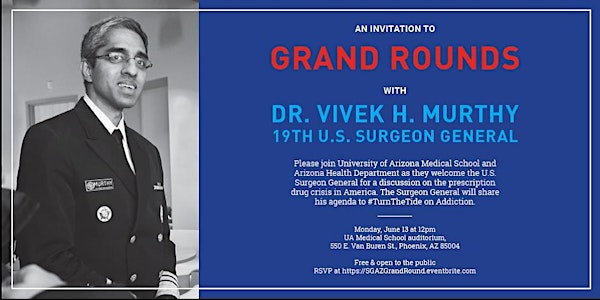 Grand Rounds with the U.S.Surgeon General in Arizona
When and where
Location
UA College of Medicine- Phoenix: Virginia G. Piper Auditorium 600 E. Van Buren St. Phoenix, AZ 85004
Description
---
Arizona Department of Health Services
&
University of Arizona College of Medicine-Phoenix
HOST
Grand Rounds with
Dr. Vivek H. Murthy, U. S. Surgeon General
Monday, June 13, 2016 at 12:00pm
UA College of Medicine- Phoenix,
Virginia G. Piper Auditorium
600 E. Van Buren St., Phoenix, AZ 85004
FREE and OPEN TO THE GENERAL PUBLIC
(Limited seating)


Please join the Arizona Department of Health Services and the University of Arizona Medical School as they welcome the U.S. Surgeon General for a discussion on the prescription drug crisis in America.
The Surgeon General will share his agenda to #TURNtheTIDE on Addiction.
Note: By registering for this event, I have agreed, on behalf of myself, my heirs, executors, administrators and assigns, to waive, release and hold harmless the Department of Health and Human Performance, their partner organizations, their directors, managers, officers, employees, representatives, agents, organizers and volunteers and their successors from any and all claims for damages and for injuries arising from this event I also agree to the use of any photo, film or videotape of the event that includes my image for any purpose by the event organizers, the Office of the Surgeon General