Grand Rapids Business Journal's 2016 Newsmakers of the Year breakfast
Description
Advance/online registration is now closed. We will have a limited number of seats available at registration at a cost of $40 each. Payment is due on-site, thank you.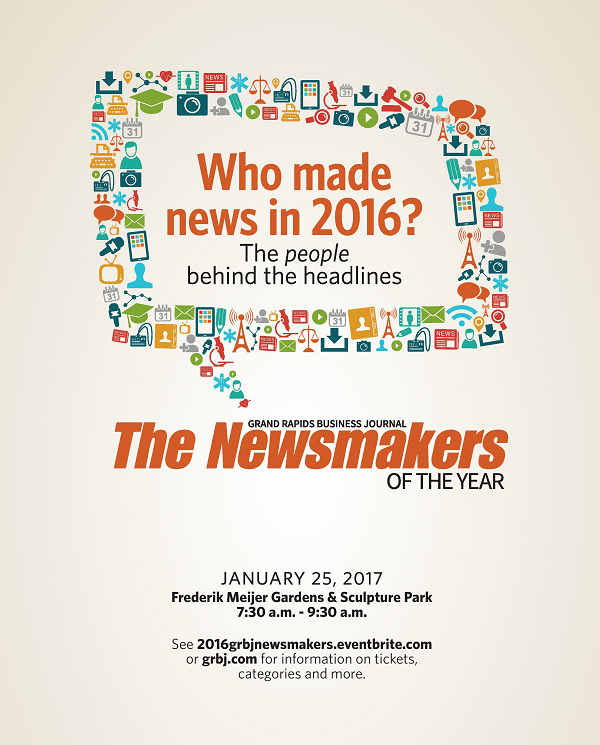 The Grand Rapids Business Journal reporting team has now determined the top news stories of 2016 — and the people behind the headlines.

On January 25, 2017, GRBJ will host a breakfast event and award 16 "Newsmakers" from these finalists:
Arts & Entertainment
Joseph Calvaruso, Gerald R. Ford Presidential Museum
Greg Gilmore, 20 Monroe Live
Rich MacKeigan, SMG
Beverages
Dave Engbers and Mike Stevens, Founders Brewing Co.
John VanTongeren, Ferris Coffee & Nut
Jon O'Connor and Kyle Van Strien, Long Road Distillers
Economic Development
Craig Hall and Jennifer Owens, Holland SmartZone
Julius Suchy, Village of Sparta
Ryan Cotton, Downtown Holland
Education
Jonathan Engelsma, Grand Valley State University
Teresa Weatherall Neal, Grand Rapids Public Schools
John Knapp, Hope College
Finance
Jason Wenk, FormulaFolio Investments
David Ramaker, Chemical Bank
Martin Stein, Blackford Capital
Food
Phil Grashoff, Southwest & West Michigan Agribusiness Alliance
Steve Soet, Kent Quality Foods
Cliff Meeuwsen, Zeeland Farm Services
Health Care
Greg Loomis, Mercy Health Muskegon
Kent Riddle, Mary Free Bed Rehabilitation Hospital
Michael Faas and Marschall Runge, Metro Health and University of Michigan Health System
Law
Mark Miller, Cascade Engineering
Heidi Washington, Richard A. Handlon Correctional Facility Vocational Village
Christine Gilman, Dispute Resolution Center of West Michigan
Manufacturing
Cedric Duclos, Hutchinson North American Innovation Center
Rich Sorota, Ranir
Matthew Missad, Universal Forest Products Inc.
Nonprofits/Philanthropy
Jorge Gonzalez, West Michigan Hispanic Chamber of Commerce
Peter Secchia and Richard DeVos, Michigan State University Grand Rapids Research Center
Carla Blinkhorn, YWCA
Real Estate/Construction
John Wheeler, Orion Construction
Sam Cummings, CWD Real Estate Investment
Mike VanGessel, Rockford Construction
Retail
Scott Wierda, CWD Real Estate Investment
Rick Keyes, Meijer Inc.
Dennis Eidson, SpartanNash Co.
Sports
Maria Besta, Mary Free Bed Wheelchair & Adaptive Sports Program
Dan DeVos, Edge Ice Arena
Lesley Baker, Meijer LPGA Classic
Startups
Danny Vessells, Fathom
Sara Moylan, Shefit
Mark Gurney, Tetra Discovery Partners
Sustainability
Dan Schoonmaker, West Michigan Sustainable Business Forum
Kris and Jason Spaulding, Brewery Vivant
Peter Secchia, Millennium Park
Technology
Meredith Bronk, Open Systems Technologies
Adam Kramer, Switch
Garry VonMyhr, Genius Phone Repair
One of these Newsmaker category winners will then be elevated to the 2016 Newsmaker of the Year.

Program Timeline
7:30 - 8:30am
Registration opens; breakfast and networking

8:30 - 9:30am
Awards presentation

Business attire. Free parking available.


Contact sponsor@grbj.com for sponsorship information.

Sponsored by:




On Twitter:
#grbjnewsmakers