Grand Rapids Business Journal's 2013 Top Women Owned Businesses event
When and where
Location
Frederik Meijer Gardens & Sculpture Park 1000 East Beltline Ave NE Grand Rapids, MI 49525
Refund Policy
Contact the organizer to request a refund.
Description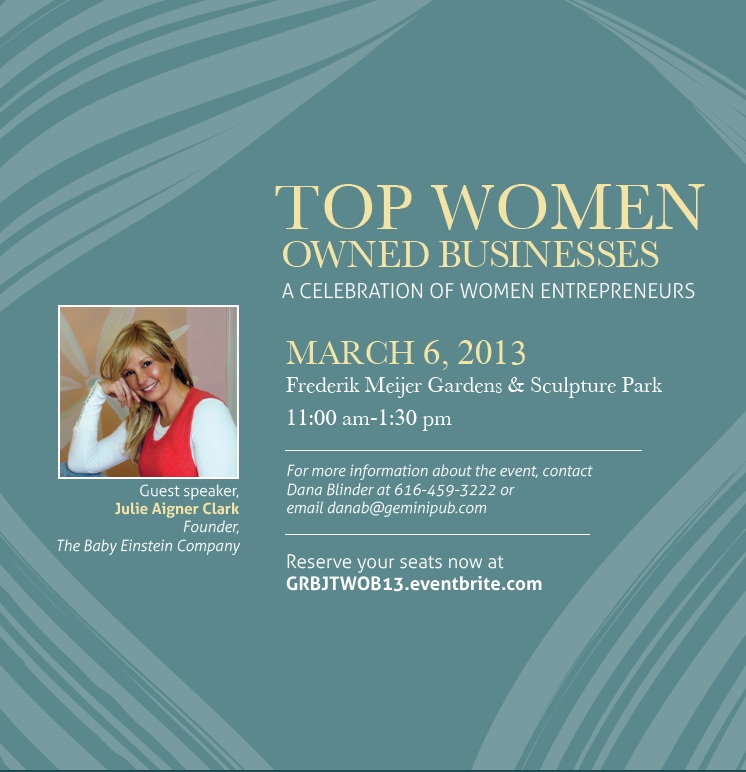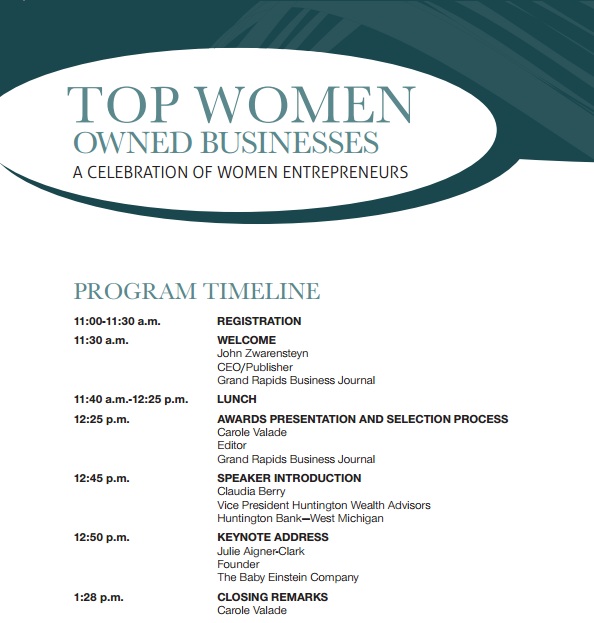 Please email information on dietary accommodations to Dana Blinder at danab@geminipub.com.
The 24 finalists in the $0-$1.49 million revenue category are:
Doreen Bolhuis, president and CEO of Gymco Inc.

Julie Cronkright, Jade

Kimberly L. Downey, owner of Complete Investigations

Roxanne Dudicz, owner of Rivertown Finance

Floriza Genautis, CEO of Management Business Solutions

Laura Holmes and co-owner Yvonne McKessy, FineLine Creative Inc.

Mary Kline and co-owner Amy Ritsema, Onsite Wellness

Denise Kohler-Kolesar, president of Kohler Expos Inc.

Bonnie Knopf, president of Intrepid Plastics Manufacturing

Rhoda Kreuzer, president of Partners In Action Inc.

Catherine Lazarock, president of Symplicity Communication Inc.

Cindy Locklin, president and CEO of Busy Bea's Services Inc.

Julie Lough, president of Micro Visions Inc.

Barbara Meconis, owner and CEO of Holistic Care Approach

Elaine Meyers, president of Meyers Cleaning Service Inc.

Sandi Frost Steensma, president of Parrish Consulting

Denise Booms-Pepin, president of CBI Telecommunications

Barbara Pietrangelo, financial planner with The Pietrangelo Agency

Amy Ruis, owner and president of Art of the Table

Natalia M. Schotte, owner and president of La Vie de la Rose Flower Essences

Janice S. Vanderbilt, president of Vanderbilt CPA Group

Sheila E. VanZile, owner of Watermark Insurance Services

Ann Vidro and co-owner Menda Wright of Creative Studio Promotions

Beverly Wall, CEO of Languages International Inc.
The seven finalists in the $1.5-$3.99 million revenue category are:
Meg Goebel, president and owner of Paul Goebel Group

Joyce Lovse, president and owner of Angel Care Home Care

Peaches McCahill, president of the McCahill Group

Jamie Mills, president of Mills Benefit Group

Mary Reagan Shapton, Reagan Marketing + Design LLC

Karen Scarpino, president of Green Giftz

Ginny Seyferth, president of Seyferth Public Relations
One finalist was named in the $4-6.99 million revenue category:
Holly Lookabaugh Deur, president of Generation Care
Three finalists were named in the $7+ million revenue category:
Deb DeGraaf, president of DeGraaf Interiors

Linda Vos-Graham, president of Vos Glass

Helen Zeerip, president of Teddy's Transport
See the Business Journal article announcing these finalists here.

Premier Sponsor

Platinum Sponsors
Exhibit Design Consultants
Michigan Business and Professional Association
MSU Weekend MBA
West Michigan Women's Expo
In association with
Inforum
Alliance of Women Entrepreneurs (AWE), a division of Grand Rapids Opportunities for Women (GROW)
Floral Sponosr
Eastern Floral