Description
After many weeks of blood, sweat and tears we're finally ready to invite you to our grand opening. We've teamed up with Innovasjonsuken OPP and we're ready to guarantee good times!
We'll start with the formal speaches at our neighbours, Østre. Here we will also have a short program presented by Innovasjonsuken OPP with amazing speakers such as Ole Hamre and Paul Iske.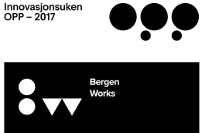 After this we will proceed through a secret door to our brand new co-working space, Bergen Works. If you would like to come just to our event - the door will be open from 8 pm from Vestre Skostredet 2.
Næringsbyråd Julie Andersland will officially be opening the space and then our fate is up to the DJ! We'll be serving good drink, hot dogs and cake!
We hope that you will come! We're proud of our new co-working space and we're looking forward to showing it off to new potential members, friends and partners!