RTW Photography's Grand Opening in Downtown Orlando, Florida.
About this Event
RTW Photography will be hosting the grand opening of its new studio located in the Parramore community of Downtown Orlando, Fl. Join us for the ribbon cutting ceremony and tour of the studio.
The number of attendees will be limited to ensure proper social distancing, however, for those who are unable to attend in person, we will live stream the ribbon cutting ceremony on the RTW Facebook Page.
Temperatures will be checked upon arrival and hand sanitizer will be available throughout the duration of the event. We ask all guests to wear a mask or face covering.
As a part of our grand opening we are offering discounted pricing for our fall mini sessions.
Event Details
The grand opening will take place on October 28, 2020 at 4:30pm and will serve as an opportunity to meet the owners and RTW team, visit the new space, and take advantage of discounts. This event is sponsored with Enock FL Realtor.
The virtual grand opening will take place on October 29, 2020 at 5:30pm. A link will be provide by email.
To learn more about RTW Photography see below, or visit our website. If you are interested in being a sponsor for the event, please contact us at bookings@ridethewave.co.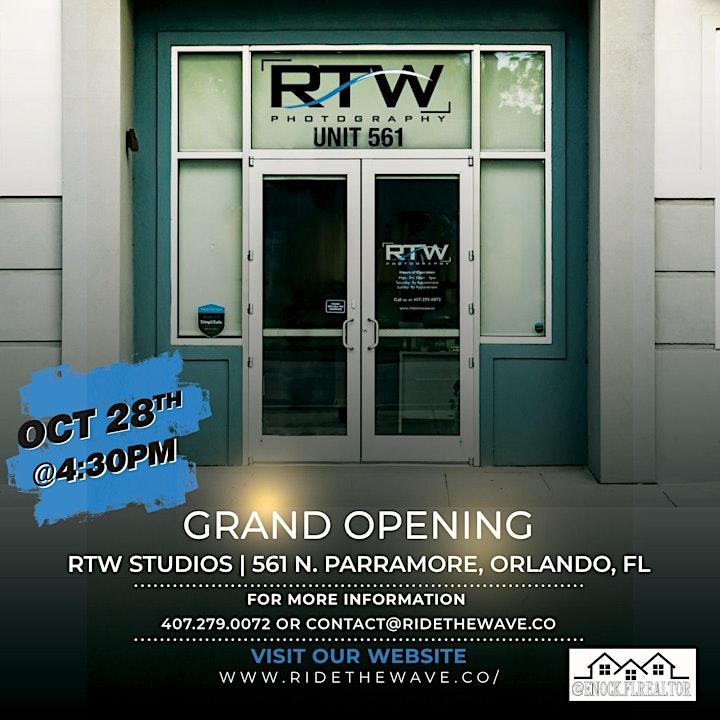 About RTW Photography
RTW Photography is located in Orlando, FL and is a full service photography and videography company that provides services to commercial businesses, government agencies and individuals. We are experienced in all areas of photography and videography and offer a wide range of services, including live stream and photo booth rentals.
RTW Photography takes pride in producing images of the highest quality in order to bring our clients' visions to life. Our goal is to ensure you have the best experience possible. Whether it is family portraits for the holidays, new professional headshots, photos and videos for your new company or a special occasion, we will capture images in a way that will resonate for a lifetime.
They say a picture's worth a thousand words, but RTW Photography is here to provide more than just a photo or video. We're here to capture stunning moments that will last a lifetime. We take pride in our work, and our client's vision is our top priority. We look forward to bringing your ideas to life.
As a part of our grand opening we are offering discounted pricing for our fall mini sessions.