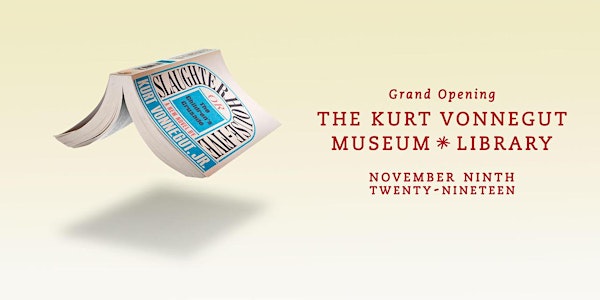 Grand Opening of the new Kurt Vonnegut Museum * Library & VonnegutFest
Join us for Day One at the new Kurt Vonnegut Museum * Library + Celebrate VonnegutFest at Kurt's "Forever Home"
When and where
Location
Kurt Vonnegut Museum * Library 543 Indiana Avenue Indianapolis, IN 46204
Refund Policy
Contact the organizer to request a refund.
About this event
VonnegutFest, the only Vonnegut-centric event in the world, is an annual festival in Kurt Vonnegut's hometown of Indianapolis that champions the power of the arts and humanities to better us as individuals and as a society. This year's event coincides with the Grand Opening of our new building at 543 Indiana Avenue. We are so excited to welcome you to our new home!
KVML | Noon
Grand Opening with Ribbon Cutting
Join Kurt's daughter, Edith Vonnegut; Visit Indy President & CEO Leonard Hoops; historian William Selm; musicians David Sasso and Katie Burk; Free Speech Ambassador Sophie Maurer; and the Board of the Vonnegut Library for our ribbon-cutting ceremony, and then enter the doors of KVML for your first glimpse.
KVML | 1 p.m.
Happy Birthday Wanda June
Help us blow out the candles at KVML's new Wanda June exhibition, in partnership with Indianapolis Opera. Grab a slice of birthday cake with Indianapolis Opera Executive Director David Starkey and KVML Board member KimAnn Schultz.
KVML | 2 - 4 p.m.
So It Goes Literary Journal Release Party and Readings
Don't miss this literary salon of contributors, including two former Indiana Poet Laureates, reading their amazing works from the eighth issue of KVML's So It Goes Literary Journal.
KVML | 5 p.m.
Unveiling of the Frank and Katrina Basile Community Room
Raise a glass with Deputy Mayor Jeff Bennett in a champagne toast to Frank and Katrina Basile in the museum's Community Room, made possible by the Basiles.
KVML | 5:30 p.m.
Veterans Reclaim Armistice Day — Unveiling of the Slaughterhouse-Five Permanent Exhibition and a special Slaughterhouse-50 show of work by L.A. Artist Lance Miccio
Dig deeper into the history that inspired Slaughterhouse-Five with a panel discussion featuring artist Lance Miccio, who will debut 50 paintings based on Slaughterhouse-Five; Brian Welke, author of a forthcoming book on Vonnegut's 423rd Infantry Regiment and an associate member of the Veterans of the Battle of the Bulge; and environmental artist Stuart Williams, whose public exhibition Breath of Life/Dresden at the Dresden Cathedral marked the 70th anniversary of the bombing of the city.
KVML | 7 p.m.
Grand Opening Concert
Celebrate with the stylish sounds of Indy-based all-stars The Groove 4tet, featuring Clint Breeze (drums), Nick Tucker (bass), Steven Jones (keys) and Zachary Finnegan (trumpet) playing jazz standards and originals.
KVML | 8 p.m.
Prefer to Laugh
Let us put a smile on your face with this year's Kurt Vonnegut Humor Award winner, Scott Long. Living locally in Indianapolis and touring nationally, Long is a career standup comedian who has appeared on NBC and FOX and written Emmy-nominated sketches during his 11 seasons at the NFL on FOX. Warming up the crowd will be CFO of Newfields Jerry Wise and Visit Indy President & CEO Leonard Hoops (a past award recipient). As Vonnegut once said, "I myself prefer to laugh, since there is less cleaning up to do afterward." It'll be a gas!