GRAND OPENING: Copa Room Miami featuring Alex Sensation Friday, January 27t...
Description
Friday January 27th 2017
GRAND OPENING EVENT
Copa Room Miami
PREMIUM OPEN BAR ALL NIGHT
SHOWS & NIGHTCLUB
***Copa Room is Miami's only All Inclusive Entertainment Complex, featuring one-of-a-kind Las Vegas style shows with professional entertainers, acrobats and Premium Open Bar All Night. Celebrating our Inauguaration we are providing a 50% to all General Admission tickets. Must be 21+ to purchase.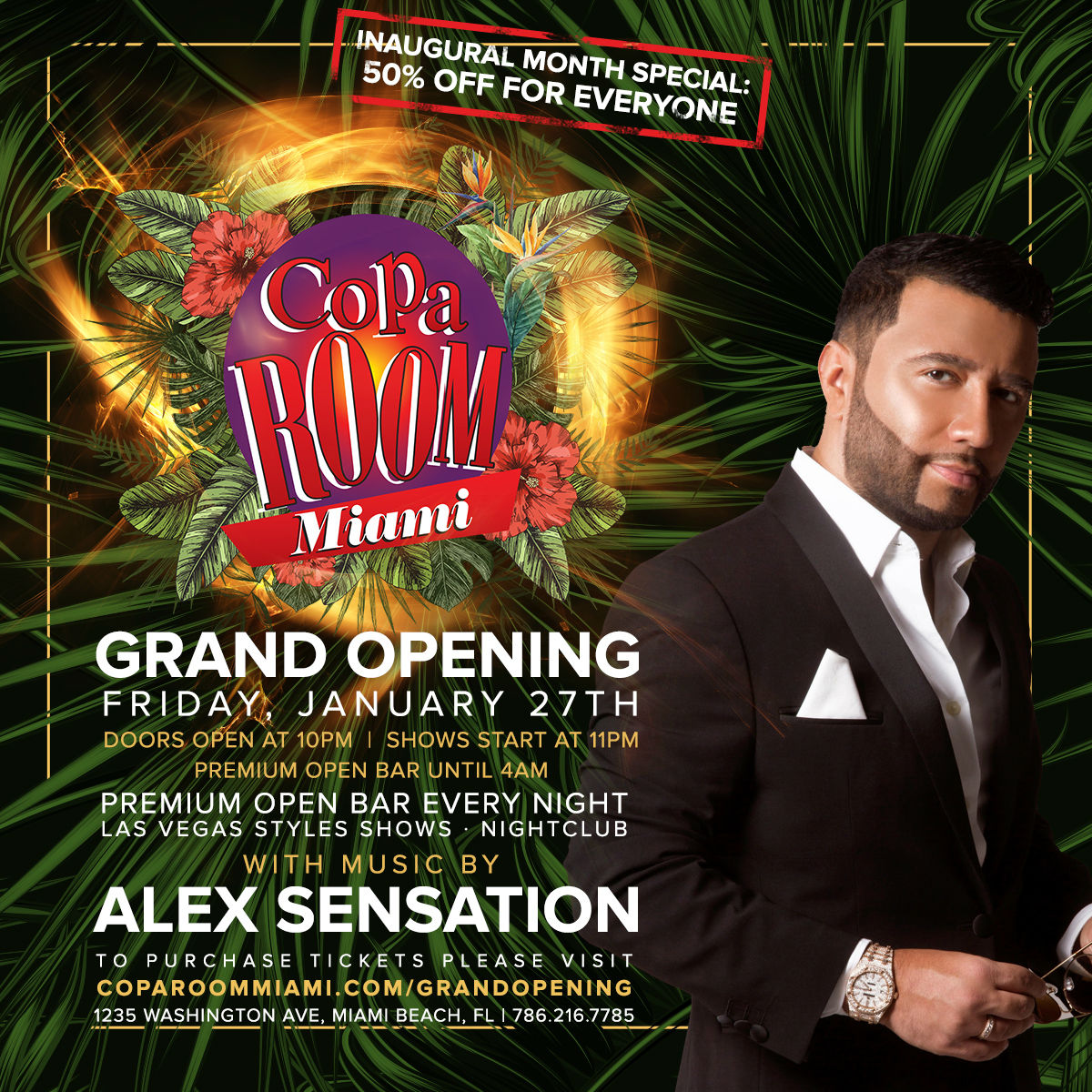 All Guests enjoy Premium Open Bar all night long included with their one time admission ticket. Dance the night away and leave with a truly unique experience.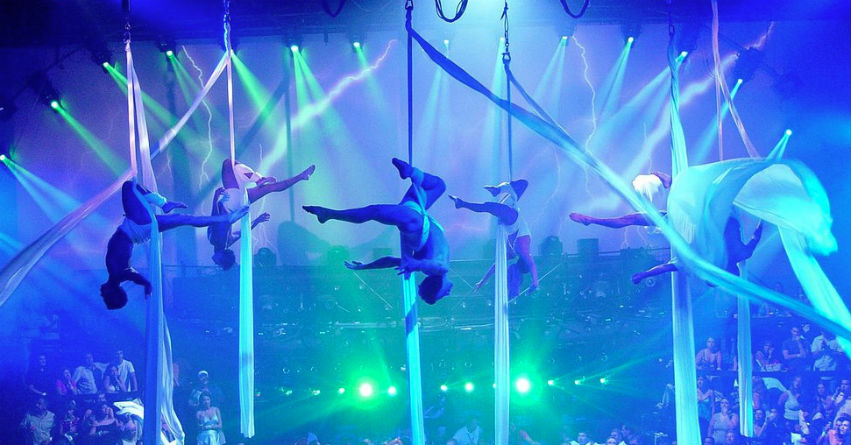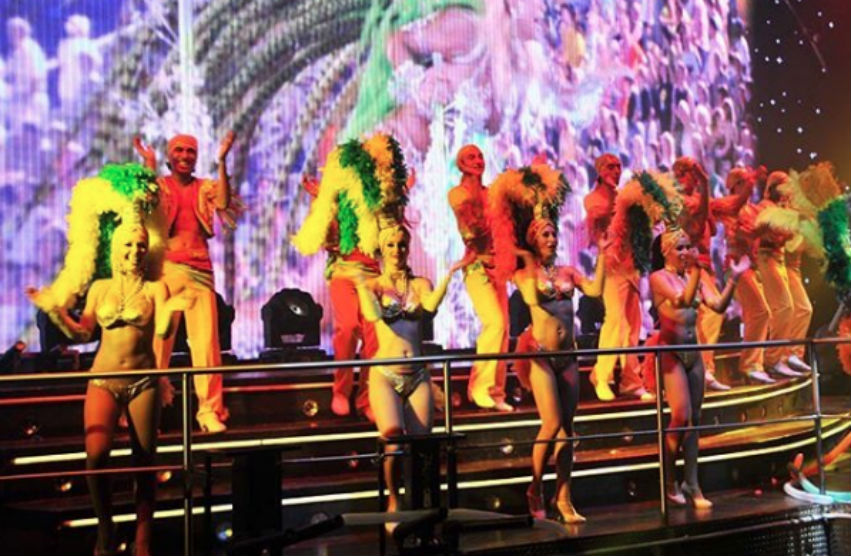 FAQ'S
Q: DO YOU OFFER ANY TICKETS WITHOUT OPEN BAR?
A: We currently have two types of admissions to enjoy the show. The General Admission ticket and the CLUB LEVEL TICKET, both include PREMIUM open bar drinks with or without alcohol.

Q: WHAT IS THE DRESS CODE?
A: From Casual to Elegant and everything in between. Shorts and Tuxedos welcomed.

Q: CAN I ENTER COPA ROOM WITH A MINOR IF I GUARANTEE THAT THIS PERSON WILL BE UNDER MY SUPERVISION?
A: No. The law dictates that each person must show an official identification proving that he/she is over 21 years of age before entering the establishment.

Q: CAN I ENTER COPA ROOM WITH MY DIGITAL CAMERA?
A: Yes. You may enter Copa Room with small digital cameras, including the GoPro and Handycam kind, as long as they don't carry long-range lenses and other accessories.
Shootings for professional or commercial purposes require special authorization. You can contact us through the following address:info@coparoommiami.com

Q: CAN I ENTER COPA ROOM WITH MY PRESCRIPTION DRUGS?
A: No. All kinds of drugs are prohibited. If you suffer from a respiratory or cardiac condition we recommend you contact us through the following email address: info@coparoommiami.com.

Q: WHAT IS THE DIFFERENCE BETWEEN A GENERAL ADMISSION TICKET AND A CLUB LEVEL TICKET?
A: General Admission ticket entitles you to admission for the show and includes premium open bar until 4 a.m. CLUB LEVEL is our Super Premium product; with the purchase of this ticket you are entitled admission to the show, access through a special door to avoid lines, personal attention, reserved seat inside the CLUB LEVEL area and ULTRA PREMIUM open bar until 4:00 am. The CLUB LEVEL area is located on the upper level, with a prime view of the show.

Q: IF I WANT TO PURCHASE A TABLE & BOTTLE, DO I STILL NEED TO PAY THE ADMISSION FEE FOR EACH PERSON?
A: Yes. The admission fee still applies and all guests receive Premium Open Bar all night long in addition to the bottle being purchased. VIP Tables are $300. Tax and Gratuity is included.

Q: CAN I BUY FOOD INSIDE COPA ROOM?
A: We do not serve food. If you are in Miami Beach, we recommend that you visit our Bar & Boutique. Located in the front door where you can find snacks while you enjoy your favorite games.

Q: IF AFTER BUYING TICKETS, I DECIDE TO CHANGE THE DATE, WILL THE PURCHASED TICKET STILL BE VALID FOR THE DATE THAT I WANT TO GO?
A: Unfortunately, tickets are only valid for the date of purchase. Prices vary depending on the day of the week and the season, so transferring them is not an option.

Q: I ALREADY BOUGHT MY TICKETS BUT I CHANGED MY MIND & DON'T WANT TO GO TO COPA ROOM, CAN I REQUEST A REFUND?
A: All sales are final. We do not accept cancellations or refunds.
If you already have your ticket, Go! You will not regret it!