Grand Opening and Anniversary Celebration for the University of Arizona!
Description
SAVE THE DATE!
You're invited to the University of Arizona Anniversary Celebration in Phoenix! We're celebrating decades of innovation and achievements in Health Sciences and the grand opening of our newest research facility – The Biomedical Sciences Partnership Building.
The UA Phoenix campus welcomes our friends, family, faculty and the community to this very special event. Join us for an evening of music, hors d'oeuvres and refreshments.
UA Health Sciences milestone anniversaries: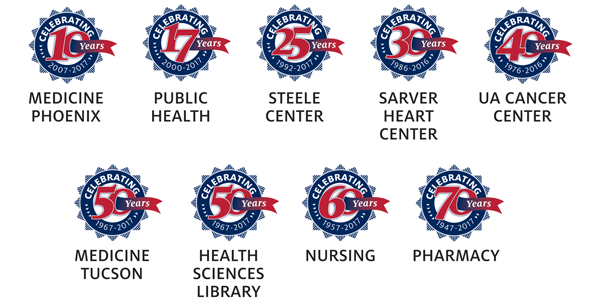 At 5:30 p.m., University of Arizona President Ann Weaver Hart and Greg Stanton, Mayor of Phoenix, will offer brief celebratory remarks to mark the occasion.
Mix and mingle, tour the new building, meet some of our amazing UA students and enjoy an evening to celebrate the grand opening of the city's newest innovation hub.
Refreshments and heavy hors' d'oeuvres will be provided.
Registration is suggested. For more information, please contact Sheila Maddox, 602-827-2007.
Date and Time
Location
University of Arizona Phoenix Campus
Biomedical Sciences Partnership Building
475 N. 5th Street
Phoenix, AZ 85004