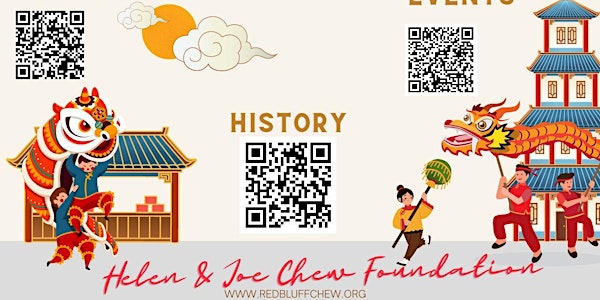 春节 Grand Finale Event - Concluding Creating a Historic Chinatown Alley
Final event of the one-year-series to create a Historic Chinatown Alley
By Helen & Joe Chew Foundation is preserving Tehama County's Chinese Heritage
Date and time
Sunday, February 4, 2024 · 12 - 1pm PST
Location
Historic Chinatown Alley Main Street Red Bluff, CA 96080
Refund Policy
Contact the organizer to request a refund.
Eventbrite's fee is nonrefundable.
About this event
Concluding Creating a Historic Chinatown Alley
Final event of the one-year-series to create a Historic Chinatown Alley
Join the Helen and Joe Chew Foundation as the one-year series of events to Create a Historic Chinatown Alley comes to an end, 126 years later in Chinese American history. Witnessing the Lion Dancers is an extremely enjoyable and culturally a very prideful experience for all ages. The Chinese Lion Dance is one of the oldest traditions for the Chinese American descendants of Red Bluff and is used at celebratory events.
Admission: Free for all to enjoy!
Details: The event will kick off with an ancient Chinese Lion Dance at 12 PM that will bless the City of Red Bluff with prosperity, good fortunate, longevity for all the years that follow. The descendants from the 趙Chew, 黄Foey, 陳Chin and Chan family will provide a speech regarding the conclusion of the one-year series of events. The Helen and Joe Chew Foundation will have a joint book reading on Images of America: Chinese in Tehama County followed by an optional walking tour to conclude the festivities.
Location: The event will begin on Hickory Street through Pine Street between Main Street and Rio Street (formerly known as High Street).
Complimentary concluding the one-year-series of events
Sponsored by the Helen and Joe Chew Foundation
The following rules are to insure reasonable safety to life and property in the operation of parade floats;automobiles; and similar conveyances within the city limits of Red Bluff.
PLEASE READ AND FULLY UNDERSTAND THESE RULES. BY ATTENDING YOUR PARADE, YOU ACKNOWLEDGE THAT YOU AND EVERYONE ATTENDING WILL UPHOLD ALL RULES AND REGULATIONS AS SET FORTH HEREIN,
PARADE RULES & REGULATIONS
• Be extremely careful while walking.
• Supervise any children in your group very closely.
• Do not throw any objects, including candy.
• Please do not act disorderly or get in any confrontations with anyone. No obscene and
offensive gestures, comments, posters, or signs will be allowed. If you are having a
problem with someone, contact a law enforcement officer and we will resolve the
situation.
• Careless and reckless driving will not be tolerated. No spinning tires included.
• Everyone is subject to all state laws, town ordinances, policies and procedures.
• Performances are only open to professionals. Applications must be received by June 1, 2023 to be entered.
• Unauthorized automobiles/other vehicles are not permitted unless approved in advance by LCI no later than June 1, 2023. All drivers must possess a valid driver's license and registration for the vehicle. Floats must conform to the regulations provided. Proof of liability insurance is required for all motorized vehicles and must be provided in advance by June 1, 2023.
• All unmanned aerial systems, UAVs, drones or other flying devices are strictly prohibited during the Lions and Dragon Parade.
• Throwing or distribution of items of any kind from a float or parade unit is strictly forbidden. Parade officials are authorized to remove the float or unit from the parade at the assembly area or during the line of march.
• Delaying or stopping the forward motion and/or the distribution of campaign flyers during the parade is strictly prohibited. Failure to comply will result in being banned from future events
• 5 feet should be maintained between delegations throughout parade route. Movement must be in a forward motion, maintaining specific intervals. Maneuvers will be permitted only during the time the parade is officially halted. Units falling behind the preceding unit a greater distance than 5 feet will delay the parade. Please cooperate with the parade officials and police.
• All animal units must be registered by parade application. Delegations must provide street cleaning services following horses and dogs in assembly area, along parade route, and in disbanding area and shall guarantee this service in writing on parade application submitted. Caged animals and/or animals on a leash deemed dangerous to the public are not permitted.
• Conduct on the part of any unit or individuals that may embarrass the performers will be cause for immediate removal and being banned from future events.
• All trash must be properly disposed of in receptacles in their dispersal areas.
• Delegation's authorized representative is responsible for maintaining order and responding to any order by parade officials or police relating to their delegation. Failure to comply will be banned from future events.
• Only plastic bottles are allowed.
• Glass and metal containers are strictly prohibited by the city for this event and cannot be brought to the parade site.
• All participants planning to march in the parade must display their convention name badge as required by the local authorities.