FREE AND OPEN TO GRAND COUNTY RESIDENTS
About this Event
Free Educational Dinner Webinar
A free educational dinner webinar about e-cigarettes and prevention for parents/guardians in Grand County about their youth. This event will go from 6:30PM - 7:30PM MST via Zoom on Tuesday, February 23rd, 2021.
The Zoom link will be emailed to those who register on the day of the event, February 23rd, 2021. A pre and post survey will be emailed to you as well that we ask you to fill out to fulfill requirements for our grant. They shouldn't take longer than 10 minutes to take.
Be sure to check out our website for more information on e-cigarettes and prevention.
Please reach out if you have any questions or concerns: jenna.hawks@usu.edu
Free Dinner
This webinar comes with a free dinner from Zax Restaurant for pickup (96 S Main St). To pickup your meal you must have a printed or electronic version of your ticket. Pickup will be from 4:45PM - 6:15PM.
Swag Bags
Additionally, this webinar comes with a free swag bag. This will be given to you with your meal when you do pickup with Zax. These bags contain resources for your area as well as a USU Extension pen.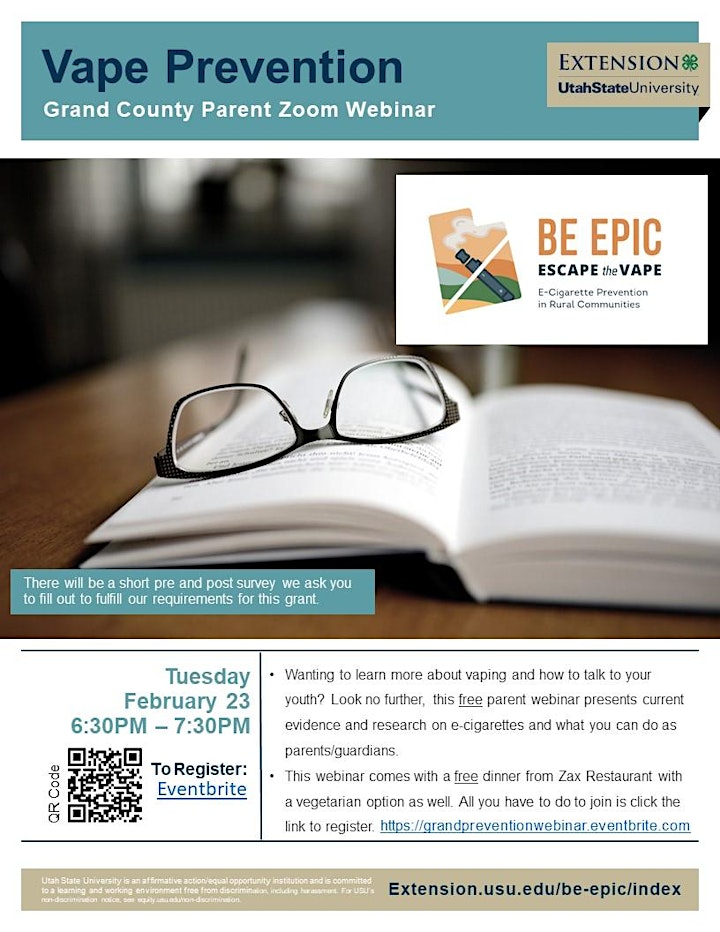 FAQs
Who do I contact for questions or concerns about this event?
Jenna Hawks - Health and Wellness Prevention Coordinator
jenna.hawks@usu.edu
(435) 210-8077
How do I set up Zoom for the webinar?
Click here to download Zoom
You will want to download ahead of time
Make sure to log on 5-10 minutes before event to ensure it is working properly
If you need help contact Jenna Hawks above