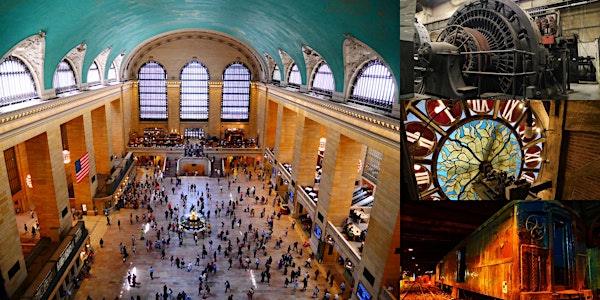 'Grand Central Terminal and the Secrets Within' Webinar
Can't make it live? Register and get access to the full replay for one week! New York Adventure Club | www.AdventureClub.com
By New York Adventure Club
Date and time
Thursday, June 8 · 5 - 7pm PDT
About this event
Over the past century, Grand Central Terminal has captivated people from around the world with its architectural beauty, unique brick and mortar eateries, and endless transit possibilities. It's also full of secrets — from being the target of a failed Nazi sabotage mission during WWII to containing hidden areas that keep it and its train traffic running each day. This is the complete history of the most perfect train terminal in the world.
Join New York Adventure Club as we embark on a virtual exploration of Grand Central Terminal — one of the most beautiful and famous train terminals on Planet Earth — and the two stations in the same location that preceded it.
Led by NYC Tour Guide Gary Dennis, our digital behind-the-scenes experience of this urban wonder of the world will include:
The history of New York Central, the company that built Grand Central Terminal as well as the two preceding incarnations of the terminal built at the same location (third time's a charm!)
The incredible story of how Grand Central Terminal escaped the wrecking ball, and what the Landmarks Preservation Commission, Former First Lady Jacqueline Kennedy Onassis, and the United States Supreme Court had to do with it
A virtual trip to the M42 Substation, the terminal's power station located 13 stories below ground, and details surrounding the failed mission by German spies during WWII to infiltrate the site
A discussion around Track 61, a secret train track connecting Grand Central Terminal and the Waldorf-Astoria
Mysteries of the terminal revealed including why there's a hole in the ceiling, how artists messed-up one of its most defining artworks, and how to find its hidden cocktail lounge
Rare photos and videos from secret areas throughout the terminal, including the Tiffany Clock room, catwalks, and Operation Control Room
Afterward, we'll have a Q&A with Gary — any and all questions about Grand Central Terminal are welcomed and encouraged!
Can't make it live? Don't worry, you'll have access to the full replay for one week!
See you there, virtually!
*Immediately upon registering, you will receive a separate, automated email containing the link to join this webinar
**For the best possible viewing experience, please ensure you're using the latest version of your internet browser — Google Chrome is the most compatible. Exact technical requirements and a webinar user guide will be shared in the automated confirmation email upon registration.
***A full replay of the experience will be available to all registered guests for up to a week
About Gary
"I am a native New Yorker, NY subway aficionado, and product of an insanely competitive family of "know it alls". My parents, younger brothers, and I all love New York City history, and to get some parental attention I had to be historically correct and entertaining at the same time.
"I love this city and all its peculiarities, and I love sharing it with newcomers, returning visitors or native New Yorkers— I'll tell you these and other fascinating things you never knew about this amazing place I call home because 'there are 8 million stories in the naked city' and I will share with you as many as possible."
Testimonials
"I learned so much about a landmark that I live near and have been to so many times." -Janet
"The history was so interesting and the guy presenting it (Gary) clearly knew a lot and you could tell he really cared about sharing with us!" -Leanne
"So informative! I had no idea any of this information." -Victoria
"Gary was extremely knowledgeable and amazing!! So so so worth it!!" -Jonathan
"In depth but fast paced and gave you a great backstory of why the GCT was built, not just about the building" -Cynthia
"Gary is wonderful. Great slides. Learned so much. Living in NJ and having worked nearby, I had been there many times but knew so little." -Nan
"Gary gives rapid fire facts that keep you on the edge of your seat! His photos & commentary grab you, hoping to come back & see more.♡" -Peter
"I liked everything! All the past history of train stations setting us up for the creation of Grand Central. The rocket ship, the acorns, the hole in the ceiling. the hidden, the obvious. Never noticed the food court seating areas had baggage racks. This talk was the next best thing to being there." -Sondra
"Speaker was fantastic !!!!! Photographs were amazing. I learned so much from Gary and look forward to watching it again to absorb even more !!! Thanks" -Mary
"Gary is extremely knowledgeable and great to listen to. I wrote in that I went to law school in NYC and would walk past GCT often - yes, I did go in but never knew any of what Gary talked about. I'm an Illinioisian - from the Chicago area, and we love our Union Station. But GCT is just magnificent and I learned an immense amount! Thank you!" -Sherry
"The presenter was incredibly knowledgeable and shared very interesting information about Grand Central. I also liked the way he organized the presentation and the topic areas he picked." -Kathy
"Host was extremely knowledgeable and engaging. Full of fun facts." -Ellen
"There was a lot of info packed into the 2 hours. Gary is really knowledgeable." -Tricia
"Gary was fantastic - amazing knowledge and great way in telling the story" -Corinne
"Gary!!! That man should be part of the "I <3 NY" campaign! His passion for NYC is contagious (in the good way)." -Marguerite
"Fascinating, the guy is a wealth of knowledge and talks like a New Yorker!" -Susan
"Gary covered a lot of ground with an endless stream of interesting and little known facts." -Dave
"I liked Gary's extensive knowledge, the pace of the webinar, the photos, the history, the present-day info. All of it!" -Mark
"The depth of Gary's knowledge was amazing and enjoyable...I took lots of notes for future reference and sharing." -Joan
"The presenter was very knowledgeable. Images were excellent and he presented the material in an clear, organized way." -Sharon
"Very informative... good photos...great host!" -Hal
"The presenter was well-prepared, informative and enthusiastic. He had many pictures of GCS and stories about it to share." -Deborah
"I love the enthusiasm and knowledge of the presenter." -Kimberly
"The presenter, Gary, was absolutely fantastic. His slides and photographs were excellent and his presentation was superb!" -Sherry
"The speaker was excellent. Once the presentation got inside GCT it was great, very interesting and the speaker so knowledgeable." -Patty
"It was full of interesting info and presented well and with humor. Really enjoyed it!" -Nancy
"Gary's obvious knowledge and enthusiasm for his subject. I also liked the subject." -Elizabeth
"The quality of preparation and organization made the presentation very effective and easy to gain and retain information." -Marty
"Presenter very knowledgeable about topic. It was very enjoyable Learned a lot about how GCT came to be!" -Maria
"So much information, and photos were terrific and very interesting." -Barbara
"Learned a lot of history and saw so many photos of Manhattan before it was developed. The photos, maps and other exhibits were a very important part of the presentation." -Karen
"I love the background story & details about the current Grand Central Terminal." -John
"Topic and content (I believe) were good. However, Gary is the fastest talker ever making it very difficult to follow. Please give options to slow down the audio tape to make it understandable." -Katharine
"Content is fabulous. Gary really knows his stuff and his love for the city is infectious. Yes, he talks too fast. Yes, I wish I could rewind and catch what I missed. But I guess that's what the complimentary 1 week replay is for." -Adrienne
"Rocky's knowledge on the subject and the use of models to help explain." -Diane
"The speaker was enthusiastic and knowledgeable and stayed a few minutes longer to answer questions. That was very generous of him." -Nina
"Very informative. I loved hearing the little tid bits of info and trivia about Grand central. Also loved all of the pictures." -Nyree
"We learned a lot about Grand Central Terminal and will look to go again soon." -Bob
"Gary has passion and enthusiasm about New York and so do I, so I easily resonated with him." -Rhonald
"Great pictures, Detailed info Comparison between penn station and grand centraL, just great stuff." -Michele
"I liked the photos and the host. So much information presented in an interesting and engaging format." -Clare
"The speaker was amazing- kept the interest the entire two hours, showed so many photos and knew so much about the history. My husband and I were mind-blown. VERY GOOD JOB!" -Jennifer
"Excellent content, very knowledgeable host." -Jessica
"Lots of interesting information, presented in an entertaining way." -Cindy
"Fun and interesting. I learned a lot about the evolution of train travel/stations in New York City." -Debra
"I love the structural detail and stories of many aspects of the history, including famous people and events." -Ardith
"I love the tremendous amount of detail regarding the construction of Grand Central." -Francesca
"Really interesting. Gary was so knowledgable. It was fun with all of us in the chat responding to each other. That was a first." -Pam
"Amazing knowledge around and leading up to what is now Grand Central." -Barton
"Guide was so knowledgeable. I learned so much." -Mara
"Gary the guide was very knowledgable, friendly. I learned a lot." -Ellen
"Lots of information, great photos, Gary was great, easy to listen to, fun stories, very knowledgeable." -Kristina
"Gary was very informative, and had just the right amount of New York attitude." -Marianne
"The pictures, drawings and maps (useful to understand it all!) The obvious knowledge of the guide." -Marie-Christine
"Very knowledgeable moderator. Very much enjoyed the GCT history lesson." -Gary
"The knowledge of the instructor/presenter as well as the enthusiasm and passion in the manner in which he presented the information. Great slides too." -Bobby
"Great history of a great building. Also love Gary's style." -Paul
"Tons of facts I had no idea - despite me being a history buff and living in the area my whole life. Gary is very passionate and knowledgeable and it was a treat to have him be the presenter." -Cynthia
"Photos, stories, very knowledgeable lecturer. Great fun! May watch again." -Geane
"A lot of information. The tour guide was an excellent speaker." -Noreen
"All of the history was very easily explained. And the knowledge behind each of the photos was great." -Jeanine
"Guy really knows his stuff! Interesting enough to keep your attention." -John
"Very informative, lots of information. Gary was incredibly knowledgeable. And pretty funny." -Locke
"The presenter was a treasure of New York City history." -Laura
"Gary is a FABULOUS speaker. Very knowledgeable and enthusiastic." -Nick
"Lots of info delivered with a friendly relaxed style holding the viewers' interest." -Linda
"Gary is so likeable and knowledgable on so many things inside and outside of the topic he is presenting. I love the side bar related stories he talks about." -George
"Brisk pace with extensive historical background. Entertaining presenter. Deep dive, but not boring." -Linda
"The presenter was very knowledgeable and passionate about the subject." -Paul
"The presentation was well structured and very informative. I learned a lot." -Brigitte
"Gary's overall knowledge and presentation was anything but boring There appeared to be no script as if he recalled "history in the making" with a logical direction he followed to explain the history of Manhattan's train transportation system and how it evolved, I actually believe he is a time traveler...how else could he have obtained all the behind-the-scenes "secrets" unless he lived during that time...Hmmm!?" -Steven
"The tour guide was incredibly knowledgeable. Photos were cool. Liked the quirky details." -Crystal
"Loved it!! The enthusiasm was extraordinary!! Will recommend this website to EVERYONE!" -Joan
"The host was fabulous! I loved all the extra tidbits of history he woven into the story." -Barbara
"I found it to be very interesting and informative. I have done a bit of research and read quite a lot about GST but still learned a lot." -Maggie
Disclaimer
By attending a New York Adventure Club experience, you accept our terms of service.
Categories: Virtual, Landmarks
About the organizer
NEW YORK ADVENTURE CLUB | Unlock Your City
We give you insider access to the city's best-kept secrets. But we're so much more than a tour company.
WHO WE ARE
We are a community-driven club that curates the most unique experiences in town, with a focus on history and storytelling. We show you a city you never knew existed, and offer a community you can't live without.
You won't find our special-access tours and exclusive events anywhere else. Think after-hours tours of New York City's most celebrated spaces, themed parties in unexpected locations, and weekend excursions to incredible destinations. All of our events end with social hangouts so you can meet people who love exploring as much as you do.
THE 'CLUB' IN NEW YORK ADVENTURE CLUB
Our current community is more than 50,000 members strong and includes everyone from recent NYC transplants to lifelong residents. Whatever borough you're from (or city or country, for that matter), we'll make it easy for you to take full advantage of the unique places and great people this city has to offer.  
Subscribe with our newsletter to get the inside scoop on the city's most interesting events.
 Visit our website to see our full line-up of fun experience.
"Don't be boring, go do something"
New York Adventure Club