Grand Canyon Winter Trek-4 Nights Below Rim-Tonto Trail Loop- Rim 2 River
Description
Winter backpacking at Grand Canyon National Park, South Rim.
Hermit's Rest Trail Head to Bright Angel Trailhead with trail camping at Monument Creek, Indian Garden and Bright Angel campgrounds.
Visit the Four Sisters Natural Bridge, Plateau Point Ruins, Phantom Ranch, Devil's Corkscrew, Pipe Creek Waterfalls and more!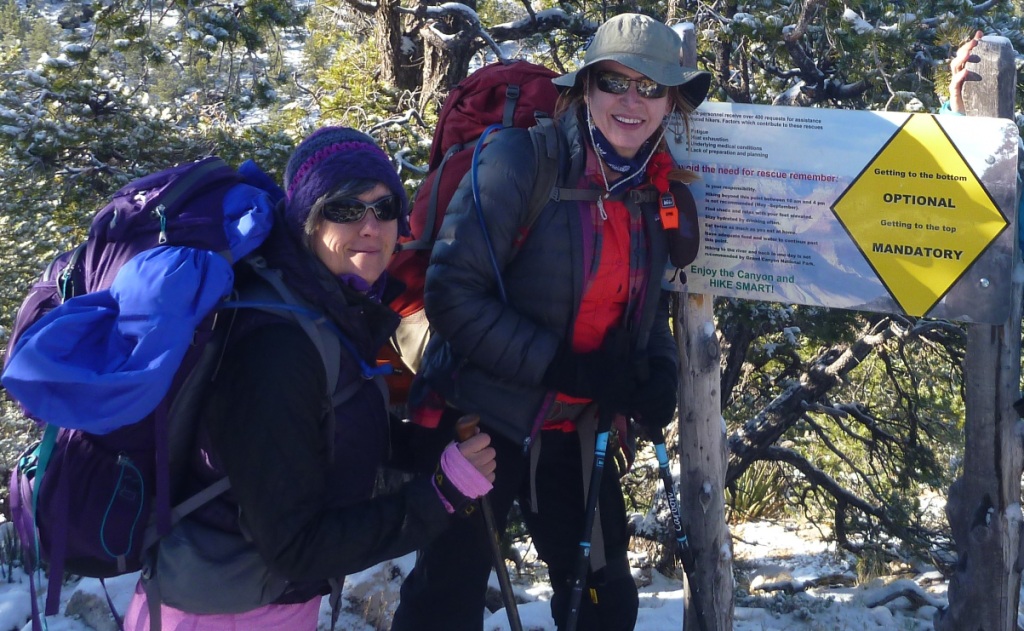 Expect some snow, ice and cold temperatures at and near the rim. As we descend deeper, trails should be clear and air temps much warmer. Bring micro-spikes.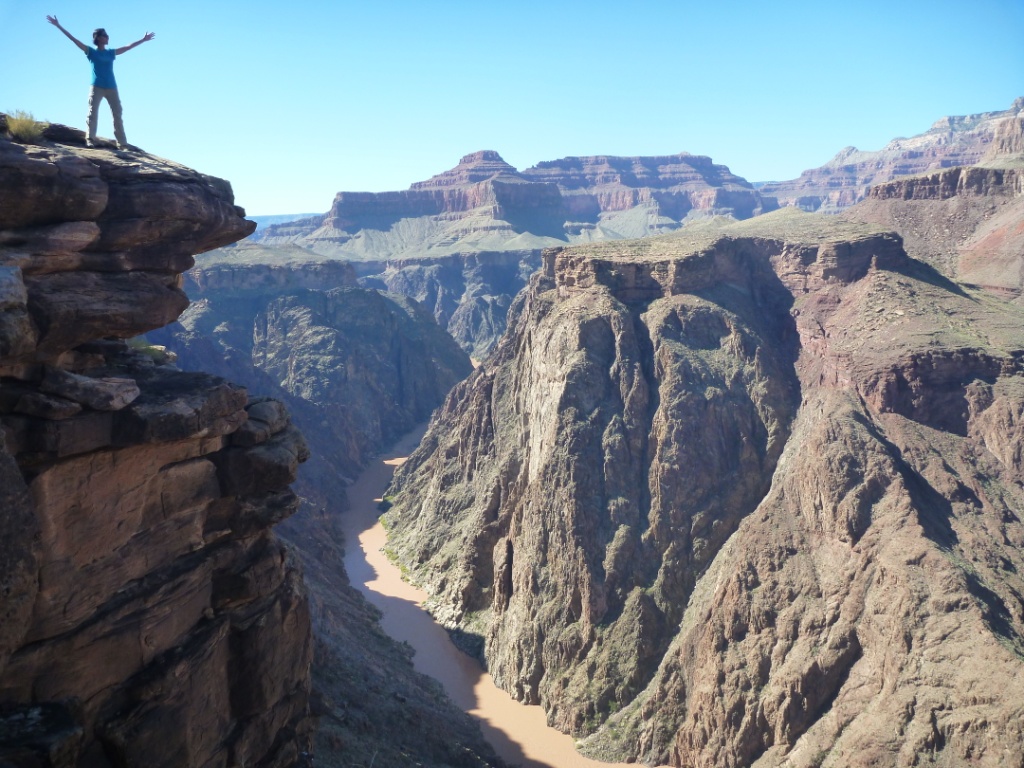 The 1st leg of this adventure exposes backpackers to the lesser traveled middle gorge of the South Rim that parallels the Colorado River granting views and providing vantage points not available on the more popular Corridor routes like Rim to Rim. You will be given first hand exposure to what makes the Grand Canyon not one, but hundreds of side canyons.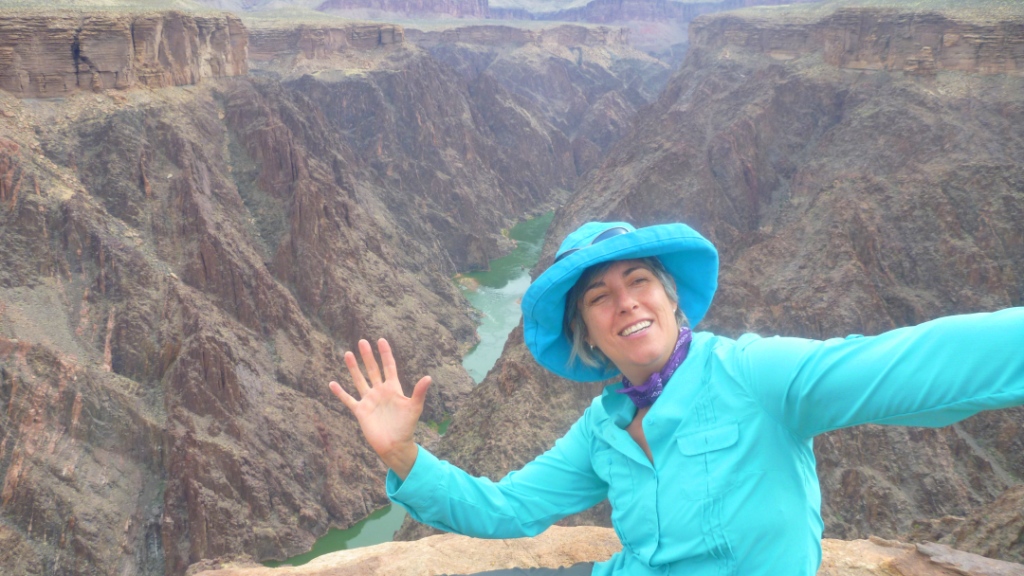 The 2nd leg takes us through the middle and lower sections of the Corridor Trail, all the way down to the Colorado River.
Total Miles: 34.2
Total accumulated elevation gain: 5380'
Total gain/loss: 10,365'
Inclusions: Hotel reservation just outside the park for first night. Primitive back country permits for 4 nights at date and location specific sites. Transportation (inside park and to schedule) between parking areas and trail heads
Exclusions: Transportation to and from meetup location, gear, food, entrance fee to GCNP ($25 per vehicle), anything not listed above.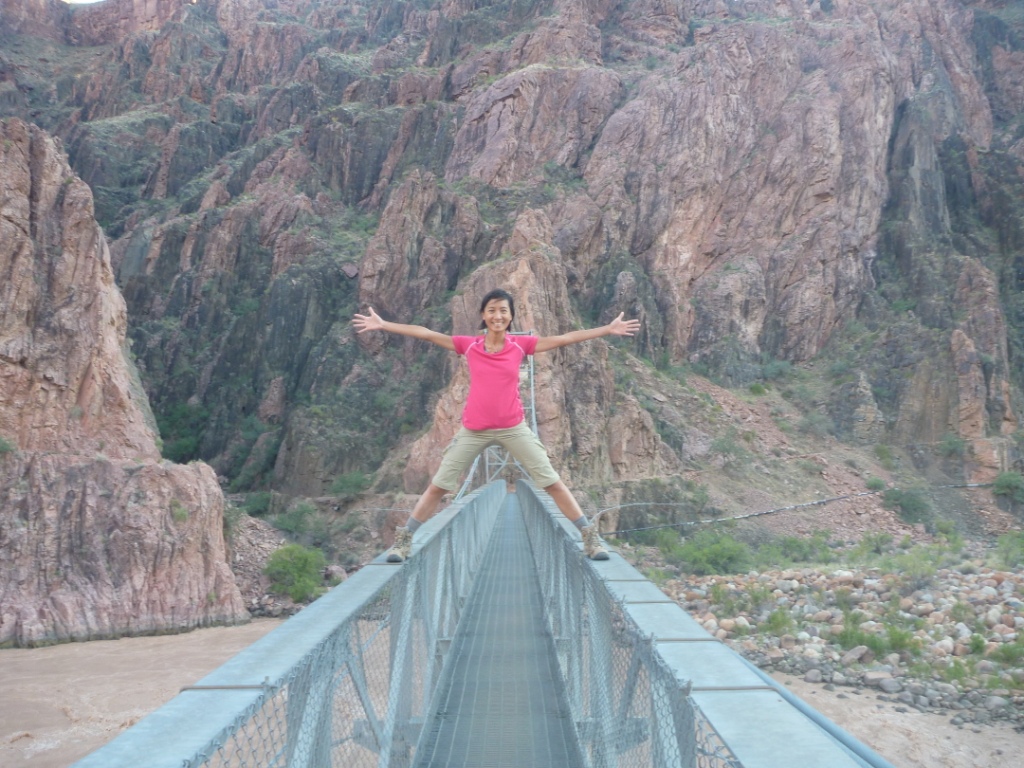 Fitness Level: High. Gear Level: Experienced.
12/6 Day 1- Travel Day to The South Rim. Grand Canyon NP.
Night one: Stay at hotel.

12/7 Day 2: Miles: 9.3. Elevation loss: 3665'
Drive into park and take shuttle on strict schedule to reach our starting trail head at Hermit's Rest. Stay at Monument Creek Camp on the Tonto Trail.
12/8 DAY 3- Miles: 10.7. Elevation change +/- 1000'
Monument Creek Camp to Indian Garden Camp
12/9 DAY 4- Miles: 4.7. Elevation loss: 1320'
Indian Garden Camp to Bright Angel Camp (Phantom Ranch) Optional cash add dinner and/or breakfast at Phantom Ranch. Details provided later but both dinner and breakfasts here are the BOMB. There is also a little store for sandwiches, ice cream, beer, wine and a gift shop and post office. Tee-shirts and other swag sold here is exclusive to Phantom Ranch and not available anywhere else.
12/10 Day 4- Miles: 4.7. Elevation gain: 1320'
Bright Angel Camp to Indian Garden Camp
12/11 Day 5; Miles: 4.8. Elevation gain: 3060'
Indian Garden Camp to Grand Canyon Village. End Event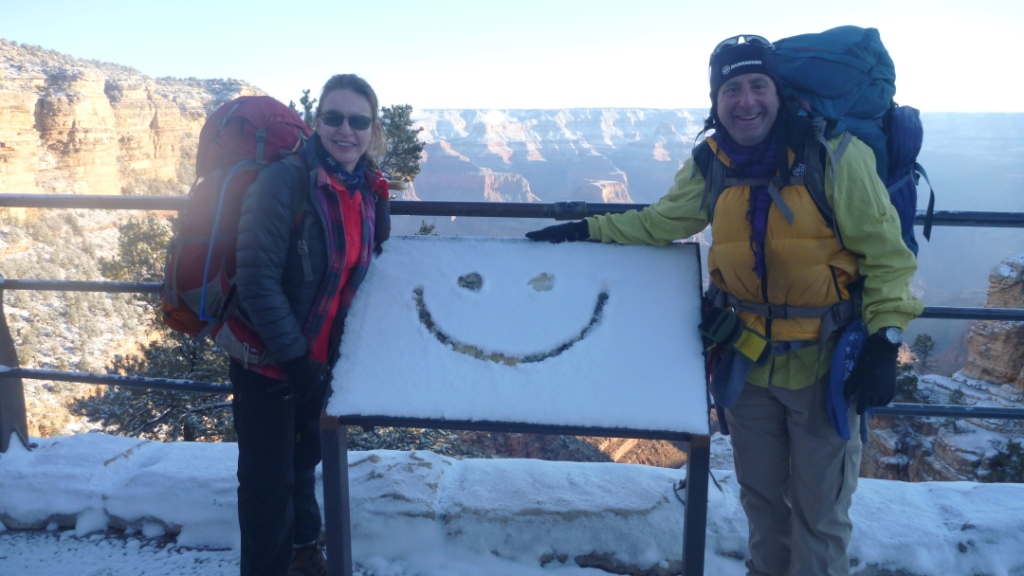 RED TAPE
REFUND POLICY: There are no refunds if you cancel at anytime after paying or fail to show up or fail to complete any portion or the event due not showing up prepared and/or not follwing the requirements and prerequsiites of the trip including being physically prepared and supplying and understanding how to properly use the correct gear required for you to safely participate and complete this trek in a group setting. Refunds will not be granted to anyone who violates the terms of this posting or is removed from the event as a result of violating the terms and conditions contained in this posting. Misrepresenting your qualifications or providing false information while applying for approval may result in your removal from the event and without refund.
PHYSICAL REQUIREMENTS
Some trips are more physically demanding than others. Only you know how much you can handle, so make sure you have read the complete trip description and are fully aware of the the physical requirements before you sign up, or you might be putting yourself and others into a dangerous situation. Should you have questions about the physical requirements of the trip, please contact the event organizer. By signing up and participating in any events posted by this group, you represent that you are qualified, in good health and in proper physical condition to participate in the event. If you are at all unsure of your physical abilities for an event, you agree to not participate. Periodically, we may ask for a full disclosure in advance of attending a trip if you suffer from any medical condition, physical disability or are currently suffering from any physical ailment or injury resulting in limitations of the feet, toes, back, spine, hips, knees, shoulders, neck, joints etc., that may hinder your ability to complete a trip on your own power or may become inflamed or easily re-injured during the normal and anticipated physical "wear and tear" conducive to and as described in the trip description.
ACCEPTANCE OF RISK
As a participant in any of the organized events posted on this page, participant acknowledges that the nature of the event is adventurous and may involve a significant amount of personal risk. The participant hereby assumes all such risk and does hereby release the group and any of it's organizers from all claims and causes of action arising from any damages, financial loss or injuries or death resulting from these inherent dangers.
GEAR KNOWLEDGE AND RESPONSIBILITY
Having the right gear and the experience using it is your responsibility.
We do not provide "pack lists" but will often call out specific and specialized gear required for a specific destination. Ie, a bear can where required.
We require you to already know the type of gear you need and to be up to date on gear trends. (See REI)
There is a huge difference between backpacking gear and car camping gear. Backpacking gear is expensive and the quality can vary greatly! Do not skimp on quality.
Do your research and choose only high quality gear from reputable retailers. Avoid renting gear unless you have field tested the exact models in the past. Avoid sharing gear or borrowing gear while in the field. Always check weather reports and have different gear level options available based on air temperature, rain, snow, heat, winds, etc. Making a mistake here can ruin your trip or worse.

EVENT ORGANIZER AUTHORITY

Organizers can, with or without providing you a reason, limit their trips to guests of their own choosing. They may remove a guest after paying and before event execution with or without reason. If no valid reason is provided, a full refund should be given.

Organizers can, with or without providing you a reason at the time of removal, remove you as an active participant of the group during an event without refund

Organizers can, with or without providing you a reason at the time, make the determination that you are unfit to continue with the group. Providing first aid or coordinating a rescue or exit strategy for you is at the sole discretion of the Organizer
TARDINESS
Unless otherwise noted in the event description: This event will start promptly at the time noted on the trip page at the top. Organizers will not wait around beyond this time for any last minute stragglers. Please note Organizers may not always be in cell phone range the day or days before the hike due to the remoteness of many of our destinations so, if you are running late, you can't reach the EO by voice or email response, expect they they DIDN'T get your message and that the group will start the trip as scheduled without you.

BEHAVIOR, EXPECTATIONS, NO-NO's
The Organizer of this trip reserves the right at its sole discretion to remove a guest's RSVPs without refund of any monies for conducting activities either on this site, in pre trip communications and activities or on trips themselves that violate the terms of this document or of an illegal, unsafe or unsound practice. This also includes but is not limited to discrimination of any kind, harassment, stalking, violence or threats of violence, unwelcome sexual advances or over aggressiveness of a sexual nature, getting overly inebriated and unsafe and unsound, profane and/or unbearably obnoxious behavior, any type of environmentally insensitive or destructive behavior at all, blatant unwillingness to work or contribute in a group setting in the field, mutiny or mustering up a mutiny among other guests, etc.