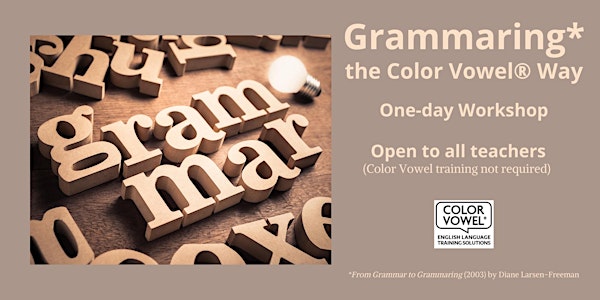 Grammaring the Color Vowel® Way: A full-day Workshop
Discover ways to enhance your English grammar instruction through the use of simple Color Vowel
About this event
Grammaring the Color Vowel® Way: a practical workshop with Jennifer Campion
What is 'grammaring'? Grammaring is discovering what we do with language. It's the grammatical intuition that successful learners build and draw upon to communicate effectively in both writing and speech. Most of all, it's learning beyond the notion of learning rules.
Join Color Vowel® Master Trainer Jennifer Campion for this one-day workshop open to all ESL/EFL teachers, and walk away with practical and effective grammaring strategies and activities that your students will love.
This workshop is appropriate for ESL/EFL teachers, tutors, and language specialists. No prior training in the Color Vowel® Approach is necessary.
Unable to attend live? This workshop will be recorded and and shared privately with all registrants. We have structured the workshop for live participation in a way that supports an enriching asynchronous experience!
Curious about Color Vowel®? Learn about our Color Vowel training options.
JENNIFER CAMPION began teaching English over 35 years ago as a Peace Corps Volunteer and subsequently as an observer and trainer in Morocco. She taught English at the American Culture and Language Institute at Northern Virginia Community College and for the Panama Bilingüe program at American University, where she completed her Master's degree in Teaching English to Speakers of Other Languages.
Date and time
Location
Refund policy
Organizer of Grammaring the Color Vowel® Way: A full-day Workshop
English Language Training Solutions (ELTS) is publisher of The Color Vowel® Chart and the exclusive training provider for the Color Vowel® Approach.
We take the "Solutions" part of our name seriously. ELTS co-founders Karen Taylor and Shirley Thompson have solved a problem that has underscored the teaching of English for literally centuries: namely, the gap that divides our spoken language from its written form.
The problem of learning English is multifaceted:
1. English is a stress-timed language, yet the complex phenomenon of stress is mostly hidden from conscious noticing. Without training, many teachers and students work fruitlessly on the surface features of pronunciation while missing or underestimating stress as the single most important feature of spoken English. ELTS delivers breakthrough phonological awareness training in every Color Vowel® workshop. 
2. English is not a phonetically-written language. Words like cough, tough, though and through look similar but all sound different, while words like through, new and true look different but rhyme nonetheless. The Color Vowel® Chart solves this problem by flipping the traditional phonics approach, starting instead with phonemic stress as the fundamental touchstone for learning English.
3. Conventional terminology used for teaching English is misleading: 'long' and 'short' vowels are vestigial terms that describe phonemic features of Middle English but which are mostly meaningless in the context of Modern English. The Color Vowel® Approach establishes an easily accessible yet linguistically accurate language for talking about the vowel sounds and behaviors of spoken English.
With our innovative tools and techniques, ELTS is changing the way people talk about English, enabling teachers and learners to fuel progress with language awareness found through the use of concrete, high-yield learning strategies. Welcome to the Color Vowel® Approach!