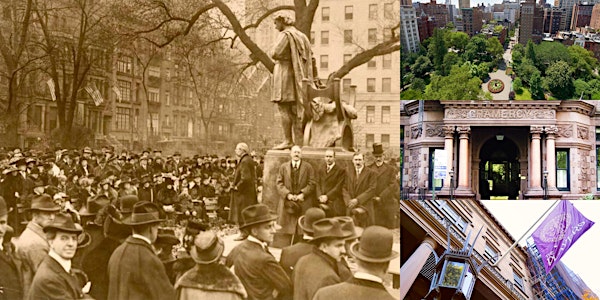 'Gramercy Park: History of One of NYC's Most Coveted Neighborhoods' Webinar
Can't make it live? Register and get access to the full replay for one week! New York Adventure Club | www.AdventureClub.com
About this event
Located just blocks away from Union Square on the east side of Manhattan, the micro neighborhood of Gramercy Park is one of the best preserved and most prestigious historic districts in all of New York. Who transformed this former swamp into one of New York's most exclusive zip codes? What are the historic clubs and buildings that still surround the square? How did it manage to remain one of the city's handful of private parks? It's time to unlock the history and secrets of New York's most exclusive front lawn since the 1840s.
Join New York Adventure Club as we explore the history and architecture of Gramercy Park, and meet the artists, authors, inventors, titans of industry, presidents, and rock stars who've called this neighborhood home.
Led by writer, historian, and New York City tour guide Lucie Levine, our virtual experience surrounding Gramercy Park will include:
The story of how Sam Ruggles — American lawyer, politician, and developer — transformed swampy farmland on Manhattan's east side into a stately enclave
A block-by-block deep dive into the stories of the buildings that surround the square, including the National Arts Club and Players Club
Gramercy Park's deep connections to American literary and theatrical icons including famed shakespearian actor Edwin Booth and novelist Edith Wharton
What two local lamp posts can tell us about the city's water supply and the history of publishing
How both the Underground Railroad and the Salvation Army made stops in Gramercy Park
How the neighborhood commemorates the city's Dutch past and its Revolutionary history
An overview of the park in Gramercy Park itself and how one gets a key to walk the paths of the private park — only one of two in New York City
Afterward, we'll have a Q&A with Lucie — any and all questions about Gramercy Park are welcomed and encouraged!
Can't make it live? Don't worry, you'll have access to the full replay for one week!
See you there, virtually!
*Immediately upon registering, you will receive a separate, automated email containing the link to join this webinar
**For the best possible viewing experience, please ensure you're using the latest version of your internet browser — Google Chrome is the most compatible. Exact technical requirements and a webinar user guide will be shared in the automated confirmation email upon registration.
***A full replay of the experience will be available to all registered guests for up to a week
Testimonials
"The connections between the personalities surrounding the inception of the park and the commercial trends in the city, colony and later the state of New York were very well drawn. I also enjoyed learning how the neighborhood covenants also had long term influences on the character of social and commercial life of the neighborhood surrounding the park." -Stephen
"Lots of interesting and new information presented." -Carolyn
"Lucie was very knowledgeable, and excellent in the imparting of factual info. I prefer that type of presentation rather than people filling it with their opinions and personal commentary. I get these events for the facts of history. She did a great job. I'd watch more given by her. A plus!" -Laureen
"I liked learning the history of the area, who lived there, history of the buildings" -Susan
"I liked everything- I lived on 18th and Irving years ago" -Janice
"The historical photos and backstories of the buildings" -LeAnn
"Great knowledge of the material." -Lawrance
"I love Lucie Levine. She's enthusiastic about her subjects, and she's full of factual info. She has a complete grasp of what she's discussing that enables her to make it more interesting, due to context. It's beyond just facts." -Aleisa
"As always, Lucy is so full of history, including social and political as well as detail of events-what & when they happened, & why. I always get the sense that Lucy loves what she's talking about. (I have seen many of her webinars for NYAC. Her manner is kind as well as brilliantly articulated." -Sharon
Disclaimer
By attending a New York Adventure Club experience, you accept our terms of service.
Categories: Virtual, Neighborhoods