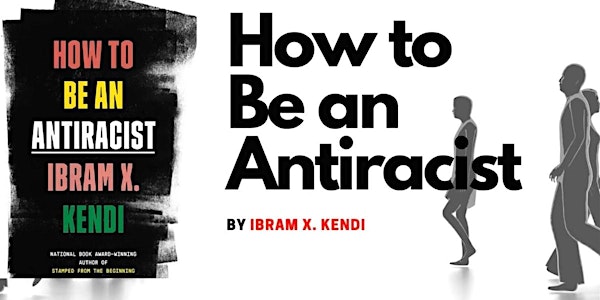 Gramercy Book Club To Discuss "How to Be an Antiracist"
A discussion about Ibram X. Kendi's groundbreaking book, How to Be an Antiracist, led by King Arts Complex's Jevon Collins
About this event
Join the Gramercy Book Club discussion focused on Ibram X. Kendi's #1 New York Times bestselling and groundbreaking book, How to Be an Antiracist, led by King Arts Complex Performing Arts Director Jevon Collins. Time said Kendi's book "punctures the myths of a post-racial America, examining what racism really is—and what we should do about it."
King Arts Complex is the Community Partner for this program.
Registration is on Eventbrite, where attendees will receive login information and full instructions. A general admission ticket to access the event is $5. A ticket that includes a copy of How to Be an Antiracist waives the fee and is $29. Registration closes at 4:00 pm on the day of the program.
Antiracism is a transformative concept that reorients and reenergizes the conversation about racism—and, even more fundamentally, points us toward liberating new ways of thinking about ourselves and each other. At its core, racism is a powerful system that creates false hierarchies of human value; its warped logic extends beyond race, from the way we regard people of different ethnicities or skin colors to the way we treat people of different sexes, gender identities, and body types. Racism intersects with class and culture and geography and even changes the way we see and value ourselves. In How to Be an Antiracist, Kendi takes readers through a widening circle of antiracist ideas—from the most basic concepts to visionary possibilities—that will help readers see all forms of racism clearly, understand their poisonous consequences, and work to oppose them in our systems and in ourselves.
Kendi weaves an electrifying combination of ethics, history, law, and science with his own personal story of awakening to antiracism. This is an essential work for anyone who wants to go beyond the awareness of racism to the next step: contributing to the formation of a just and equitable society. Along with authoring five books, including Stamped from the Beginning: The Definitive History of Racist Ideas in America, which won the National Book Award for Nonfiction, Ibram X. Kendi is a professor of history, and the founding director of the Boston University Center for Antiracist Research. He is a columnist at The Atlantic and a correspondent with CBS News.
Jevon Collins is the Performing Arts Director at The Kings Arts Complex where he develops, organizes and facilitates all performing arts programming. He has served as a panelist for the National Endowment for the Arts, the Ohio Arts Council, and the Cuyahoga Arts Council. He currently serves on the Board of Directors for the National Performance Network/Visual Artist Network, on the Board of Governors and Vice President for Ohio State's Black Alumni Society; and is a member of OSU's College of Arts & Sciences Town & Gown Committee. Jevon is a founding member of the Next Gen National Arts Network and the Columbus Artists Network.
From Juneteenth until November 3, Gramercy Books partnered with King Arts Complex in support of The HeART of Protest, an initiative led by KAC, a multidisciplinary artistic organization dedicated to social justice. The effort was designed to bring together over twenty Columbus arts and cultural organizations for 46 days of artistic protest to honor the 46 years of George Floyd's life. Gramercy Books donated 100% of the profits from the sales of How to Be an Antiracist, encouraging both the expression of protest, as well as the reading of this transformative book about antiracism. As a result, Gramercy Books has been able to donate $2,716.12 with the sale of 241 of Kendi's books.