Meet master suspense novelist Lisa Gardner! Discuss Before She Disappeared! Facilitated by journalist, crime writer Andrew Welsh-Huggins!
About this event
Award-winning and bestselling suspense novelist Lisa Gardner will join Gramercy Book Club participants after the discussion of her latest novel Before She Disappeared, a propulsive thriller that has been called "socially conscious," "humanizing," "immersive," and a "crackling mystery." Journalist and crime writer Andrew Welsh-Huggins will moderate the group discussion and interview with Gardner.
Registrants will receive login information and full instructions. A general admission ticket to access the event is $5. A ticket that includes a copy of Before She Disappeared and a signed bookplate for the first 80 registrants (available anytime after its January 19th publication date) waives the fee and is $29. Please note that registration closes at 5 pm on the day of the program.
Buckeye Crime Writers is a Community Partner for this book club program.
Frankie Elkin is an average middle-aged woman, a recovering alcoholic with more regrets than belongings. But she spends her life doing what no one else will--searching for missing people the world has stopped looking for. When the police have given up, when the public no longer remembers, when the media has never paid attention, Frankie starts looking.
A new case brings her to Mattapan, a Boston neighborhood with a rough reputation. She is searching for Angelique Badeau, a Haitian teenager who vanished from her high school months earlier. Resistance from the Boston PD and the victim's wary family tells Frankie she's on her own—and she soon learns she's asking questions someone doesn't want answered. But Frankie will stop at nothing to discover the truth, even if it means the next person to go missing could be her.
Lisa Gardner is the #1 New York Times bestselling author of twenty suspense novels, including The Neighbor, which won Thriller of the Year from the International Thriller Writers. She also received the Silver Bullet Award from the International Thriller Writers in 2017 for her work on behalf of at-risk children and the Humane Society. An avid hiker, traveler, and cribbage player, she lives in the mountains of New Hampshire with her family.
Andrew Welsh-Huggins, a reporter for the Associated Press, is the author of seven Columbus-based mysteries featuring Andy Hayes, a former Ohio State and Cleveland Browns quarterback turned private eye, including the Nero Award-nominated Fatal Judgment. Andrew is also editor of the anthology Columbus Noir, and his short fiction has appeared in publications including Ellery Queen Mystery Magazine, Mystery Weekly, and Mystery Tribune. Andrew's nonfiction book, No Winners Here Tonight, is the definitive history of the death penalty in Ohio.
Organizer of Gramercy Book Club! Discuss How She Disappeared! Meet Lisa Gardner!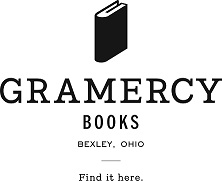 Gramercy Books is a locally-owned, independently-minded neighborhood bookstore located in the heart of Bexley, Ohio (just outside of downtown Columbus) that opened in December of 2016. Inspiration and discovery through books is cultivated in a variety of events throughout the year that include author visits and festivals, book signings, poetry readings, a monthly book club, and songwriter performances. Gramercy Books shares space with Kittie's bakery café.