Grambling University Alumni Association - Los Angeles Chapter & Alpha Kappa...
Description
The Los Angeles Chapter would like to extend an invitation to all GramFam, Friends, and Supporters as we host Rick Gallot, President of Grambling State University and Marc Newman, Vice President Advancement, Research and Economic Development for an Exclusive Cocktail Hour Fundraiser Reception. As the West Coast Captian for Grambling's fundraiser endevours, the "Bring It Home" 2018 Campaign, we are excited to raise funds to provide GAP Scholarships to one of our HBCUs, Grambling State University.
The Exculsive Cocktail Hour fundraiser reception will take place on Saturday, September 15th at 4:00 PM with Alpha Gamma Omega Los Angeles Chapter of Alpha Kappa Alpha Sorority, Incorporated, Target 1: HBCU for Life: A Call to Action at a PRIVATE
Location Santa Monica Windjammer Yacht Club 13589 Mindanao Way, Marina Del Rey, CA 90292. Attire Business Casual.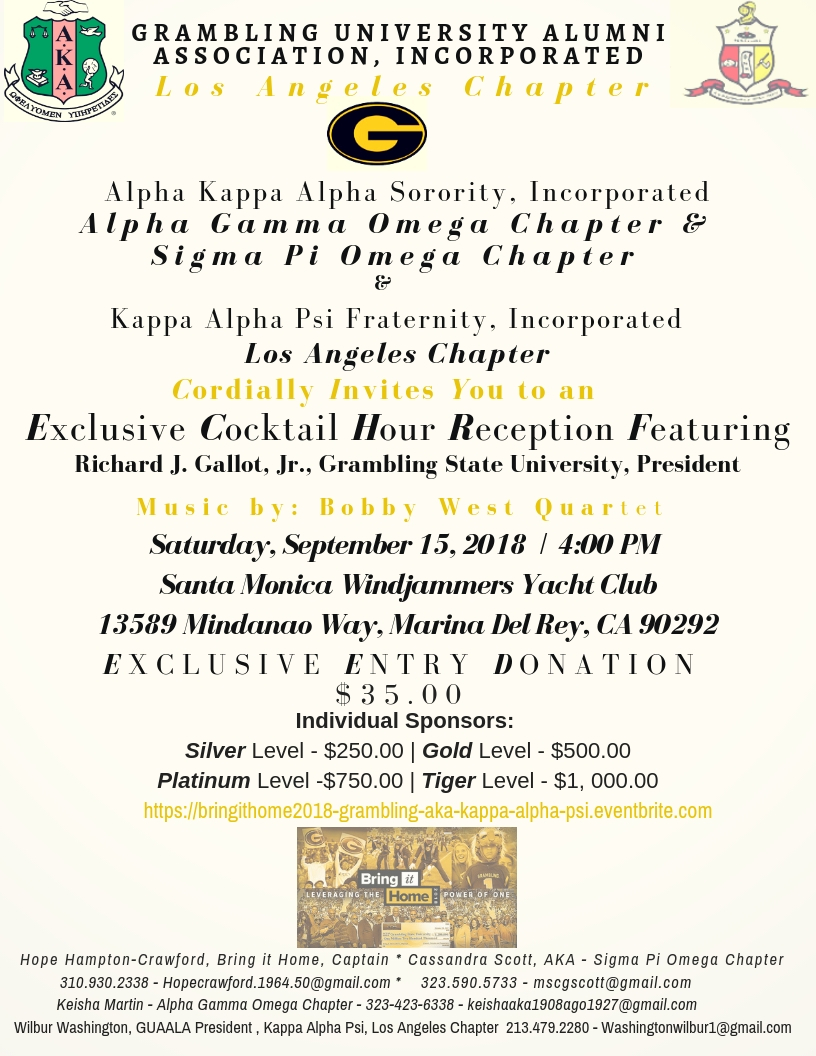 ---
EXCLUSIVE ENTRY DONATION $35.00
Individual or Group Sponsors:
Silver Level - $250.00 | Gold Level - $500.00
Platinum Level -$750.00 | Tiger Level - $1, 000.00
ALL DONATIONS WILL BE EXTENDED AN OPPORTUNITY TO PRESENT THEIR DONATION & HAVE A PHOTO WITH THE PRESIDENT.
---
All Donations to the "Bring It Home 2018" campaign are 100% tax deductible. Please contact Hope Crawford (Grambling) or Cassandra Taylor Scott (AKA) if you like to make a donate with cash or a personal check make Payable to: Grambling University Foundation