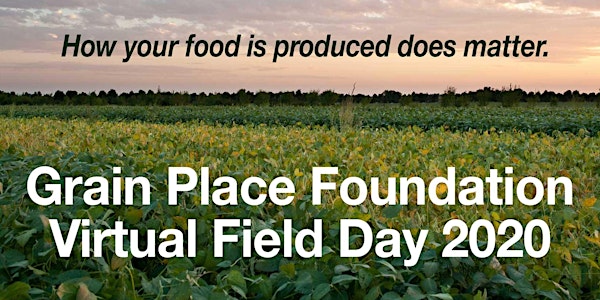 Grain Place Foundation Field Day: Farm Tour and Seminar
Visit our organic farm: see what's new in 2020 and what has grown over the decades. Brise Tencer speaks about the state of organics.
Refund Policy
Contact the organizer to request a refund.
Eventbrite's fee is nonrefundable.
About this event
Our annual Grain Place Foundation Field Day gives guests an opportunity to tour our pioneering farm and grain processing plant near Marquette, Nebraska, and to hear insights and updates about the state of organics in the US. This year, we've gone virtual, which means you can get an up-close view of the farm without leaving your home!
Our 10am (Central) Field Day Tour gives you a chance to a first-hand view of the Vetter family's long-term experiment in organic farming at The Grain Place. See our 9-year field rotation up close, including crop rotation and grazing. We are excited to share some new experiments we are working on, including new permaculture work and the pasturing of some of our pigs. We are eager to show and share what we have been learning about farming for the health of the soil. Whether it's your introduction to organic farming or a chance to look with a lifetime of experience, we are eager to have you as a part of our farm tour. The tour also includes Grain Place Foods, the on-site organic grain processing facility. For the first time ever, we are able to invite you in to see the plant while it's operating!
At 11am (Central) we will welcome Brise Tencer as our keynote speaker. Brise is Executive Director of the Organic Farming Research Foundation (OFRF). She will offer insights about the future of organics in the US. Her talk will be followed by a panel discussion of the local application and impact of these changes, and of the work of OFRF. David Vetter of the Grain Place, Bill Whitney of the Prairie Plains Resource Institute, and Graham Christensen of GC Resolve will serve on the panel.
In addition, we are pleased to be able to show and share art from area photographer Sarah Bailey during our Field Day.
Thank you to the Sponsors of our Field Day, whose generous support enables free events like this one, and enables our ongoing education about and experimentation in regenerative, organic agriculture.