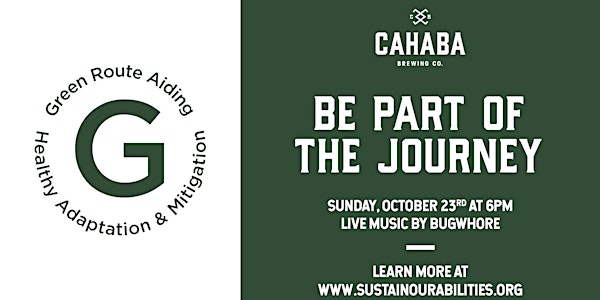 Graham Day
Community, nature & new friends! Birmingham's Best from Vulcan Trail to Railroad Park, then taking Red Rock Trails to Cahaba Brewing Co!
When and where
Location
Birmingham Richard Arrington Boulevard Birmingham, AL 35205
About this event
Graham Day is October 23rd! Join us as we launch the Green Route to Healthy Adaptation and Mitigation on the Kiwanis Vulcan Trail in Birmingham, Alabama. After a day on the trail we will go down through Southside and travel past the campus of University of Alabama at Birmingham to Railroad Park. There we will head on further down the Red Rock Trails on our way to Cahaba Brewing Co where at 6, there will be live music by Bugwhore along with great food, drinks and company. This is an opportunity to make new friends while at the same time being in community and enjoying, nature both physically and mentally.
Sustain Our Abilities is partnering with the Freshwater Land Trust, Cahaba Brewing Co. and will be joined by the Addiction Prevention Coalition in this event. We're gathering in the name of Graham Alexander who loved the outdoors and the benefits of nature and peace. In response to his untimely passing, we, his friends and family, have joined in community to educate people about the stark reality and risks of fentanyl poisonings in the US and to make people realize the health benefits of spending time outdoors. Outdoor activities are beneficial for all of us mentally and physically & coming together in community to promote a healthy future for humanity is our vision. So, come spend some time with us, forest bathing, exploring Birmingham, experiencing the trails and making the Graham pledge. The Green Route to Healthy Adaptation and Mitigation starts one day, one step or one wheel at a time and community has never been more important. Although Graham is no longer with us, his love is in our hearts and his light still shines, so join us-- for part or all of the day-- at this tribute to Graham, and let's have fun in community & in nature ensuring a healthy future for all.
There is no fee to participate and you don't have to there the whole day! But we'd like you to register and- if possible-- we would love to have you get pledges for the miles you traverse. All proceeds will go to the Graham fund at Sustain Our Abilities which is a registered 501C3 working to ensure environmental justice and a healthy future for all.
Finally, if you can't spend the time outdoors, you can also just join us at Cahaba Brewery Co where a portion of all proceeds on the night of the 23rd will go towards the Graham fund. For more information please contact malexander@sustainourabilities.org.