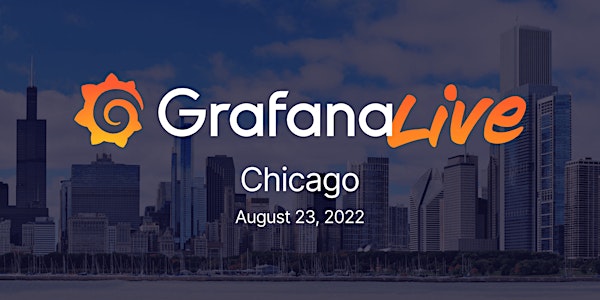 GrafanaLive: Chicago
Connect with your local Grafana community in Chicago.
When and where
Location
Convene 333 North Green Street Chicago, IL 60607
About this event
Seating is extremely limited, so register now to save your seat. Don't miss out on getting early bird pricing (25% off) which ends on August 19. Registration fees will be donated to Girls Who Code.
Get ready to learn all about Grafana Labs' LGTM open source stack: Loki for logs, Grafana for dashboards, Tempo for traces, and Mimir for Prometheus & Graphite metrics.
Ditch the PJs, and come meet the experts face-to-face at a half-day conference in your city, featuring:
Hands-on demo booths
Example LGTM stacks for everything from observability to IoT business dashboards
Ask your burning questions to our technical experts face-to-face
Hear lessons learned from a seasoned Grafana user and tips for getting the most out of Grafana 9.0
Agenda
1:00 Registration, demo booths, Ask the Experts booth open
Check in and check out demos of ways to correlate data from across the observability ecosystem. Plus: one-on-one time with Grafana maintainers and engineers to ask all your burning questions.
1:30 Opening keynote: What's new at Grafana Labs
Hear from Grafana Labs senior leaders about community-driven Grafana use cases and the latest milestones from Grafana Labs, including the recent Grafana 9.0 release.
2:00 Your Stack for Anything You'll Attack: Zero to Observable in < 30 Minutes
In this session, you will learn how to take a distributed microservice web application from low visibility to observability bliss in less than 30 minutes by leveraging the LGTM (Loki for logs, Grafana for visualization, Tempo for traces, Mimir for metrics) stack on Grafana Cloud. With this centralized observability, you'll be able to quickly identify and solve problems as well as provide your stakeholders at every level, from developer to senior leadership, a clear view of the application performance, user experience, and KPIs.
2:30 Break - Demo booths, Ask the Experts booth open
Explore hands-on demos of ways to correlate data from across the observability ecosystem. More one-on-one time with Grafana maintainers and engineers to ask all your burning questions.
2:45 How to use Loki like a pro
Join Ed Welch, engineering lead of the Grafana Loki project, as he reveals all his top tips and tricks for running Loki at high efficiency and getting maximum performance for your queries. He'll also be available to answer your questions after the presentation at the Ask the Experts booth. (Find out all about how Ed monitors his homelab!)
3:15 Managing a multi-tenant Grafana and Grafana Enterprise Metrics (GEM) environment at DRW
3:45 Wrap-up
4:00 Drinks, snacks, demos, and Ask the Experts booth
Enjoy a reception with the Grafana team and users like you. Get all your remaining questions answered during continued demos and Ask the Experts booth time.
5:00 Event closes
FAQ
What is your refund policy for passes? If I cannot attend, can I transfer my ticket?
Tickets are non-refundable, but you can request to transfer your ticket to someone else by emailing events@grafana.com.
Do you require everyone to be fully vaccinated to attend?
Attendees are required to be fully vaccinated against the COVID-19 virus. Fully vaccinated is defined as two weeks (14 full days) after the final dose (1 of 1, or 2 of 2) of a government-approved vaccine. Participants will need to show proof of vaccination and a government-issued photo ID to enter the event.
We understand this adds a level of complexity to attending Grafana Labs events, but to make this decision, we looked to industry standards: Other conferences such as KubeCon + CloudNativeCon, Snowflake Summit, RSA, and Splunk .conf all require vaccination. Our priority is to make all attendees feel comfortable and safe.
Will masks be required at the conference?
Masks are encouraged but not required. This policy is subject to change based on local mandates and guidance. All participants will be notified prior to arrival if this policy changes.
Participants are asked to be respectful of each other's comfort level on social distance. We will provide a visual indicator of social distance comfort levels for event participants to wear onsite (optional but encouraged).