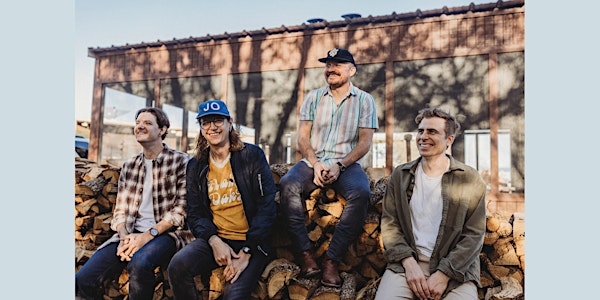 Grady Spencer & the Work
Grady Spencer & the Work
Date and time
Starts on Friday, July 28 · 10:30pm EDT.
Location
The Evening Muse 3227 N. Davidson Street Charlotte, NC 28205
About this event
2 hours 30 minutes

ALL AGES

Mobile eTicket
Born in Lubbock and raised in the country outside of a town called Paducah, Grady Spencer's roots dig deep into Texas soil. By day, Spencer is a superintendent for a commercial construction company. By any other time, he's songwriter and front-man of Grady Spencer & The Work.
The Work originally formed in 2013 on the stage of Paradox Church in Fort Worth, Texas. Drummer Blake Sager was joined by bassist Johnny Hatcher in 2016, followed by guitarist Tyler Martin in 2018. The Work's music reflects its members: honest, good-timing, with a nod to blue-collar roots.
In 2013, the band recorded and self-produced its first album at 1916 Studios in Kyle, Texas. Sleep featured Spencer and Trevor Powell on guitar and vocals, Blake Atwell on guitar, Sager on drums, and Josh Brandenburg on bass. The album was released that same year and was the band's first introduction to the Fort Worth music scene. "Things to Do" was eventually picked up by the Fort Worth Visitors Bureau via Tom Martens, and in 2017 the city sent Spencer and The Work to Niles City Sound to rerecord and release the track as a single.
Sophomore record The Line Between was primarily tracked at January Sound in Dallas, Texas. The band worked with Magnolia Records and released the album in 2016. Spencer's vocals and guitar were once again accompanied by Powell on guitar and Sager on drums, with Steve Moore on bass, producer Ryan Tharp on guitar, and Cody Culberson singing harmonies. This album carried the band beyond Fort Worth city limits—a following started to crop up across the state and numbers rose on streaming platforms, catapulting The Work to their next album.
Celebrate, The Work's most recent album, was recorded with Niles City Sound in Fort Worth, Texas in 2018. This time Spencer was joined by Hatcher on bass and vocals, Martin and producer Austin Jenkins on guitar, and Sager on drums.
About the organizer
**IMPORTANT UPDATED COVID POLICY
"WE ASK ALL EVENING MUSE PATRONS TO FOLLOW THE CURRENT CDC GUIDELINES WHEN ATTENDING AN EVENT HERE AT THE MUSE.
IF YOU WERE EXPOSED TO COVID-19 AND ARE NOT UP TO DATE ON COVID-19 VACCINATIONS, STAY HOME AND QUARANTINE. IF YOU ARE SICK OR TEST POSITIVE FOR COVID-19, ISOLATE AND DO NOT ATTEND PUBLIC EVENTS. SINCE CHARLOTTE / MECKLENBURG COUNTY HAS LIFTED THE MASK MANDATE WE THOUGHT WE SHOULD MAKE IT CLEAR THAT WE STAND FOR PERSONAL CHOICE IN THE MATTER. BOTH STAFF AND PATRONS ARE ENCOURAGED TO AND RESPECTED FOR THEIR PERSONAL CHOICE REGARDING THE WEARING OF A MASK. WE CONTINUE TO ENCOURAGE FULL VACCINATION AND AS ALWAYS THANK YOU FOR YOUR CONTINUING SUPPORT AND FOR HELPING TO KEEP OUR VENUE AS SAFE AS POSSIBLE DURING THESE CHALLENGING TIMES."
Everyone must have their State Issued ID scanned at the door. If you are over 21 but do not have a legal ID, we will not be able to serve you adult beverages. For All Ages Shows, there is a surcharge at the door if you are under 21.