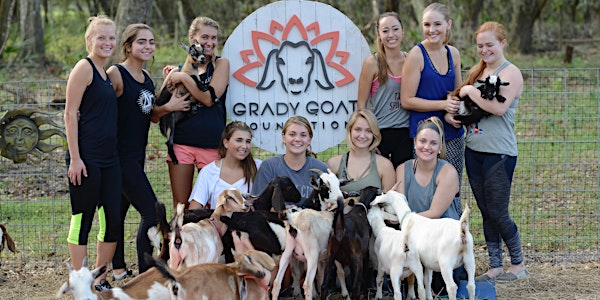 Multiple dates
Grady Goat Yoga Tampa Bay
GRADY GOAT YOGA
Date and time
April 22, 2017 · 10am - December 30 · 11:30am EDT
Location
Grady Goat Farm 12551 Franklin Road Thonotosassa, FL 33592
Refund Policy
Contact the organizer to request a refund.
About this event
IMPORTANT INFORMATION & RULES-PLEASE READ!! 
We do NOT offer refunds or credits. We will allow you to reschedule; however, you MUST pay a rescheduling fee of $15 PER TICKET WHICH MUST BE PAID 24 HOURS BEFORE THE ORIGINAL CLASS START TIME.  Payments should be sent via Venmo to @gradygoat or CashApp to $GradyGoat. We need that 24 hours to try and fill your spot, so please don't request refunds or rescheduling just hours before class starts. Thank you.
GATES OPEN AT 9:30AM AND GOAT YOGA STARTS AT 10:00AM. Please plan on arriving between 9:30a and 9:45a to meet some of the goats before class starts.
If you arrive late (after 10am), there is a good chance you will not be permitted to enter the yoga area until near the end of class. This is both out of respect of your fellow yogis and to keep our goats from escaping the yoga area after class begins. Please be on time!
If you don't have or forget your yoga mat, don't worry, we have mat rentals available for only $3 each. You will need a yoga mat--towels alone are not an acceptable option.
We accept CASH, Venmo, CashApp, and Zelle for on-site mat rentals, goat milk products, tanks/t-shirts, homemade jams/jellies, and farm-fresh eggs from our free-range chickens!Class starts promptly at 10am.
Yoga mats are required but we rent them at the door for only $3 each!
You must have a ticket to visit the class, whether you are participating in Grady Goat Yoga or just there to watch/take photos/drive your friends/kids/etc.  ALL paid visitors must be inside the fenced goat yoga area, as you may not watch or take photos from outside the fence.
RAIN or SHINE!  We move indoors in the event of inclement weather.
REFUND POLICY
NO REFUNDS.  See the description above for details on rescheduling. Thank you!!
Are children allowed?  Is it safe? Due to the importance of our baby goats feeling safe and secure and the (totally understandable!) excitement that children can exhibit when exposed to our babies, we must adhere to a minimum age in order to participate.  Therefore, children under 8 are not permitted, even if they are there just to watch.  Please understand that this is for the safety of our baby goats and to ensure the class remains a fun experience for all participants.  All attendees acknowledge the risks of farm/agricultural activities, including agritourism such as goat yoga, and agree to indemnify and hold harmless Grady Goat Yoga, Athletes and Causes and Hat Trick Ranch from any and all injuries or losses.
Can I bring a guest that has not purchased a ticket..They just want to watch. NO. While we receive a tremendous amount interest from people that just want to come visit Grady and his friends, and many of our attendees have no interest in actually doing yoga, EVERYONE MUST HAVE THEIR OWN TICKET. We limit each event's attendance so that everyone can have plenty of time before, during, and after class to just enjoy the atmosphere and mingle with the goats.  Paid guests that don't want to participate in the actual yoga activities are welcome to simply interact, cuddle, and take photos with our precious babies.  But EVERYONE must purchase a ticket in order to visit Grady Goat Farm on Goat Yoga day!
Where should I park? Please park along the driveway.  Do not park past the orange cones and please do not back in to spots.  This is a working ranch and many of our animals free-range, so please drive slowly at all times and do not drive or park beyond the designated area.
What happens in case of bad weather? In the event of rain, Grady Goat Yoga will be moved indoors, to the Pavilion at Grady Goat Farm--our main barn.  Grady Goat Yoga is held rain-or-shine.  In the event of a named storm, please check our Facebook page for instructions regarding re-scheduling.
Is it clean? As our past guests and attendees will attest, our goats are very well taken care of.  They are, however, farm animals, which poop and pee whenever it suits them!  While many of our guests insist this adds to the charm of Grady Goat Yoga, we maintain a team ready to quickly clean up any such incidents!  Please be respectful of our staff, however, as they are not there to brush random leaves, straw, or dirt from your yoga mats--this is an event that takes place on a working-farm, so please understand that the class takes place outdoors, on the ground, in a natural environment!
PLEASE DO NOT FEED THE GOATS and DO NOT BRING FOOD INTO THE YOGA AREA.  Our goats and other animals are on a strict diet.  If you would like to feed one of our animals, just ask one of our attendees and they will provide the proper treats.
Public Event: You agree that the event for which you purchase tickets is a public event, that your appearance and actions inside and outside the venue where the event occurs are public in nature, and that you have no expectation of privacy with regard to your actions or conduct at the event. You grant permission to us and the Event Provider(s) to utilize your name, image, likeness, acts, poses, plays, appearance, movements, and statements in any live or recorded audio, video, or photographic display or other transmission, exhibition, publication or reproduction made of, or at, the event (regardless of whether before, during or after play or performance) for any purpose, in any manner, in any medium or context now known or hereafter developed, without further authorization from, or compensation to, you or anyone acting on your behalf.
WARNING Under Florida law, an agritourism operator is not liable for injury or death of, or damage or loss to, a participant in an agritourism activity conducted at this agritourism location if such injury, death, damage, or loss results from the inherent risks of the agritourism activity. Inherent risks of agritourism activities include, among others, risks of injury inherent to land, equipment, and animals, as well as the potential for you to act in a negligent manner that may contribute to your injury, death, damage, or loss. You are assuming the risk of participating in this agritourism activity.